View all Loop frame wiring harnesses for sale
Distributor to tachometer (early)
Part number:
13767700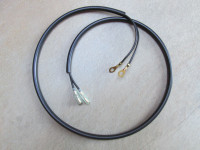 Distributor to tachometer (early)
Two wire version used by early models equipped with dual gauge dashes. Use with MG# 13761000.
When ordering please specify your coil: Magneti Marelli or Bosch. Magneti Marelli coils accept 5 mm ring terminals. Bosch coils (and many modern aftermarket coils) accept female spade terminals.