View all Loop frame wiring harnesses for sale
Solution to support 4-way flashers with the police toggle switch
Part number:
POLICE-4-WAY-FLASHER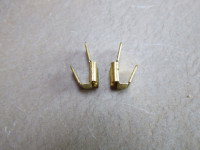 Solution to support 4-way flashers with the police toggle switch
From the factory, the police toggle switch only operated front or rear flashers, but not both front and rear flashers. These simple adapters add 4-way flasher capability without any modification to the original wiring harness. Toggle switch sold separately. Both required adapters are included.
To install, plug in the adapters as shown, then plug the existing white/black and yellow/black wires into the connectors. The remaining two terminals on the toggle switch will no longer be connected.