View all Loop frame wiring harnesses for sale
Sub-harness to greatly ease installation of wiring on the rear brake light switch
Part number:
REAR-BRAKE-SWITCH-SPLITTER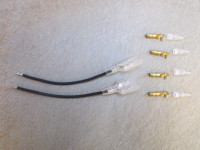 Sub-harness to greatly ease installation of wiring on the rear brake light switch
Installing the wires into the rear brake switch is tedious at best. These two sub-harness greatly simplify installation. I like to install these pigtails with the rear brake switch off of the bike. Then I mount the switch and simply plug in the bullet terminals.
Bullet terminals for the needed wires included/installed.