View all Small block wiring harnesses for sale
Light bulb for gauge and indicator lights
Part number:
10744910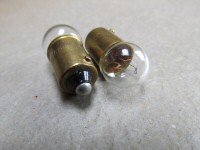 Light bulb for gauge and indicator lights
1.728 watt lamp, bayonet base, 1000 hour average life, approximately 10 mm (0.41 inch) in diameter. Sold each.
Note: The MG# 93450322 bulbs are longer in overall length, but brighter than MG# 10744910. In general, I recommend MG# 93450322 because they are brighter and easier to see. If you know that your dash requires a shorter bulb, please order MG# 10744910.