View all Small block wiring harnesses for sale
Battery cable - positive
Part number:
19748000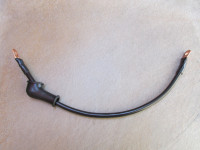 Battery cable - positive
Connects the positive terminal on the battery to the starter solenoid. Cable is 6 AWG and is 370 mm (~14 1⁄2 inch) in total length. The battery lug accepts a 6 mm fastener; the starter solenoid lug accepts an 8 mm fastener. If you require something different, please let me know.
Includes rubber cover for the terminal located at the starter solenoid (MG# 12703000).