View all Wiring harnesses for the Moto Guzzi 850 T5 for sale
Wiring for universal left handlebar switches (headlight, parking lights, horn, turn signals)
Part number:
HANDLEBAR-LEFT-12-UNIVERSAL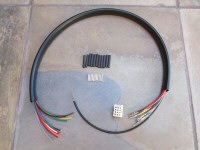 Wiring for universal left handlebar switches (headlight, parking lights, horn, turn signals)
Works great with the multitude of universal switches available. Butt connectors and heat shrink are included to splice the sub-harness directly to the wires from the switch. Wire connections should be staggered to yield a smaller overall finished diameter. Larger diameter sheathing is provided to aid routing the spliced wires through the sheathing after all of the connections have been made. Wires to the headlight plug are 800 mm in length. Wire to ground is 1000 mm in length. Wires are intentionally left separate from the 12 terminal plug - so that the wires may be more easily spliced and routed through the sheathing or inside the handlebar.
IMPORTANT NOTE: As with all switches actuating higher amperage components, I consider a relay for the headlight and horns a good idea.
Plug information:
Position 1: red/black (power in for headlights)
Position 2: empty
Position 3: empty
Position 4: red (power in for parking lights - almost never needed with non-original switches)
Position 5: green (power out to headlight low beam)
Position 6: brown (power out to headlight high beam)
Position 7: yellow (power out to parking lights)
Position 8: green/black (power out to left turn signals)
Position 9: pink (power out to right turn signals)
Position 10: gray (ground for headlight high beam flash relay - almost never needed with non-original switches)
Position 11: white/black (ground to horn)
Position 12: orange (power in for turn signals)
Ring terminal: black (ground in for horn)