View all Benelli wiring harnesses for sale
Benelli 250 2C headlight interconnect - Series 2 with disc brake; includes city light (non-USA version)
Part number:
301.073.0.799 and 731.002.0.799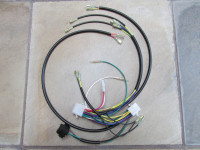 Benelli 250 2C headlight interconnect - Series 2 with disc brake; includes city light (non-USA version)
Used to interconnect the main harness with the left and right handlebar switches as well as the dash illumination and indicator lights; also powers the headlight.
The Non-USA version supports a city light. This can easily be modified to the USA version without a city light.