View all Loop frame wiring harnesses for sale
Fuse box to left push-pull switch; includes

MG# 13742540
Part number:
13748840 and 13742540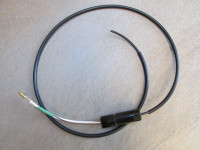 Fuse box to left push-pull switch; includes MG# 13742540
The left push-pull switch is commonly used to to operate spot lights. Original style fuse holder included with 8 amp fuse. 8 amp is more than sufficient to operate two, 35 watt spot lights (most people fit 35 watt bulbs).
Correct green marker is used on the white/black wire, as original.