View all Loop frame wiring harnesses for sale
Battery cable to the starter along with ancillary wires to voltage regulator and ignition switch
Part number:
13749441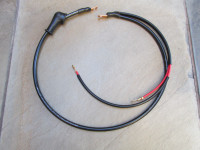 Battery cable to the starter along with ancillary wires to voltage regulator and ignition switch
Wiring and terminals are specific to each charging system.
When ordering please specify Magneti Marelli or Bosch.
Note: No need to purchase this sub-harness if you have an alternator installed...I've already neatly integrated these wires into the main wiring harness.