View all Loop frame wiring harnesses for sale
4 connection female spade connector
Part number:
93400964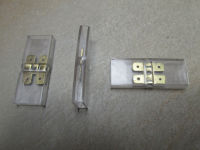 4 connection female spade connector
A great way to connect four wires without the need for male spade terminals (Moto Guzzi typically did not use male spade terminals on wiring harnesses). Accepts 6.3 mm (1⁄4 inch) terminals. Sold each.
Best to use a needle-nosed pair of pliers to insert and remove terminals.