View all Loop frame wiring harnesses for sale
Single terminal bulb holder
Part number:
BULB-HOLDER-SINGLE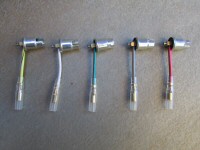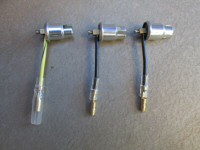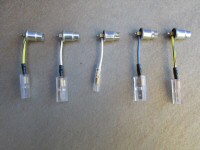 Single terminal bulb holder
A very nice single terminal bulb holder with excellent fitment within the tube that is secured to the dash. Includes color-coded short jumper wire with a 4 mm female bullet terminal or 6.35 mm female spade terminal and quick connector to mate perfectly with the original wiring harness. Accepts standard sized OEM bulbs. ~12 mm OD. Sold each.
When ordering: Please specify wire color and terminal.
Loop frame models with a single gauge civilian dash require 5 of these bulb holders; all fit with female bullet terminals.

Yellow/black (double spiral) - lights on indicator light
White wire - speedometer illumination light
Green wire - transmission neutral light
Gray wire - engine oil pressure light
Red wire - generator charging light

Loop frame models with a dual gauge civilian dash require 3 of these bulb holders; 1 fit with a female bullet terminal and 2 fit with male bullet terminals.

Yellow/black (double spiral) - high beam indicator light
Black wire - tachometer illumination light
Black wire - speedometer illumination light

Loop frame models with a single gauge police dash require 5 of these bulb holders; 1 fit with a female bullet terminal and 4 fit with male spade terminals.

Yellow/black (single spiral) wire - left turn signal indicator light
White/black (single spiral) wire - right turn signal indicator light
White wire - speedometer illumination light
Blue wire - left push pull switch indicator light (typically used to actuate spot lights)
Yellow/black (double spiral) - high beam indicator light