View all Loop frame wiring harnesses for sale
Sub-harness to support the use of two element rear turn signals
Part number:
DUAL-ELEMENT-REAR-TURN-SIGNALS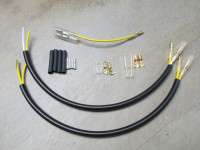 Sub-harness to support the use of two element rear turn signals
A simple and elegant solution for splitting the power at the tail light for dual element rear turn signals. Typically the dim circuit is used as running lights and the bright circuit is used for the rear turn signals.
Crimp the provided male bullet terminals to pigtail wires coming from the turn signals (for the running or parking lights), then join those two wires into the adapter. The yellow wire from the main harness will also plug into the adapter. Finally, the short yellow wire will plug into the tail light.