View all Loop frame wiring harnesses for sale
Spot light extensions for Dietz spot lights
Part number:
EXTEND-DIETZ-SPOT-LIGHTS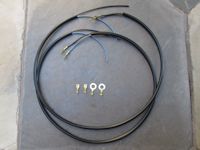 Spot light extensions for Dietz spot lights
Moto Guzzi never made a spot light. Instead, they provided brackets and wiring to support spot lights (or other front lights), but left it up to the individual police departments to fit their own spot lights.
This harness provides color-matched wiring to connect Dietz spot lights to a 3 connection female spade connector located under the fuel tank.
The 5 mm fork terminals connect to the terminals inside each spot light. Route the wires through the spot light body and under the tank. Cut the sheathing and wiring to your desired length. Crimp the female spade terminal to the blue wire (connect to the 3 connection female spade connector). Crimp the 8 mm ring terminal to the black wire (connect to the frame ground point under the tank).