View all Loop frame wiring harnesses for sale
Spot light extensions
Part number:
EXTEND-SPOT-LIGHTS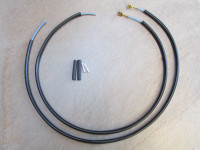 Spot light extensions
Moto Guzzi never made a spot light. Instead, they provided brackets and wiring to support spot lights (or other front lights), but left it up to the individual police departments to fit their own spot lights.
This harness provides color-matched pigtail extensions to connect self-grounding spot lights of your choice to the 3 connection female spade connector for the spot lights. Comes complete with butt crimps, heat shrink, and sheathing.