View all Loop frame wiring harnesses for sale
Sub-harness to extend wiring from running lights inside saddlebags to the tail light
Part number:
SADDLEBAG-LIGHT-EXTENSIONS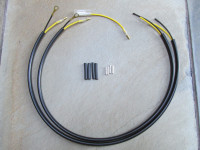 Sub-harness to extend wiring from running lights inside saddlebags to the tail light
Black wires provided ground via 6 mm terminals at the tail light. Yellow wires provide signal via male bullets terminal at the tail light (works very well with my Sub-harness to support the use of two element rear turn signals). Provides an overall extension of 700 mm. Includes butt crimps, heat shrink, and sheathing.