View all Singles wiring harnesses for sale
Astore Main Harness
Part number:
ASTORE-MAIN-HARNESS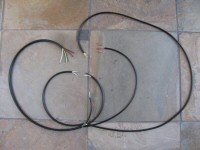 Astore Main Harness
When ordering please specify the needed connection at the battery positive terminal:

6 mm

ring terminal or

6.35 mm

female spade terminal.
Note: Main harnesses comprise the main - or primary - wiring harness. Each motorcycle also uses ancillary sub-harnesses. The individual sub-harnesses are sold separately.