View all Small block wiring harnesses for sale
Dual terminal bulb holder
Part number:
17760650 14768650 10754905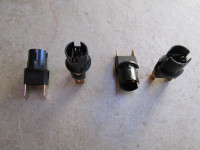 Dual terminal bulb holder
A great replacement dual terminal bulb holder and very close to the original in design. Accepts two 6.35 mm female spade terminals, just like the original. Excellent fitment within the tube that is secured to the dash. Accepts standard sized OEM bulbs. ~12 mm OD. Sold each.