View all Wiring harnesses for the Moto Guzzi 1000 S for sale
Voltage regulator to main harness [Saprisa charging system]
Part number:
28712500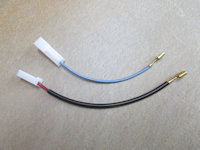 Voltage regulator to main harness [Saprisa charging system]
Connects the voltage regulator to the main harness. Applicable to the Saprisa charging system.
Note: The original Saprisa plug is *NOT* included. You will need to re-use your original plug or source a replacement. The photos below show how and where to insert each wire.