View all Wiring harnesses for the Moto Guzzi 750 S for sale
Headlight plug - USA models
Part number:
14747404-USA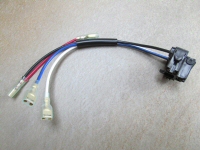 Headlight plug - USA models
Connects the headlight bulb to the terminals inside the rear of the headlight shell. Does not include wiring for the city light.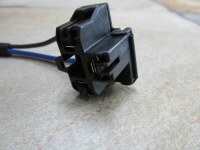 NOTE: The official Moto Guzzi 750 S spare parts catalog lists MG# 10747450 as the part number for this 750 S sub-harness. The one I sell here is a duplicate of the sub-harness used by the V7 Sport. I am not aware of the differences between MG# 10747450 and MG# 14747600. I believe the V7 Sport sub-harness will work perfectly on the 750 S. If you know otherwise or have any trouble after purchase, I will work with you to correct any issues.