View all Wiring harnesses for the Moto Guzzi 750 S for sale
Battery cable - positive
Part number:
14748400-POSITIVE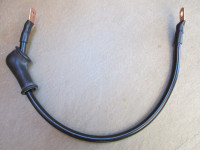 Battery cable - positive
FITS THE EARLY STARTER RELAY ONLY (THE STARTER WITHOUT A SEPARATE SOLENOID)
Connects the positive terminal on the battery to the original starter relay. Cable is 6 AWG and is 400 mm (~15 3⁄4 inch) in total length. Both lugs accept 6 mm fasteners. If you require something different, please let me know.
Includes rubber cover for the terminal located at the starter relay (MG# 12703000).