View all Wiring harnesses for the Moto Guzzi 850 T for sale
Main harness for the 850 T
Part number:
17747100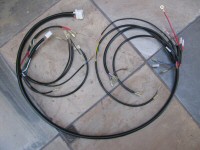 Main harness for the 850 T
The 850 T wiring harness has long been unavailable. I painstakingly replicated an original main harness from a Moto Guzzi 850 T. In construction, I use the same gauge of wire, the same colors and tracers (stripes), the same length and sheathing, the same terminals, etc. All terminals are of the double crimp, strain relief variety.
Note: Main harnesses comprise the main - or primary - wiring harness. Each motorcycle also uses ancillary sub-harnesses. The individual sub-harnesses are sold separately.