View all Wiring harnesses for the Moto Guzzi California III for sale
Battery cable - negative
Part number:
28747960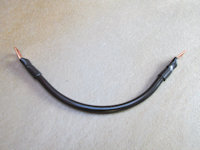 Battery cable - negative
Connects the negative terminal on the battery to the grounding point on the frame. Cable is 6 AWG and is 230 mm (~9 inch) in total length. If you require something different, please let me know.
Note: The original negative battery cable was made of a bare, braided material. It was quite flexible. This cable is much stiffer and not nearly as flexible. Please be certain this will work for you and your application.