View all Wiring harnesses for the Moto Guzzi Le Mans 1000, Le Mans 1000 SE, and Le Mans 1000 CI (Le Mans IV, Le Mans 4, Le Mans V, Le Mans 5) for sale
Replacement wiring for the right handlebar switch (Series 1)
Part number:
28750340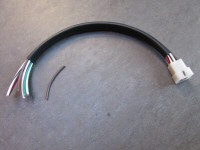 Replacement wiring for the right handlebar switch (Series 1)
Series 1 machines were produced from about 1983 through about 1987.
Ready for your switch.
Wires are 640 mm in length. Upon request, the wires may be left separate from the 9 terminal plug - so that the wires may be more easily routed inside to the handlebar.
IMPORTANT NOTE: As with all switches actuating higher amperage components, I consider a relay for the coils a good idea and a relay for the starter a necessity.