View all Wiring harnesses for the Moto Guzzi Le Mans CX 100 for sale
Main harness to dash (PRINTED CIRCUIT INSTRUMENT PANEL)
Part number:
14747255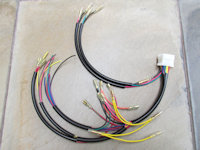 Main harness to dash (PRINTED CIRCUIT INSTRUMENT PANEL)
Connects the main harness to the dash.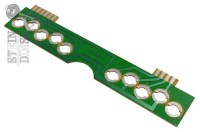 PLEASE NOTE: This harness is not 100% complete. Try as I might, I have been unable to source the original printed circuit board flag terminals (AMP 280252). Likewise, I have been unable to source the two different flag terminal connection housings (AMP 280297 and AMP 280352). You will need to re-use your existing terminals and housings and mate them to the pigtails provided with this harness. I have intentionally left the pigtails 100 mm longer than original for this purpose.