Mounted bearing unit cross-references
Basic bearing cross-reference information.
Created:
Updated:
Glossary
Standard Duty Pillow Blocks bearings are mounted in rigid housings of simple construction. These are the most common pillow blocks and are used extensively for various kinds of power transmission in stationary equipment and machinery.
Standard Duty, Low Base Pillow Blocks are basically the same design as standard pillow blocks, however the lower base provides a lower center of operation. This makes the unit particularly suitable when space between the center and the mounting base is limited.
Cylindrical Cartridge Bearings are designed to provide shaft support where the shaft axis is perpendicular to and passing through a solid support, in a location where the cartridges can be mounted with a press rather than bolt flanges.
Standard Duty, 4-bolt Flange units have square flanges which can be easily attached to a mounting surface with four bolts. This simple method of installation makes this unit convenient for applications where frequent disassembly may be required.
Standard Duty, 4-bolt Flange have the same design as the set-screw type, however the distance between bearing center and flange back face is longer, to provide sufficient clearance to use a bearing with an eccentric locking collar.
Standard Duty 2-bolt Flange units have a housing with an oval flange with two bolt holes for mounting. This type of unit is easily installed and is suitable where mounting space is limited or where it is necessary to minimize the distance between shafts.
Interchange - Mounted Bearing Units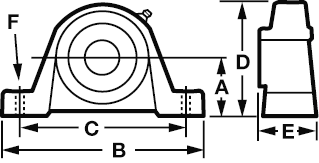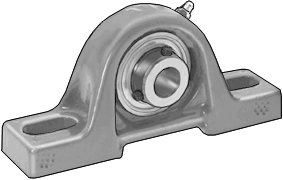 Description
NSK
SKF
Torr/FAF
Seal Master
Insert
Bearing, tapered bore w/adaptor, relube
UK
--
--
--
Bearing, set screw, wide ir, relube
UC
YAR2
GCxxxxKRRB
2-xx
Bearing, set screw, narrow ir, non-relube
UB
--
--
V
Bearing, ecc locking collar, narrow ir, non-relube
EN
YET2
GRAxxxxRRB
VxxE
Bearing, ecc locking collar, wide ir, relube
EW
YEL2
GxxxxKRRB
R-xxE
Prefix
Block, tapped-base with set screw
UCPA
--
--
TB
Block, with set screw
UCP
SYxxTM
RASC
NP
Block, eccentric locking collar, narrow ir
ENP
SYxxFM
VAS
VPxxE
Block, eccentric locking collar
EWP
--
RAS
RPxxE
Block, low base with set screw
UCPLL
--
YAK
NPL
Block, low base w/ecc locking collar, narrow ir
ENLPL
SYHxxFM
VAK
VPLxxE
Block, low base w/ecc locking collar
EWPLL
SYHxxWM
RAK
RPL
Flange, square, with set screw
UCF
FYxxTM
RCJC
SF
Flange, square, with set screw
UCFX
FYMxxTM
--
MSF
Flange, square, w/ecc locking collar, narrow ir
ENF
FYxxFM
VCJ
VFxxE
Flange, square, w/ecc locking collar
EWFH
FYxxWM
RCJ
RFxxE
Flange, oval, with set screw
UCFL
FYTxxTM
RCJTC
SFT
Flange, oval, w/ecc locking collar, narrow ir
ENFL
FYTxxFM
VCJT
VFTxxE
Flange, oval, w/ecc locking collar
EWFLH
FYTxxWM
RCJT
--
Flange, oval, w/ecc locking collar
EWFL
--
--
RFTxxE
Flange, pressed steel, oval w/set screw
UBPFL
--
--
SSFT
Flange, pressed steel, oval w/ecc locking collar
ENPFL
FTPxxFM
RAT
SSFTxxE
Flange, round, cartridge w/set screw
UCFC
--
--
SFC
Flange, round, cartridge w/ecc locking collar
EWFC
--
--
SFCxxE
Flange, offset, 3 bolt w/set screw
UCFK
--
--
RB
Take-up type
T
TB
RTU
RT
P/N
Pressed steel cover
Z
*Y
--
AVAIL
Cast iron cover
C
--
--
--
Standard series, metric
2XX
XX
XX
S-2xx
Medium series, metric
3XX
--
--
--
Medium series, metric
Xxx
Mxx
--
53xx
Standard series, inch (see shaft size chart)
2xx-xxS
x-x/x
x-x/x
-xx
Medium series, inch (see shaft size chart)
3xx-xxS
x-x/x
x-x/x
-xx
Suffix
Spherical housing bore tolerance class J7
J
Inch size set screw in locking device
U
Improved set screw design
W
*Prefix