General specifications for Dellorto SS carburetors
Detailed technical information regarding Dellorto motorcycle carburetors, how to tune Dellorto motorcycle carburetors, Dellorto parts diagrams, slide specifications, needle specifications, jet specifications, and atomizer specifications.
Created:
Updated:
This information was gleaned from Moto Italia and the Australian Internet Guzzi Owners Register.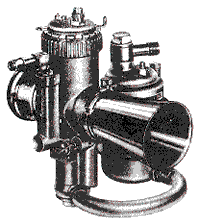 Table A - Technical data
Carburetor type
Choke adaptor diameter
Throttle valve diameter
Fitting
Clip
Flange
SSI-C
18
20-22-23
31
Ø25.4
Ø28.6
N/A
SS-A, SSI-A, SSF-A, SSFF-A
24
25-26-27
28-29-30
35
Ø28.6
Ø31.7
Ø35
F 50.8
SSI-B, SSFI-B
32
38
Ø36
F 50.8
SSI-B, SSFI-B
35
42
Ø39
F 55
SSI-B
36-38-40-42
48
Ø45
N/A
General features
Construction in light alloy with anodic protection against the oxidation and hot spraying painting in silver-grey colour.
Clip and flange Fittings.
Inserted Choke Adaptor at whole ring and carburetion chamber with uninterrupted smooth cylindrical wall.
Throttle Valve in chromium plated special bronze to withstand wear.
Jet Needle with five positions of adjustment, acting in the needle jet.
Needle Jet in high strength special bronze.
Diffuser at great strength multiple elements.
Main Jet flooded in an emulsioning tube, placed under the mixing chamber.
Idle Device: in these carburetors, two are the idle different systems:

with Interchangeable jet and air adjusting screw fitted on carburetors where the engine needs a high operation sensibility at low speed;
with variable pilot jet by screw and air fixed, fitted on carburetors for racing engines, where these, according to their use, do not require a meticulous idle.

Mixture strength Control bearing additional air, which brakes the fuel delivery from the needle jet, letting so to enrich (by closing the air valve) the mixture strength if needed, without shutting the choke adaptor section.
Air tube with truncated cone shape in different lengths according to engine requirements.
Allowed fittings. The carburetors of the SS-A series can be fitted with a 15° slant at the most (with throttle valve controlled both in vertical and horizontal plan).
On the contrary the carburetors of the series SS-I, for a special device, can be fitted with larger slants up to 90° (downdraft).
Float Chamber. For the carburetors with choke adaptor from Ø

18 mm

to Ø

30 mm

. fitted on sport engines, stiff float chambers anchored to the carburetor directly are supplied. In this case it is necessary when ordering to point out the induction pipe slant, bearing in mind that 12-26-45 degrees standard slanting float chambers can be supplied. For racing engines, where their vibrations are of great degree, two types of float chambers are supplied: type SS 1 (larger) for carburetor from Ø 32 to Ø 42 - type SS 2 (smaller) for carburetor from Ø 18 to Ø 30.
These float chambers have the fuel level at

35 mm

. from their lip; when installing they must be fixed so that their level is at the same height of air valve channel center line, as shown on Figure 2.
Banjos for fuel take, single and twin, with the end suitable for direct assembly of rubber pipe and 1⁄4 gas threaded.
Necessary data for a suitable carburetor supply
Engine Make - displacement of each cylinder - 2 or 4 strokes - Number of cylinders.
Compression Ratio and fuel used.
Highest RPM and corresponding power.
Inner Diameter of induction pipe tube. Induction valve diameter. Section size in millimeters of induction ports - Transfer and exhaust (only for 2 stroke engines).
Carburetor connection Type to the head or to the cylinder (clip or flange fitting) and its sizes: outside diameter if clip fitting and stud bolt centers if flange fitting.
Eventual Slant to which the carburetor will be subjected.
If normal or remote Float Chamber wanted; top or bottom feed and banjo sizes for the connection to the fuel pipe.
In case of normal float chamber, it is necessary to state if right or left is wanted, stating it by looking the carburetor body from the air tube side.
Air tube wanted: if long or short one.
For the choice of the carburetor to set up on the different engines please see Table A.