Parts diagram for Dellorto VHB carburetors
Detailed technical information regarding Dellorto motorcycle carburetors, how to tune Dellorto motorcycle carburetors, Dellorto parts diagrams, slide specifications, needle specifications, jet specifications, and atomizer specifications.
Created:
Updated:
Thanks to Matt Cooper from Eurocarb for providing the following information describing the differences between the various VHB carbs.
VHB was the original carburetor for all 20 mm to 30 mm sizes. Then Dellorto changed to VHBZ for 20 mm to 26 mm carburetors and VHBT for 27 mm to 30 mm carburetors. VHBZ and VHBT have a separate needle and seat.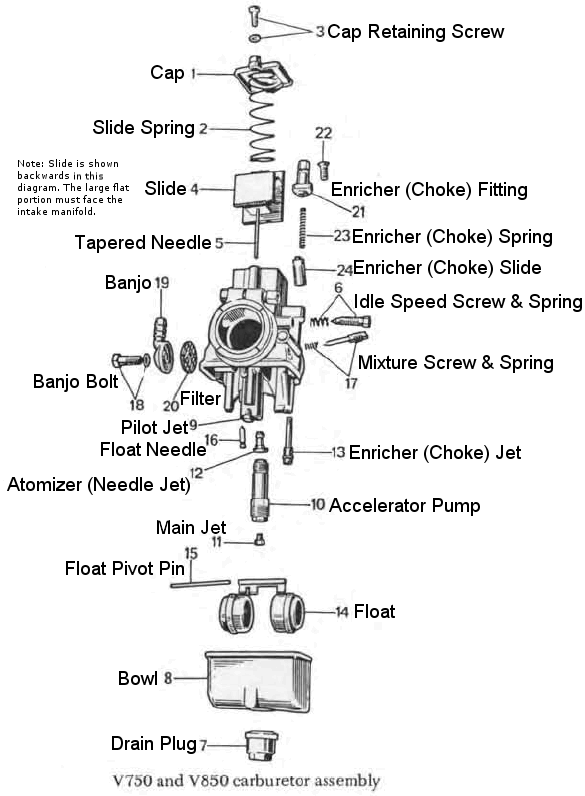 Table: Parts list for exploded parts diagram

Image Number
Part Number
Description
Sizes/options available
1
7447
Slide

20 mm

-

26 mm

30, 40, 50, 60
1
7454
Slide

27 mm

-

30 mm

60
2
2343
Needle

20 mm

-

26 mm

E1 to E42
2
7455
Needle

27 mm

-

30 mm

V1 to V14
3
8203
Atomizer U

20 mm

-

26 mm

260
3
8299
Atomizer V

20 mm

-

26 mm

260
3
8358
Atomizer K

20 mm

-

26 mm

260, 262 ,264, 266, 268, 270
3
8566
Atomizer D

20 mm

-

26 mm

260, 266, 270
3
7456
Atomizer M

27 mm

-

30 mm

260, 262, 265, 270
3
7755
Atomizer N

27 mm

-

30 mm

260, 265, 270
3
7790
Atomizer P

27 mm

-

30 mm

260, 262, 265, 266, 268, 270
3
7972
Atomizer T

27 mm

-

30 mm

260, 262, 264, 265, 266, 268, 270
3
7878
Atomizer

29 mm

-

30 mm

CS/CD
265, 270
4
6413
Main Jet
56 to 330, in steps of 1, 2, 3
5
1486
Idle jet (short)
30 to 198, in steps of 1, 2, 3
6
7746
Choke jet
45, 50, 55, 60, 65, 70, 75, 80, 85, 90
7
7450
Float Assembly
.1, .2, .3
8
1476
Rubber cable cap
9
1104
Cable adjuster
10
1691
Adjuster locknut
11
3978
Top cover screw, Hex Head
11
3318
Top cover screw
12
5011
Spring washer
13
7336
Top cover

20 mm

-

26 mm

13
7338
Top cover

27 mm

-

30 mm

14
8210
Top cover gasket

20 mm

-

26 mm

14
8208
Top cover gasket

27 mm

-

30 mm

15
7745
Choke support screw
16
8295
Choke support
17
8297
Choke support o-ring
18
3133
Choke return spring
19
3238
Choke piston
20
7449
Mixture screw
21
7446
Mixture screw spring
22
7673
Slide stop screw
23
4670
Slide stop spring
24
7448
Slide spring
2kg/

35 mm

24
7941
Slide spring
1.1kg/

35 mm

24
8750
Slide spring
0.8kg/

35 mm

25
1407
Needle clip
26
8128
Clamp nut
27
8131
Manifold clamp

20 mm

-

26 mm

27
8142
Manifold clamp

27 mm

-

30 mm

28
8127
Clamp bolt
29
6976
Manifold sleeve

20 mm

-

26 mm

I/D

28.57 mm

29
6977
Manifold sleeve

20 mm

-

26 mm

I/D

28.57 mm

(

25 mm

carb.)
29
7569
Manifold sleeve

20 mm

-

26 mm

I/D

25.4 mm

29
8792
Manifold sleeve

20 mm

-

26 mm

I/D

30 mm

29
7453
Manifold sleeve

27 mm

-

30 mm

I/D

35 mm

29
8434
Manifold sleeve

27 mm

-

30 mm

I/D

37 mm

30
6109
Fuel filter
31
9250
Fuel banjo
Plastic
32
4568
Banjo bolt
33
4559
Needle valve
33
9436
Needle valve assembly VHBZ/T
34
6173
O-ring
35
7346
Float pivot pin
36
7451
Float bowl o-ring
37
7335
Float bowl
38
6266
Float bowl seal
39
6267
float bowl nut
40
1481
Cable adjuster
41
1692
Adjuster locknut
42
3698
90 Degree cable elbow
42
3600
70 Degree cable elbow
42
9330
40 Degree cable elbow
42
10854
50 Degree cable elbow
43
8730
Pull-up choke assembly
44
9328
Choke locking spring
45
8294
Lever choke assembly

20 mm

-

26 mm

45
8293
Lever choke assembly

27 mm

-

30 mm

46
8260
Mixture screw washer
47
8678
Mixture screw o-ring
48
4650
Stop screw Washer
49
7540
Stop screw o-ring
50
5495
Circlip
51
9327
Choke operating lever
52
6288
Needle valve seal, VHBZ/T
53
4224
Trumpet,

20 mm

54
1439
Trumpet,

30 mm

55
3100
Trumpet
56
7878
Atomizer, VHB CS/CD
57
4052
Banjo bolt seal
59
6517
Fuel banjo
60
8752
Fuel banjo,

6 mm

61
4053
Banjo bolt
62
7890
Double fuel banjo
63
7879
Pump body
64
7831
Pump piston
65
7185
Pump ball bearing
66
7832
Holder
67
7882
Spring
Pump assembly for CS/CD
68
7828
Main jet holder
69
1486
Main jet (See item 5 for sizes)
70
4057
Float bowl seal
71
7880
Float bowl nut
72
52510
Gasket set
VHB/T

29 mm

-

30 mm

C
72
52511
Gasket set
VHB Linked
72
52512
Gasket set
VHB/Z

20 mm

-

26 mm

72
52517
Gasket set
VHB/T

27 mm

-

30 mm

72
52517
Gasket set
VHB/T

27 mm

-

30 mm