Breather filter
Suzuki DR350 motorcycles, 1990 - 1999.
Created:
Updated:
Buy O-rings for your DR350. Good quality + low prices.
From the factory, my 1993 Suzuki DR350 motorcycle was fit with a one way breather valve at the end of the three-hose breather assembly connecting the airbox to the engine block. This third atmosphere hose was routed somewhere up near the top of the carburetor, as near as I can tell. A previous owner removed this one way breather valve and replaced it with a hose barb and a breather filter. I have no idea if this is a worthwhile modification or not. However, since the replacement hose assembly from Suzuki is sold as an entire unit and is expensive, I decided to replace the very worn breather filter with a new breather filter.
First attempt
I chose an inexpensive unit made in China by Spectre Industries, model number 3994. The nice thing about this filter (other than the lovely yellow color) is that it is made to fit 8 mm to 10 mm hose barbs. A 10 mm (or 3⁄8 inch hose barb connects the original hose to this filter nicely. Of course, I fit a couple of hose clamps to keep everything in place.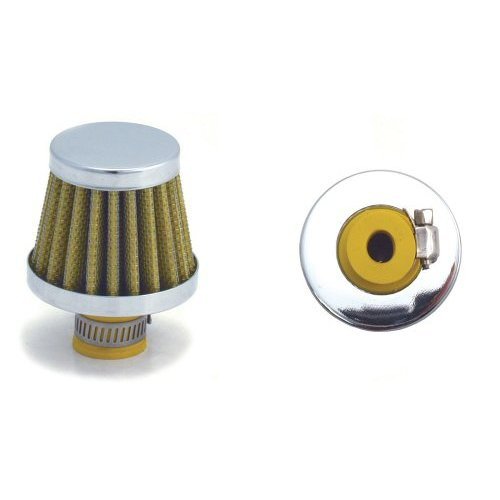 Second attempt
After fitting the new replacement Spectre breather filter (see above), I immediately realized two problems:
The metal end-caps on the Spectre breather filter are in - pretty much - constant contact with parts of the cylinder head. I don't like this metal-on-metal rubbing.
The Spectre breather filter is larger than my previous breather filter, and is more difficult to fit in the space available.
After a bit more searching, I discovered the UNI UP-122 breather filter. Smaller size, no metal components, and the 3⁄8 inch male fitting fits very nicely into the 10 mm ID hose without any need for a splice. This one is staying on there (anyone want to buy a nearly new Spectre breather filter?).