Luggage rack by ManRacks
Suzuki DR350 motorcycles, 1990 - 1999.
Created:
Updated:
Buy O-rings for your DR350. Good quality + low prices.
Mike from ManRacks sent me a luggage rack for my 1993 DR350. Mike has just recently begun creating luggage racks for the Suzuki DR350 and he sent me (and a few other folks) the first prototypes for evaluation. I am thrilled that Mike would consider me a worthy recipient. Thanks, Mike!
When Mike first contacted me about sending one, I figured I might see it in a month or two. Not so, it was in my mailbox two days later. If that's the way he runs the rest of his business, he'll have a lot of happy customers.
My first impression when I examined the rack is that it is well thought out and well made. The construction is straight, flat, and true. The welds are obviously made by a professional. The powder coat finish is quite nice.
Installation couldn't have been easier. Remove three fasteners, flex the plastic fender down just a bit, and slide the rear center tab in place. The rear center tab is secured in place with the original fastener. Mike sent along two longer bolts (8 mm × 1.25 mm × 50 mm) to replace the original front two bolts. I found them about 5 mm - 10 mm too long, as they bottomed out before tightening up fully. I've told Mike of this and he has already purchased shorter bolts. Other than that very minor nit, the rack fit perfectly.
The rack appears quite strong and is very securely attached to the frame. I grabbed the rack and attempted to flex, twist, and turn it. No go. It is nice and solid.
From the pictures, you can see that I typically ride with my Dirt Bike Gear rear fender bag. The ManRacks luggage rack obviously interferes with the rear fender bag. I'm going to ask Mike if he'll make me one that will permit me to mount the ManRacks luggage rack at the same time as the rear fender bag (similar to the apparent design of the DR650 luggage rack he makes). See revised rack below.
All told, I think Mike's luggage rack is a nice piece of equipment. I can't wait to strap on some gear and give it a thorough workout.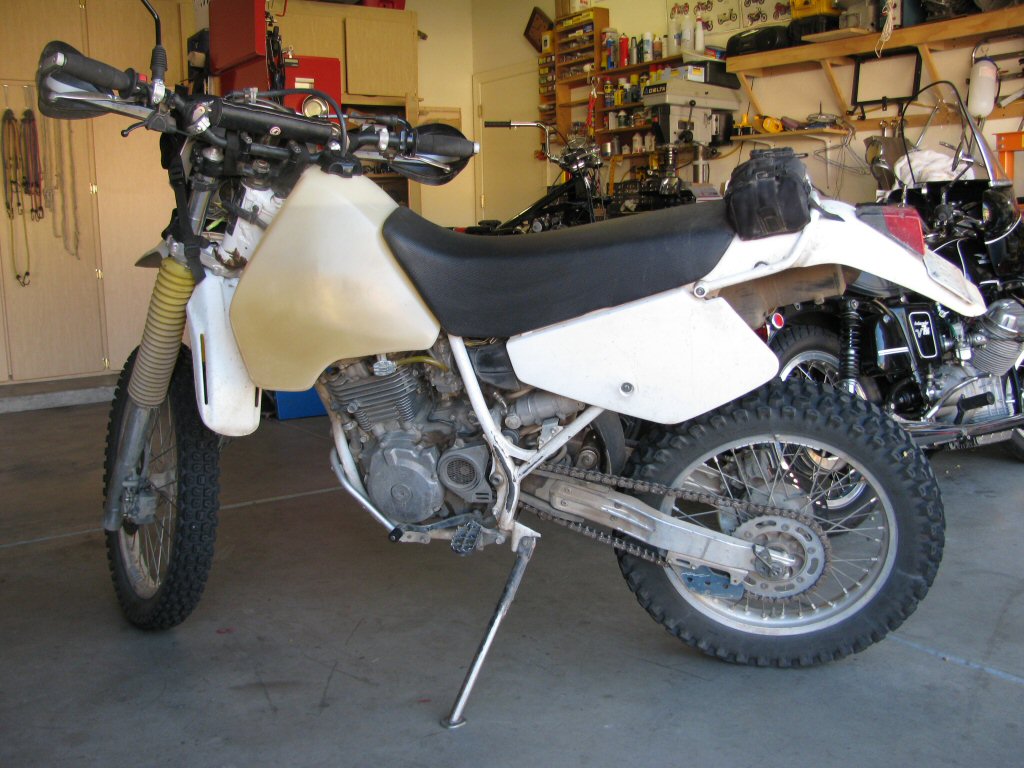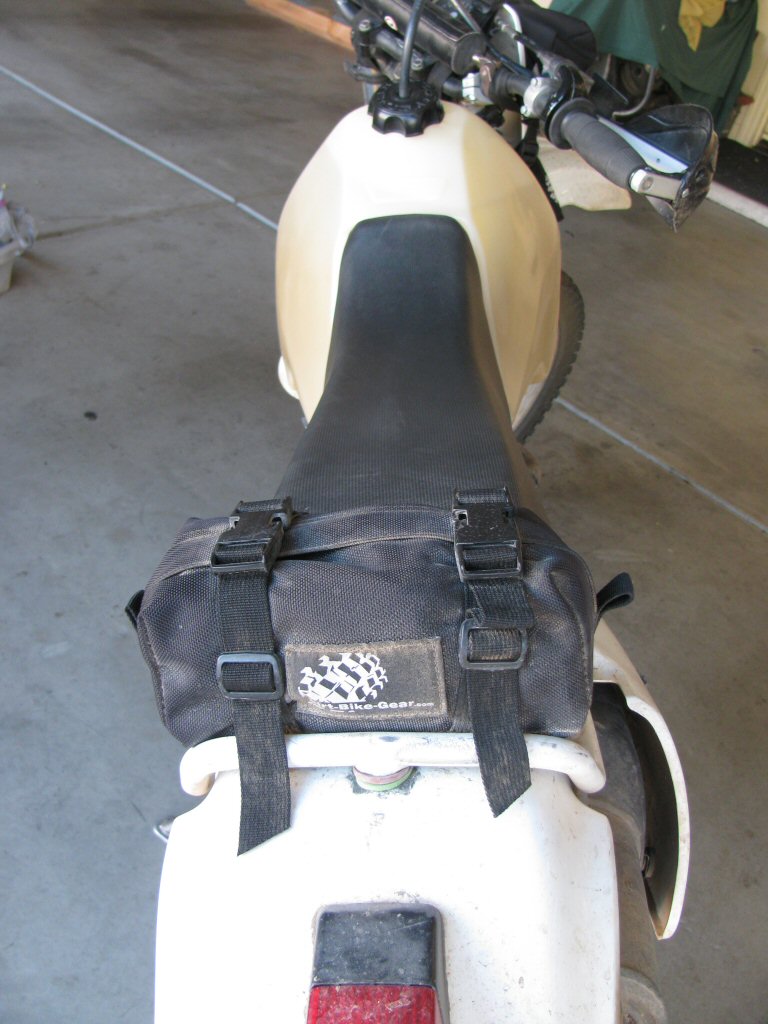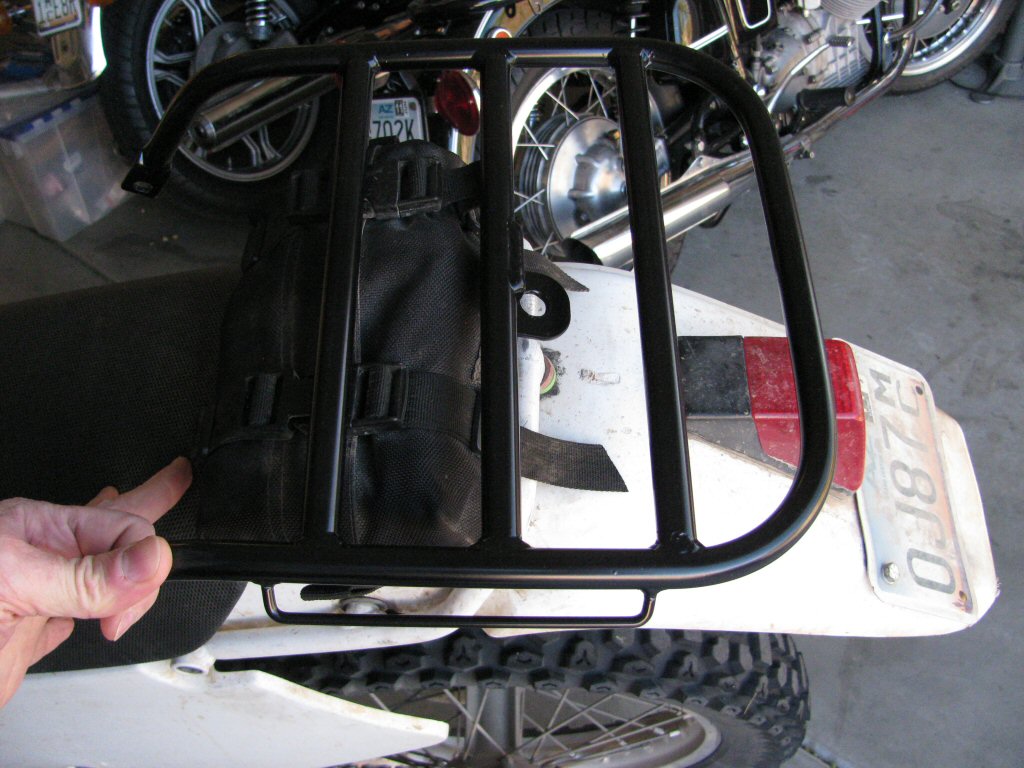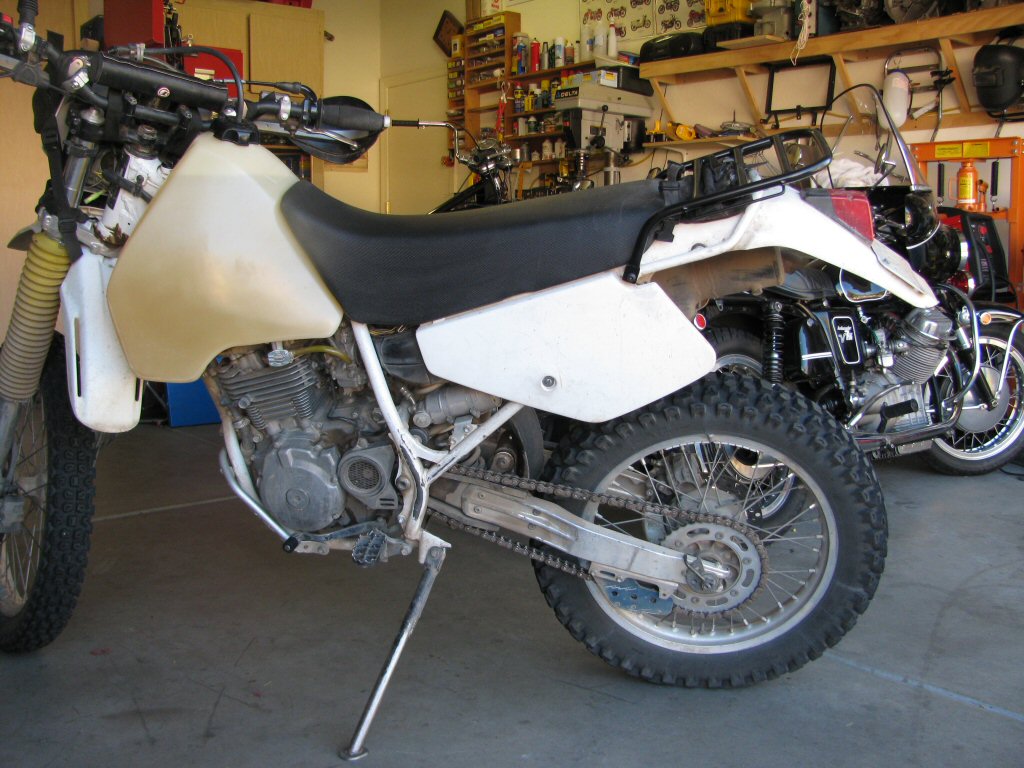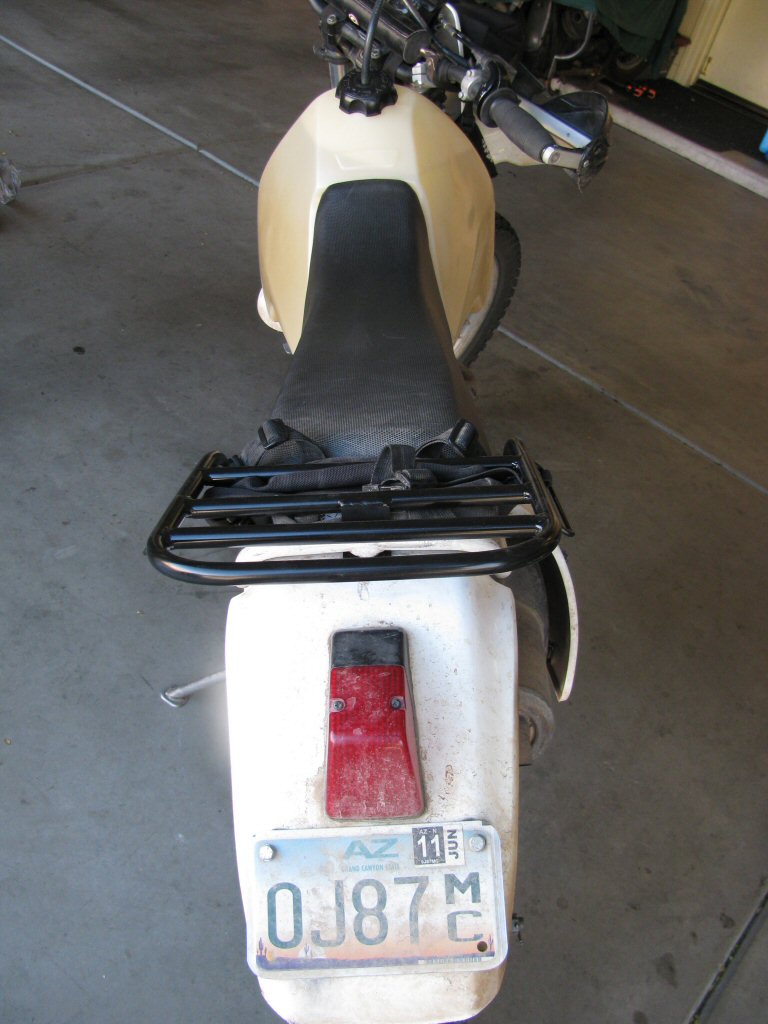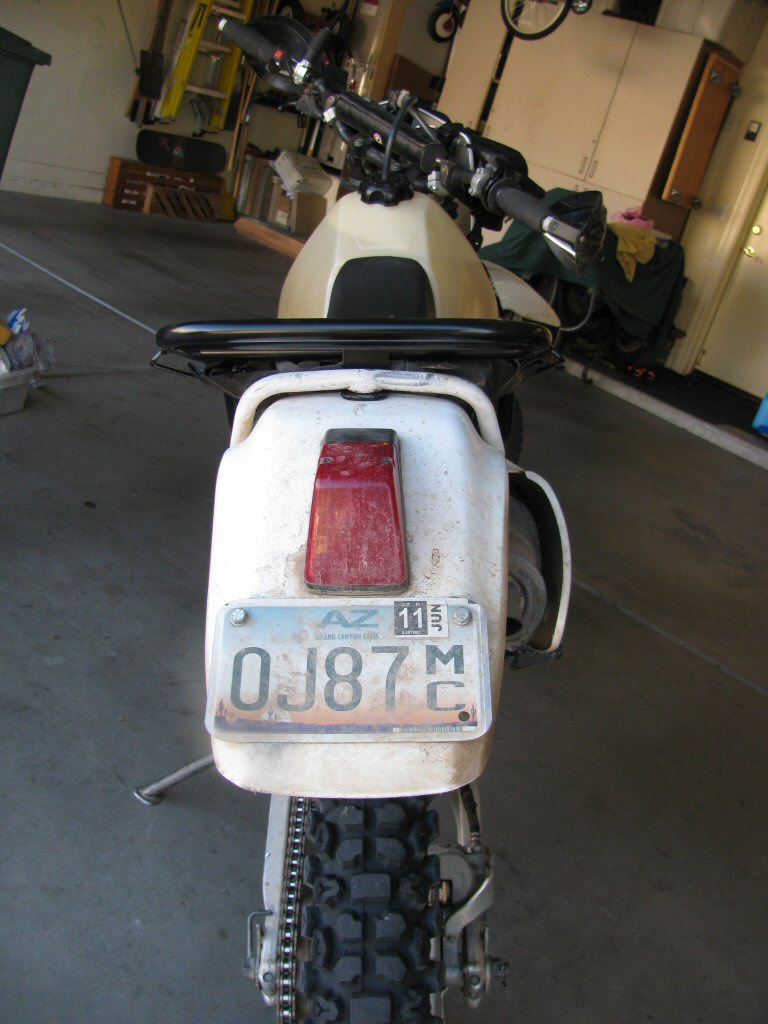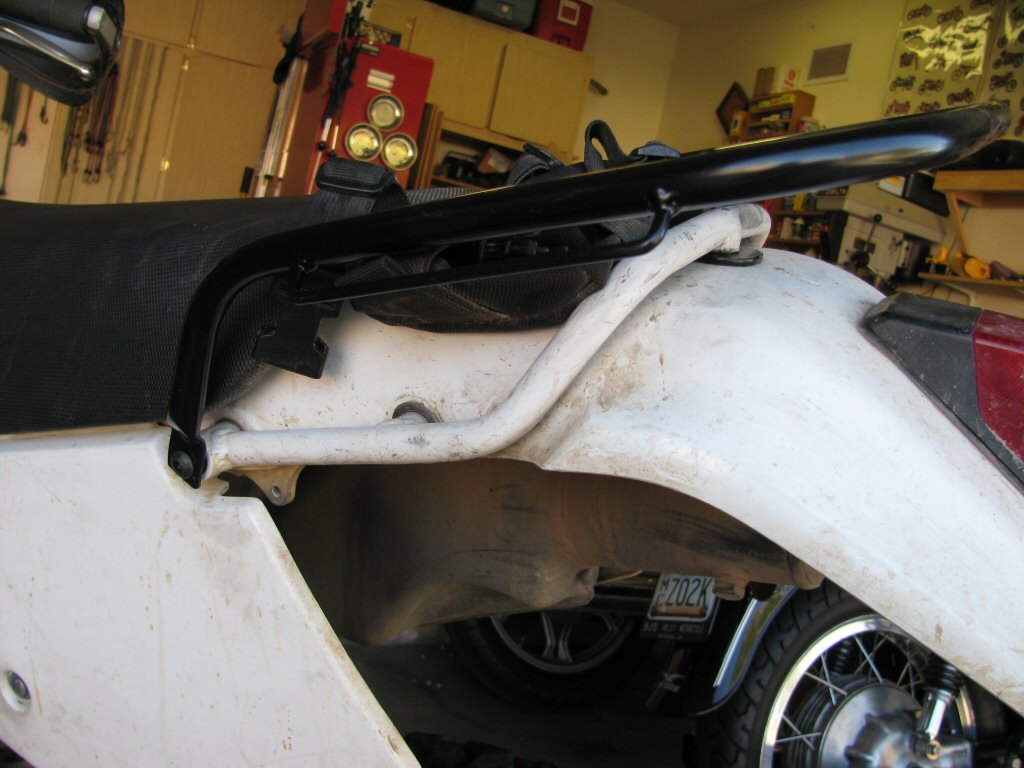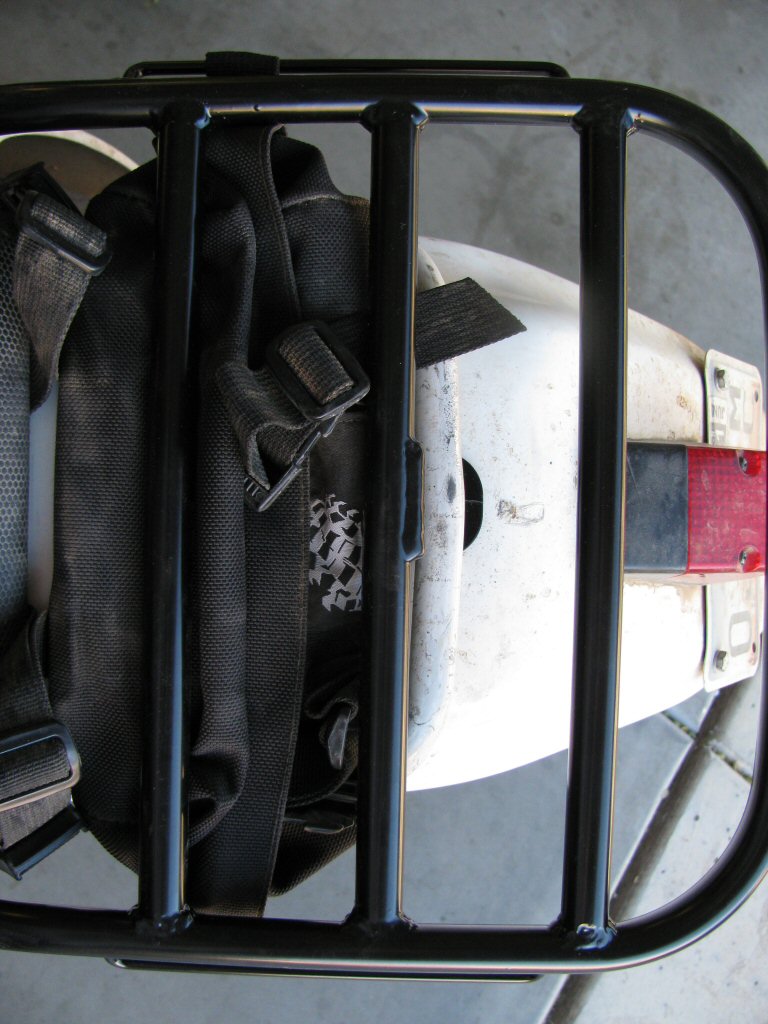 The revised luggage rack
I asked Mike if he would make a revised rack that would permit me to keep my Dirt Bike Gear rear fender bag in place at the same time as the luggage rack. Less than a week after my request the freshly powder coated rack was at my house. Incredible! Fit is perfect with my rear fender bag and installation is just as quick and easy as the first rack he sent me. Good stuff - I love it!