View all Wiring harnesses for the Moto Guzzi 750 S for sale
Main harness for the 750 S
Part number: 14747100
Price: $115.00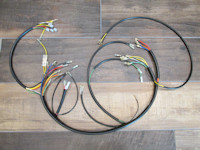 Main harness for the 750 S
I duplicated an original main harness. In construction, I use the same gauge of wire, the same colors and tracers (stripes), the same length and sheathing, the same terminals, etc. All terminals are of the double crimp, strain relief variety.
NOTE: The official Moto Guzzi 750 S spare parts catalog lists MG# 14747110 as the part number for the 750 S main harness. The one I sell here is a duplicate of the main harness used by the V7 Sport. I am not aware of the differences between MG# 14747100 and MG# 14747110. I believe the V7 Sport main harness will work perfectly on the 750 S. If you know otherwise or have any trouble after purchase, I will work with you to correct any issues.
Note: Main harnesses comprise the main - or primary - wiring harness. Each motorcycle also uses ancillary sub-harnesses. The individual sub-harnesses are sold separately.