View all Wiring harnesses for the Moto Guzzi 750 S for sale
Battery cable - positive
Part number: 17747950
Price: $15.75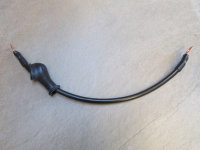 Battery cable - positive
DOES NOT FIT THE EARLY STARTER. INSTEAD FITS THE STANDARD STARTER RELAY AS USED ON ALL OTHER MODELS OF THIS ERA.
Connects the positive terminal on the battery to the starter solenoid. Cable is 6 AWG and is 350 mm (~13 3⁄4 inch) in total length. The battery lug accepts a 6 mm fastener; the starter solenoid lug accepts an 8 mm fastener. If you require something different, please let me know. Replaces MG# 14748400 and MG# 14748450.
Includes rubber cover for the terminal located at the starter solenoid (MG# 12703000).