View all Wiring harnesses for the Moto Guzzi Le Mans for sale
Replacement wiring for the right handlebar switch
Part number: 17635000-LEMANS or 18735040-LEMANS
Price: $7.75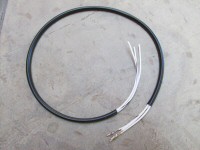 Replacement wiring for the right handlebar switch
Ready for your switch (MG# 17635000 or MG# 18735040).
Wires are 800 mm in length. No connector is provided, as these wires share the 15 terminal plug provided with the wiring for the left handlebar switch. Terminals are fit to the 15 terminal plug as follows:
Position 3: White/black
Position 5: White
Position 6: White
IMPORTANT NOTE: As with all switches actuating higher amperage components, I consider a relay for the coils a good idea and a relay for the starter a necessity.