View all Wiring harnesses for the Moto Guzzi Le Mans II for sale
Relay solution for the horns, coils, headlight high beam, and headlight low beam (NON-PRINTED CIRCUIT INSTRUMENT PANEL)
Part number: RELAY-HARNESS-TONTI-NON-PCB
Price: $100.00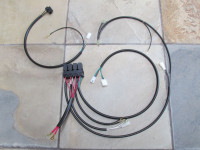 Relay solution for the horns, coils, headlight high beam, and headlight low beam (NON-PRINTED CIRCUIT INSTRUMENT PANEL)
No more excuses! Relays greatly improve the performance of the horns, coils, and headlight. Your horns will be louder, your coils will get all the amperage they require, and your headlights will burn brighter when you use relays. Relays also dramatically extend the life of your handlebar switches.
This relay kit is a well thought-out and solid solution that is in line with what I believe Lino Tonti might have designed. A few points I'll mention:
Complete solution - includes all needed components.
Works with your original wiring harness.
The bank of four relay sockets is intended to be mounted between the battery and the rear plastic inner fender. This affords ease of installation as well as later access. This keeps the headlight bucket largely uncluttered and doesn't hide anything under the gas tank were it is difficult to access.
Wiring is color coded to original specifications.
Relay sockets are used to make installation easy and trouble free.
Each relay is wired independently from each other: horns, coils, headlight high beam, and headlight low beam. This slight redundancy permits one relay to fail without affecting the functionality of any other relay.
Includes all four needed relays.
Relays are of a standard size and easily replaced at any time (they simply plug into the socket).
Simple installation - See installation instructions.