View all Wiring harnesses for the Moto Guzzi V1000 G5 for sale
Multifunction handlebar switch pre-wired for Moto Guzzi Tonti models
Part number: SWITCH-TONTI
Price: $85.00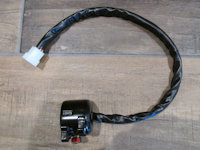 Multifunction handlebar switch pre-wired for Moto Guzzi Tonti models
After 10 years of building Moto Guzzi harnesses and supporting my customers, I have learned that people experience the most frustration and challenges when attempting to wire the left handlebar switch (by far). To help alleviate these issues, I am now offering this brand new switch with period appearance. The switch features a metal body and fits 22 mm (7⁄8 inch) handlebars. It is pre-wired so that you can mount it on your handlebar and plug in the wires quickly and easily.
I chose this switch because of its functionality, size, and appearance. While it does not boast all of the features and functions of a modern switch, it is a good basic switch that is appropriate to the Tonti frames. I use a switch like this on my personal Ambassador and I find it easy to use and my thumb operates all of the controls with ease. As with all handlebar switches, I strongly recommend the use of relays for the headlight circuit. I have an excellent relay solution available for purchase.
Has a true off position where both the running lights and headlight are off.
Headlight switch has the standard low beam and high beam selector.
Turn signal switch functions as you would expect: move the switch left to actuate the left turn signals; move the switch right to actuate the right turn signals; move the switch to the middle position to turn off turn signals.
Simple push-button horn.
Can be fit between the handlebar grip and the clutch perch (this is my recommended location for ease of use).