View all Wiring harnesses for the Moto Guzzi V1000 I-Convert for sale
Replacement wiring for the right handlebar switch
Part number: 17635000 or 18735040
Price: $8.50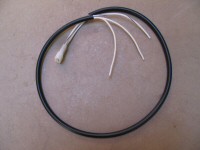 Replacement wiring for the right handlebar switch
Ready for your switch (MG# 17635000 or MG# 18735040).
Wires are 800 mm in length. Upon request, the wires may be left separate from the 3 terminal plug - so that the wires may be more easily routed inside to the handlebar.
IMPORTANT NOTE: As with all switches actuating higher amperage components, I consider a relay for the coils a good idea and a relay for the starter a necessity.