View all Wiring harnesses for the Moto Guzzi V7 Sport for sale
Alternator harness
Part number: 14747400-ALT
Price: $30.00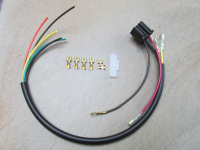 Alternator harness
This alternate version uses normal automotive wire that is less heat resistant (as original). This yields a smaller diameter bundle of wires that may be fit through the original rubber sheathing. Terminals are intentionally left off of one end of the harness so that the wires may be routed through the original rubber sheathing.
SELECT THIS VERSION ONLY IF YOU ARE PLANNING TO RE-USE OR REPLACE YOUR ORIGINAL RUBBER SHEATHING.
Uses all of the original correct original colors. Connections at alternator and rectifier are correct and accurate for the V7 Sport: lacking the flat 3-connection plug that was fit to later models.
Crimp connections after routing the harness through your original rubber sheathing:
Yellow: straight

6.3 mm

female spade terminal
Orange: straight

6.3 mm

female spade terminal
Green: straight

6.3 mm

female spade terminal
Brown: straight

6.3 mm

female spade terminal
Black: flag

6.3 mm

female spade terminal