Batteries
Moto Guzzi V700, V7 Special, Ambassador, 850 GT, 850 GT California, Eldorado, and 850 California Police models
Created:
Updated:
Motorcycle batteries generally fall into three technology categories: lithium ion, valve regulated lead acid, and flooded wet cell.
Lithium ion batteries
Gregory Bender's thoughts:
At this time, I do not recommend the use of lithium ion batteries.
Lithium ion batteries are the latest readily available battery technology. Lithium Ion batteries are extremely light weight and deliver a lot of electrical power. These benefits come at a cost. Indeed, lithium ion batteries are more expensive than other batteries, but nice things cost money.
The real drawback I see is the overall lack of reliability of lithium ion batteries. I don't know very many people who have them, but the failure rate has been unacceptable amongst those I know who have installed them (near 100%). I know that Shorai has been good about replacing their failed batteries. But, that doesn't do much good when your battery fails out in the middle of nowhere and you have to figure out how to get back to civilization. The failures tend to be instant without any pre-warning whatsoever: running fine one minute and then dead on the side of the road the next (and totally unrelated to the performance of the charging system).
I'm hoping the early lithium ion troubles are nothing more than the teething pains of bringing a new technology into a harsh environment. Personally, I'm going to wait a lot longer until reliability is a very distant memory.
Valve regulated lead acid batteries (also referred to as dry cell, gel, sealed lead acid, SLA, absorbed glass mat, AGM, etc.)
Gregory Bender's thoughts:
I recommend the use of valve regulated lead acid batteries. They have a much better track record than lithium ion batteries for longevity and performance, and are far less likely to emit fumes or leak acid than flooded wet cell batteries. Furthermore, if one does start to fail, you can likely nurse it enough to get back home (unlike lithium ion batteries).
Big Crank ETX30L
Charlie Mullendore of Antietam Classic Cycle has informed me that the Big Crank ETX30L battery fits (Battery Mart sells them). Here are the details:
Battery Mart Part #: ETX-30L
Capacity: 26 Ah
Type: AGM
Length:

6.63 inch

Width:

5.19 inch

Height:

6.88 inch

Cold Cranking Amps: 400 CCA
Shipping Weight: 23.00Lbs
Jim Pissot informed me that these batteries are available through NAPA (in both the USA and Canada) under the following names: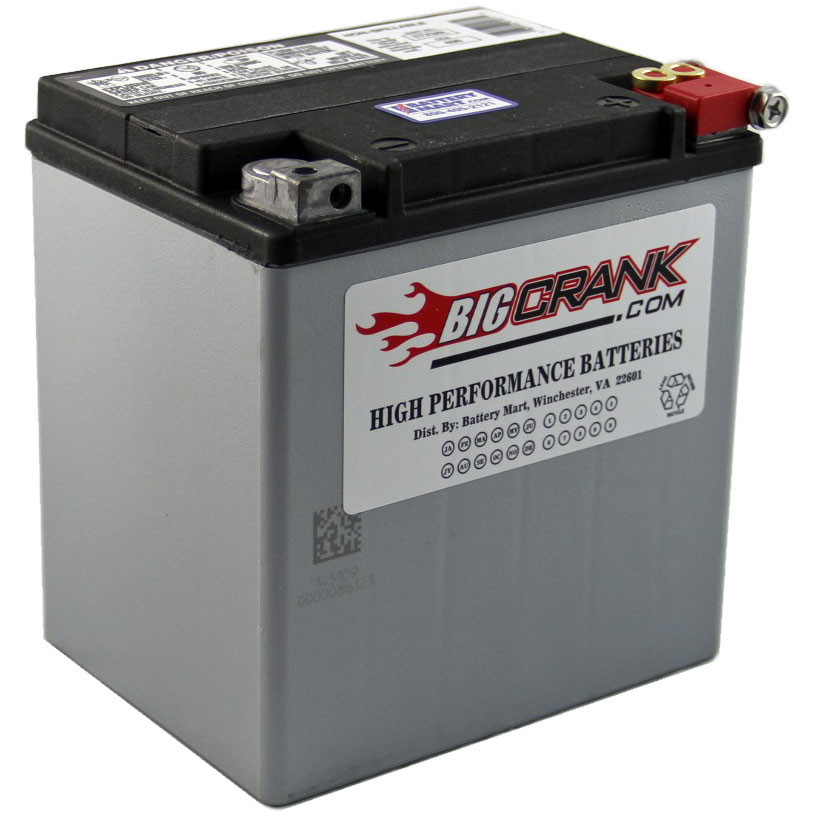 Charlie Mullendore of Antietam Classic Cycle has informed me that the Deka/Marathon MAR-8AM-U1R battery fits (Battery Mart sells them). These batteries are popular with owners of the Mazda Miata. Here are the details:
Battery Mart Part #: MAR-8AM-U1R
Capacity: 25 Ah
Type: AGM
Length: 7 3⁄4 inch
Width: 5 1⁄8 inch
Height: 7 1⁄4 inch
Cold Cranking Amps: 320 CCA
Shipping Weight: 25.00Lbs
The one drawback I see to these batteries is the use of post terminals. I prefer a battery that accepts a 6 mm ring terminal. I find it easier to fit the hold down bracket as well as additional electrical components.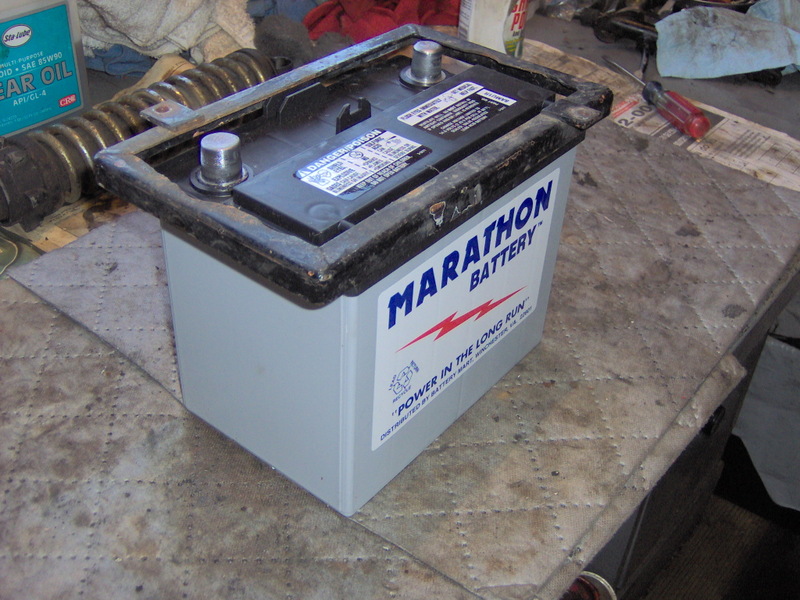 Odyssey brand batteries
A great battery choice recommended by John Ulrich is the Odyssey PC925MJT with 380 cold cranking amps and 925 cranking amps for 5 seconds. It can be installed on it's side and fits well in the battery tray. Battery Mart and Battery Sales are two online locations with (historically) competitive pricing (thanks to Charlie Mullendore of Antietam Classic Cycle and Howard Blank for the links to the online stores).
George Dockray was kind enough to send me a couple of photos of his PC925 installation. He glued rubber sheet to a piece of 3⁄4 inch plywood for the base to get it out of the way of the bolt heads and base tabs.
George sent me this follow-up on :
At long last I had to replace the PC925 in my loop. 11 years of trouble-free operation and then this spring it would not take a charge and pass a load test. Figure 11 years is no too bad. Ordered another which from Odyssey Canada is USD $50.00 less expensive than local sources.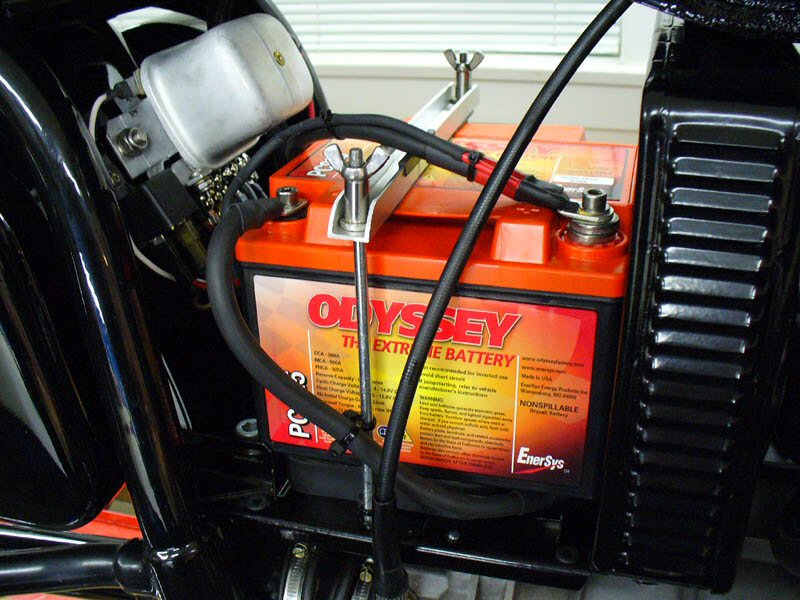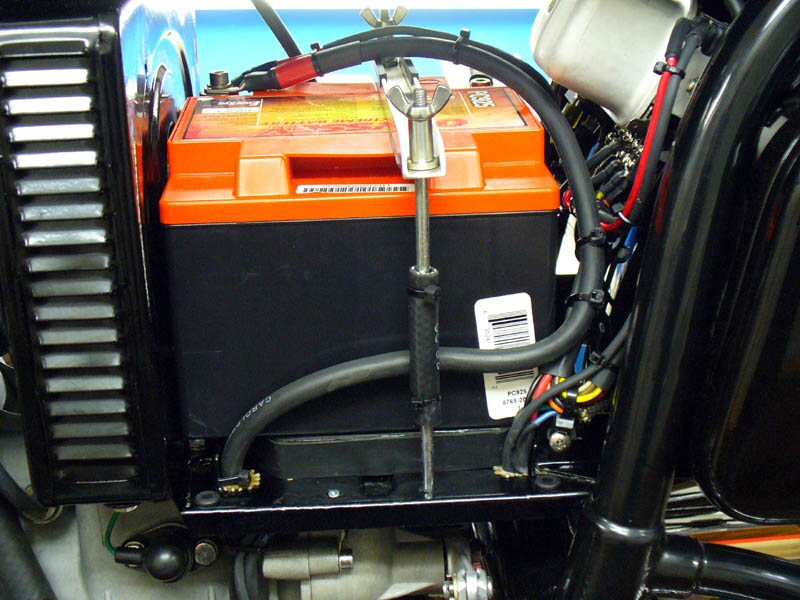 Greg Field reports that the Odyssey PC545 and Odyssey PC680 batteries fit and function well.
Gregory Bender's thoughts:
My first Odyssey PC925 lasted three years before it cracked and leaked a small quantity of battery acid onto my battery tray and transmission. Odyssey sent a replacement. The replacement lasted three years before it died. For USD $180.00, I expected a lot more out of a battery than case cracks and a three year lifespan. I wish I could strongly recommend Odyssey batteries, but my experience with them has left me dissatisfied. Of course, other people have gotten much longer life out of their Odyssey batteries and I suspect that the hot climate in Arizona greatly decreases battery life. All the same, I am not willing to pay USD $180.00 for acid leaks and a three year life span.
More generic VRLA batteries
Carl Krall introduced me to the idea of using a VRLA battery removed from a portable jump start product sold by Harbor Freight.
Following Carl's lead, I installed the Harbor Freight battery in my Ambassador and it is working very well so far (installed ).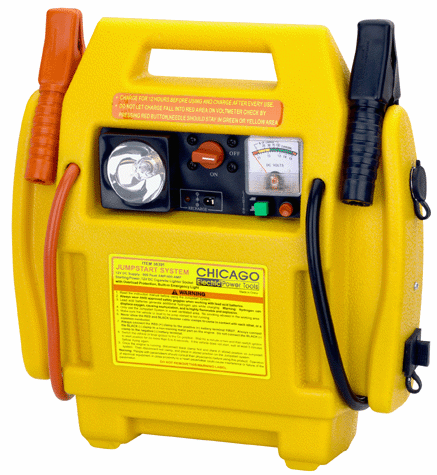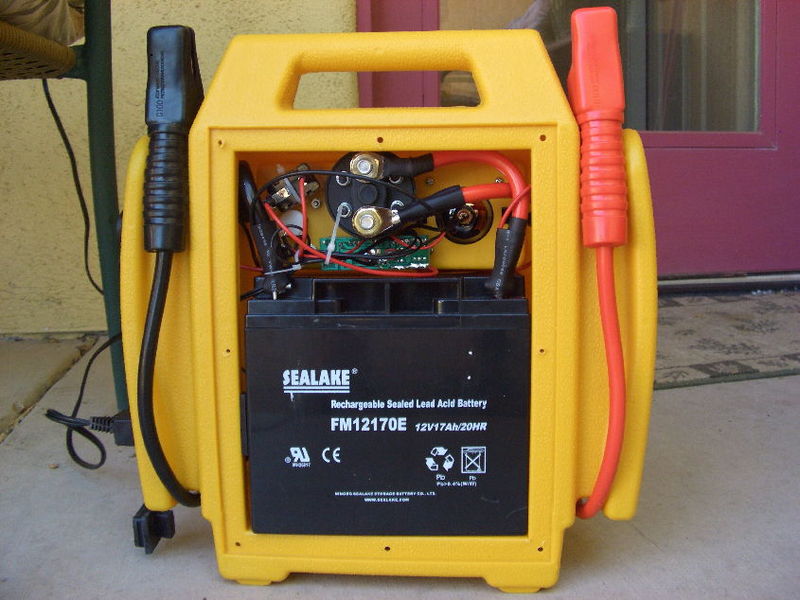 Flooded wet cell batteries