Carburetor rebuild - Dellorto VHB
Moto Guzzi V700, V7 Special, Ambassador, 850 GT, 850 GT California, Eldorado, and 850 California Police models
Created:
Updated:
This is a series of photos I took during the assembly of the carburetors on my V1000 I-Convert project bike. These are Dellorto VHB 30 carburetors. But, the procedure is 100% identical for Dellorto VHB 29 carburetors. Thanks to Charlie Mullendore of Antietam Classic Cycle, Robert Hawkes, Steve Farris, Adam S., Joe Tokarz, and Ken Chicken for making helpful suggestions for improvement.
It is a very good idea to work on one carburetor at a time. That way, you can refer to the assembled carburetor as a pattern.
Parts needed
Consumable parts I always replace:
Consumable parts I replace depending on condition:
(2) Choke (enricher) plungers (these are cheap enough that I always have them on hand)
(2) Float needles (these are cheap enough that I always have them on hand)
(2) Floats (I order these if I need them. I do not replace unless I detect leaks in the originals.)
Disassembly
Disassembly is pretty much the reversal of assembly. So, just start from the last photo, and work your way up to the top.
Cleaning
Prior to these photos being taken, I had completely disassembled both carburetors and soaked all of the metal parts in a bucket of carb cleaner. With the parts out of the carb cleaner, I thoroughly rinsed them in a bucket of rubbing alcohol. Rubbing alcohol dries very quickly, leaves no residue, and - in my experience - does a good job of neutralizing the carb cleaner (though I'm not a chemist and haven't a clue whether or not alcohol neutralizes the carb cleaner, or simply dilutes it to a point where it doesn't matter). Use gasoline if you like, but I prefer rubbing alcohol. Even after cleaning, some of the brass parts appear discolored. Not to worry, they are clean and the discoloration really doesn't matter, as they will discolor again soon enough. But, if you like, a quick turn at a fine wire wheel (not coarse or heavy) will polish them up nicely. Just be cautious around the openings so that they are not enlarged and DO NOT WIRE WHEEL THE TAPERED NEEDLE AT ALL.
As an alternative, after soaking the parts in carburetor cleaner, Charlie Mullendore of Antietam Classic Cycle rinses them thoroughly in cold water, then hot water, and finally sprays through all of the passages with Berkebile 2+2 Gum Cutter.
Assembly
Note: Always take care when fitting O-rings such that they are not damaged during installation, particularly O-rings that slide into the body of the Dellorto VHBZ carburetors (as used on small block Moto Guzzis). The starter O-ring and top cap O-ring both require careful attention. It is a good idea to push the cap fully home before screwing down the screws.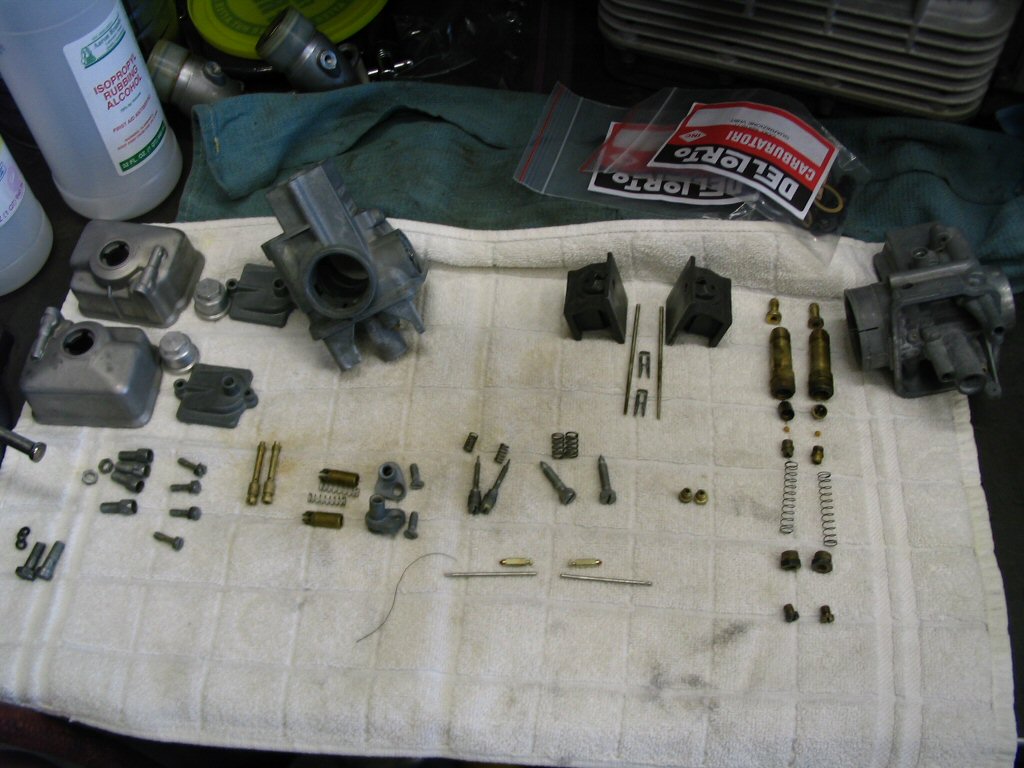 Clean the jets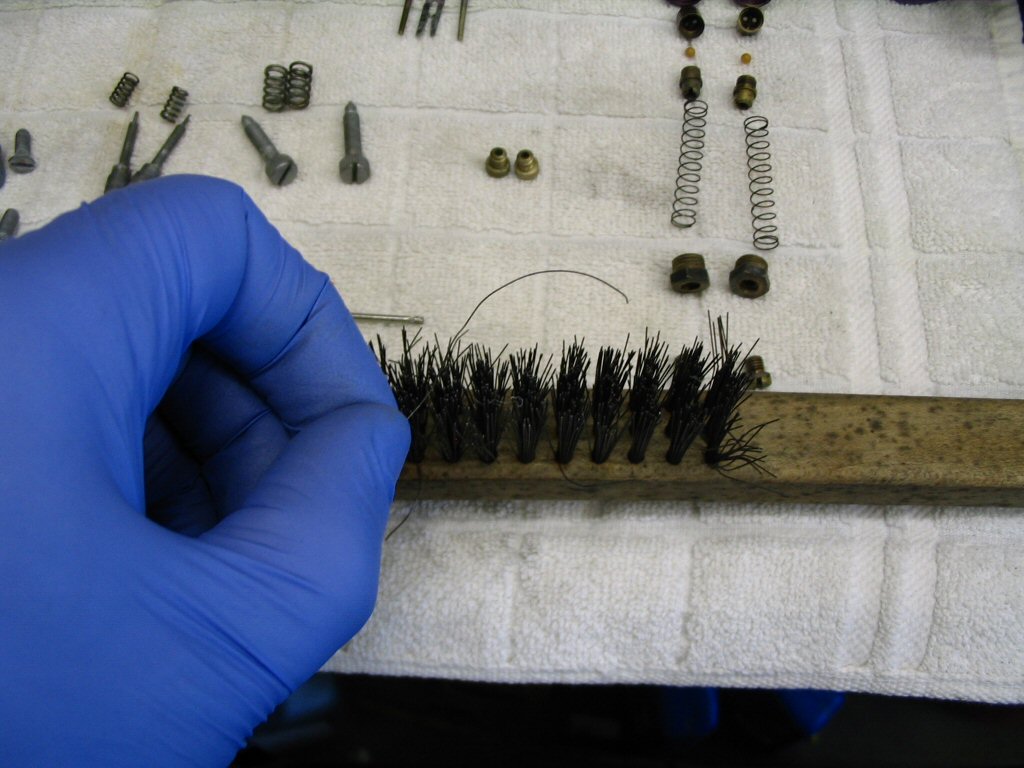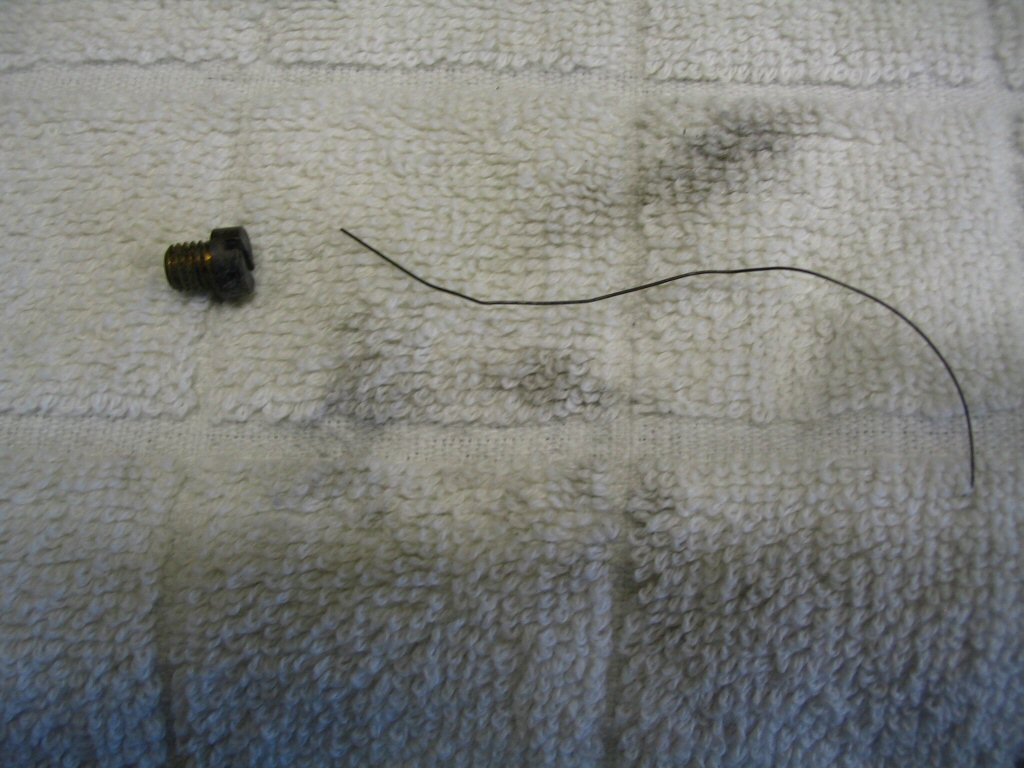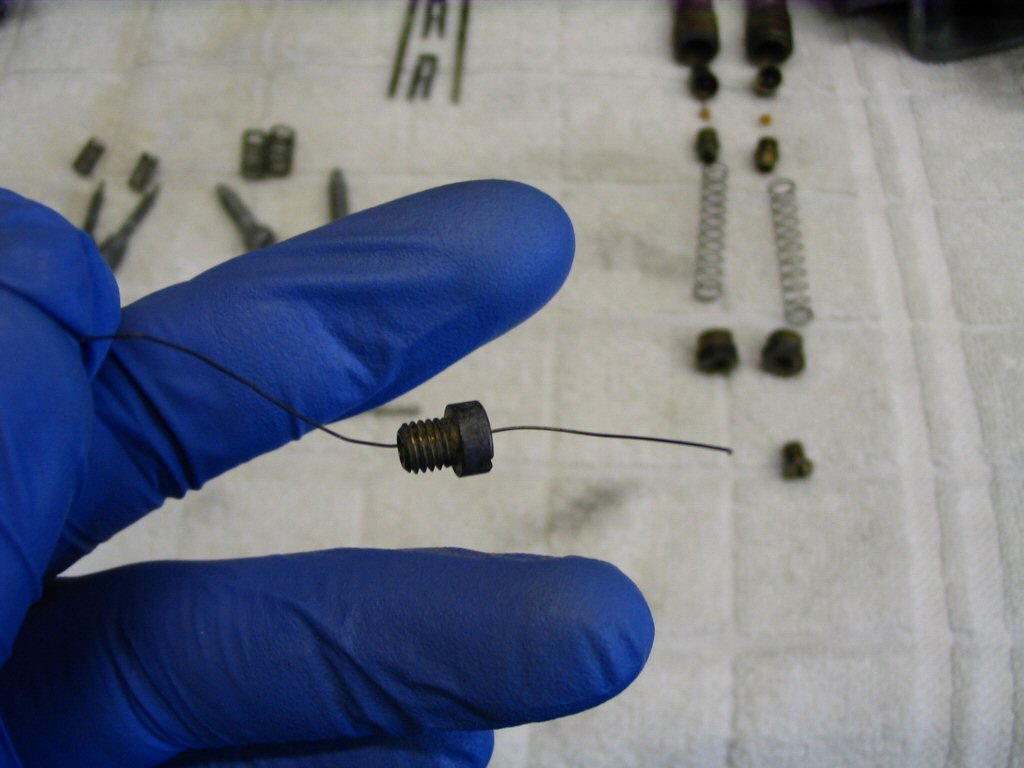 As an alternative to using a wire from a wire brush, Joe Tokarz sent me his method:
I have an alternative wire for carb jet cleaning. I use stands of wire plucked from old control cables.

Throttle wires are the thinnest, and front brake is thicker.

The wire is stiff and has a natural ripple to it and that makes orifice cleaning easy. Just be sure to cut the end clean; no burs. The wire can be straightened with pliers if needed.

With this in mind I have been able to amass a supply of carb cleaning wires that will last for about 200 years.

Photo courtesy of Joe Tokarz.
Clean the passageways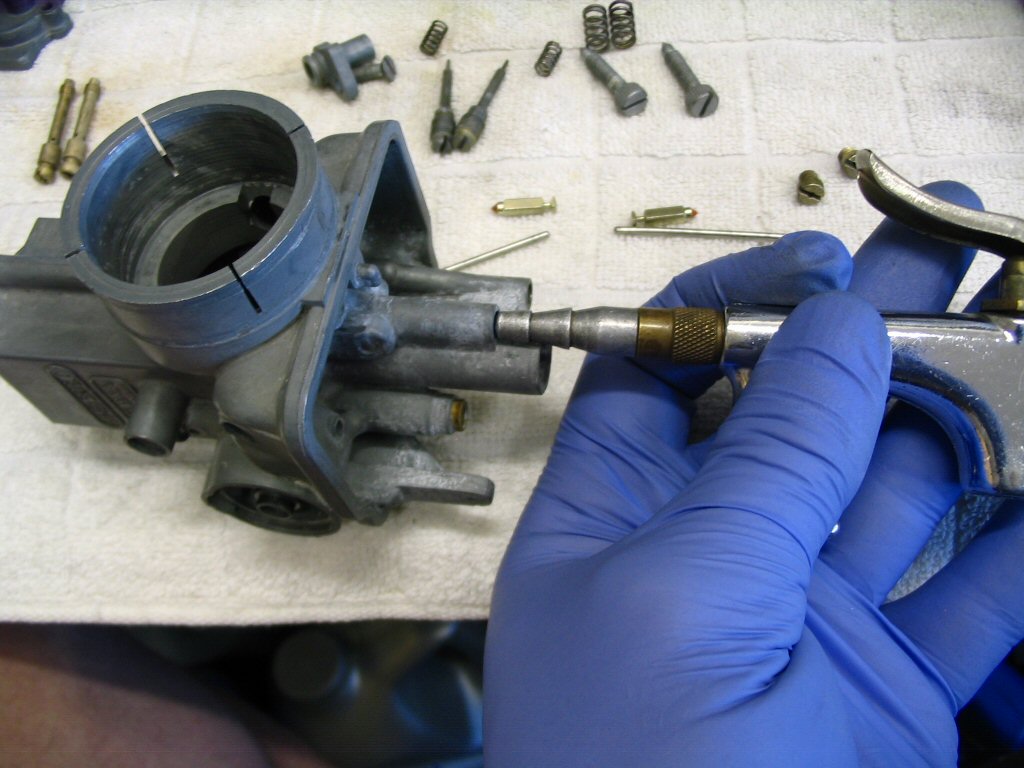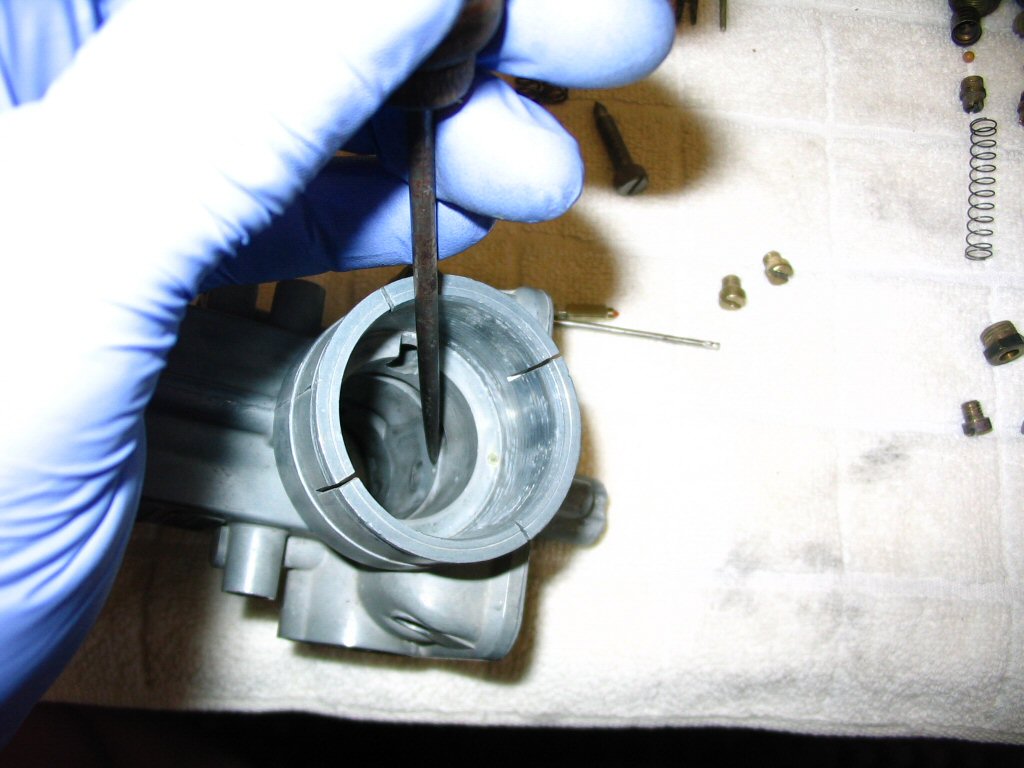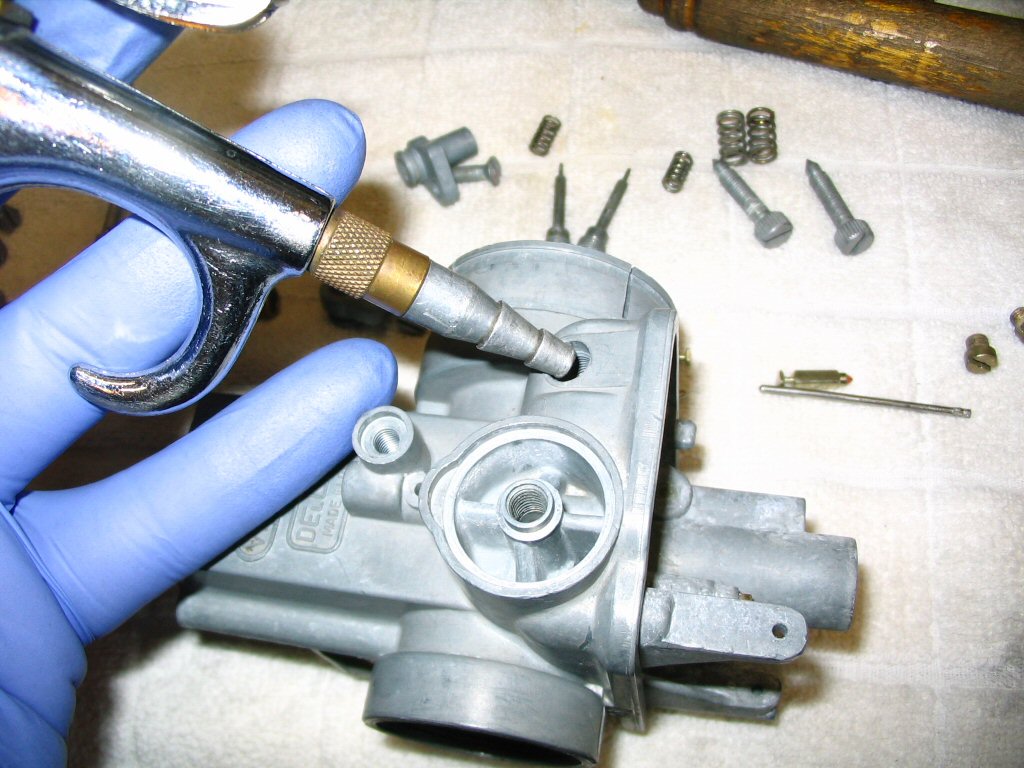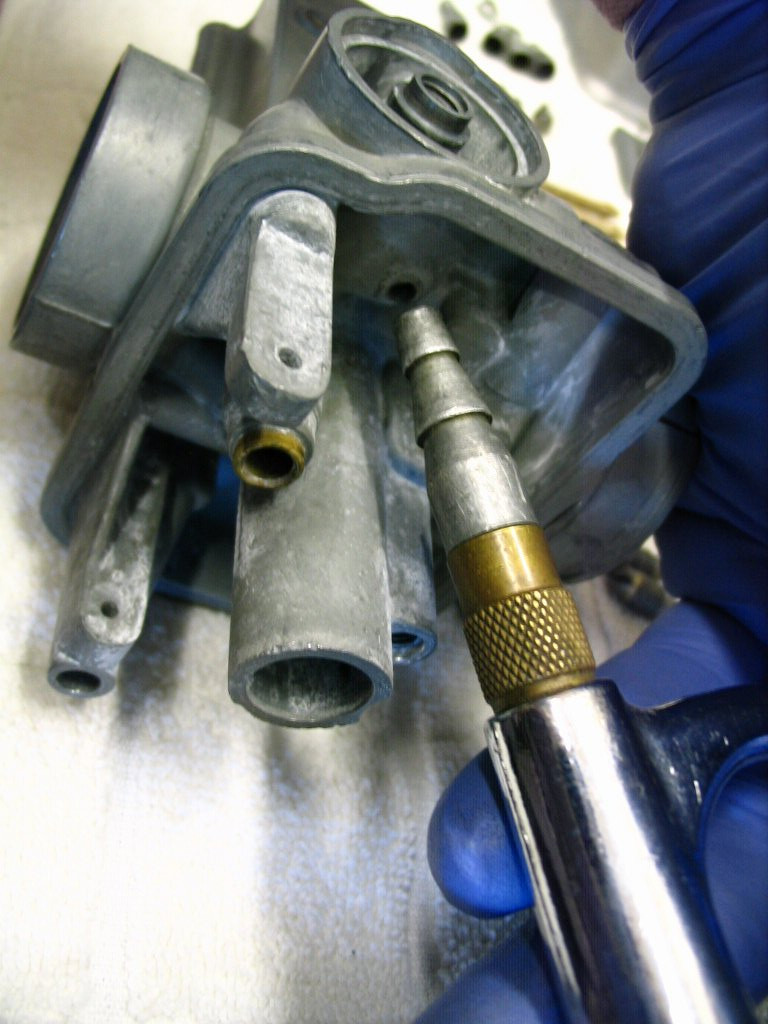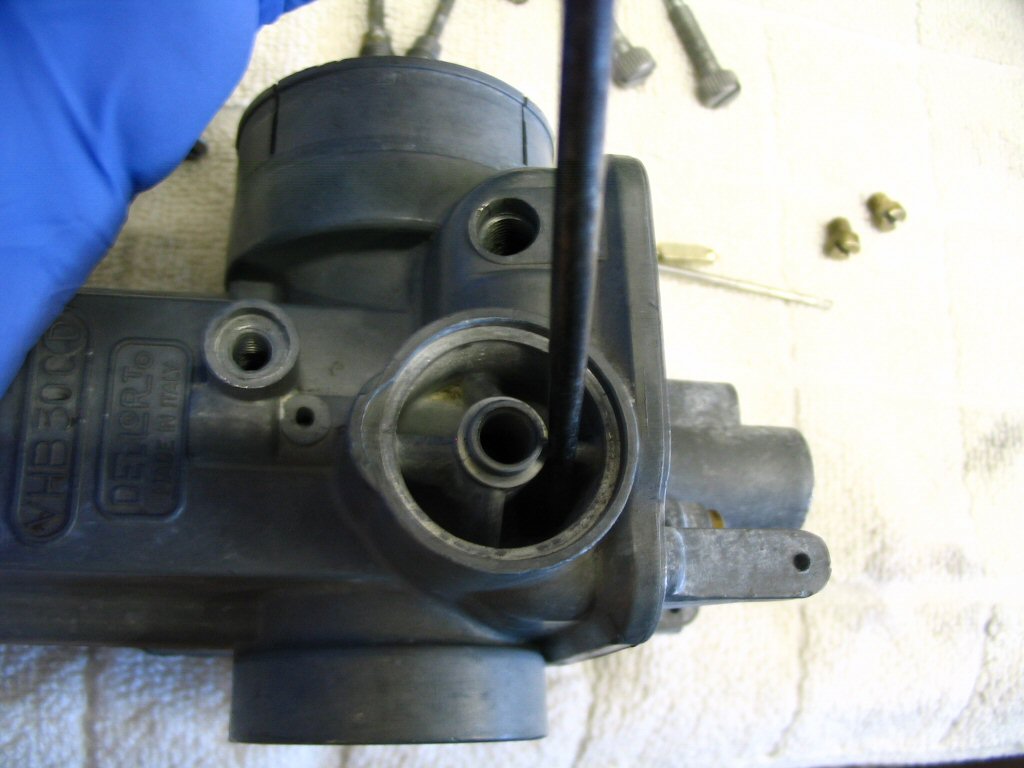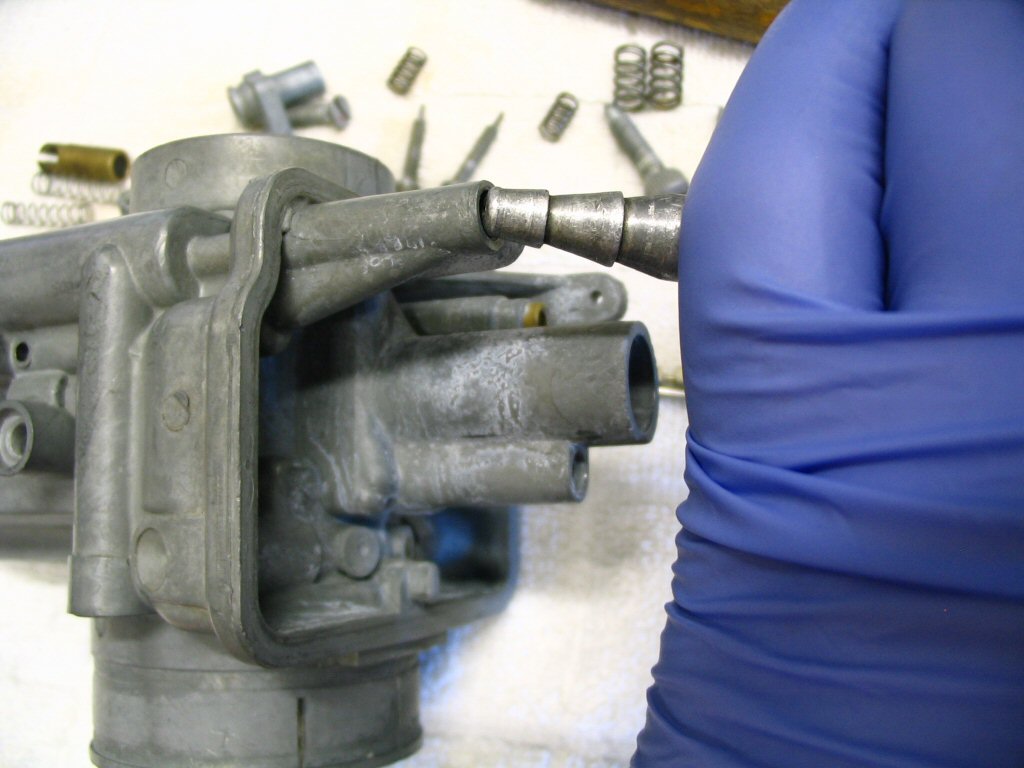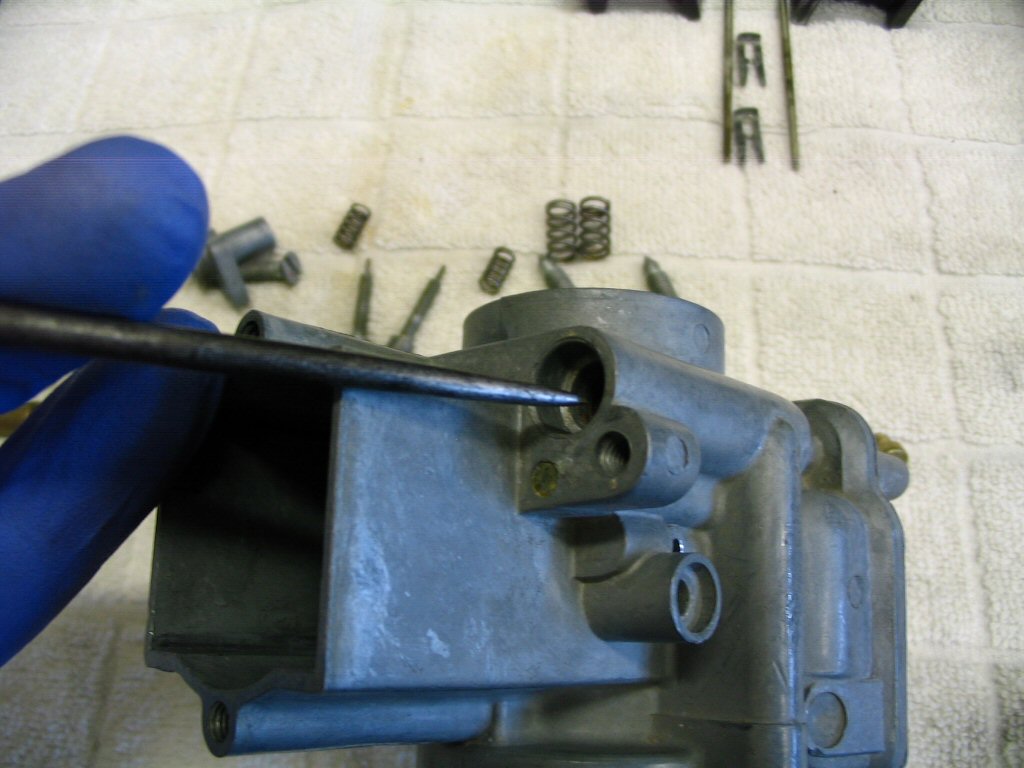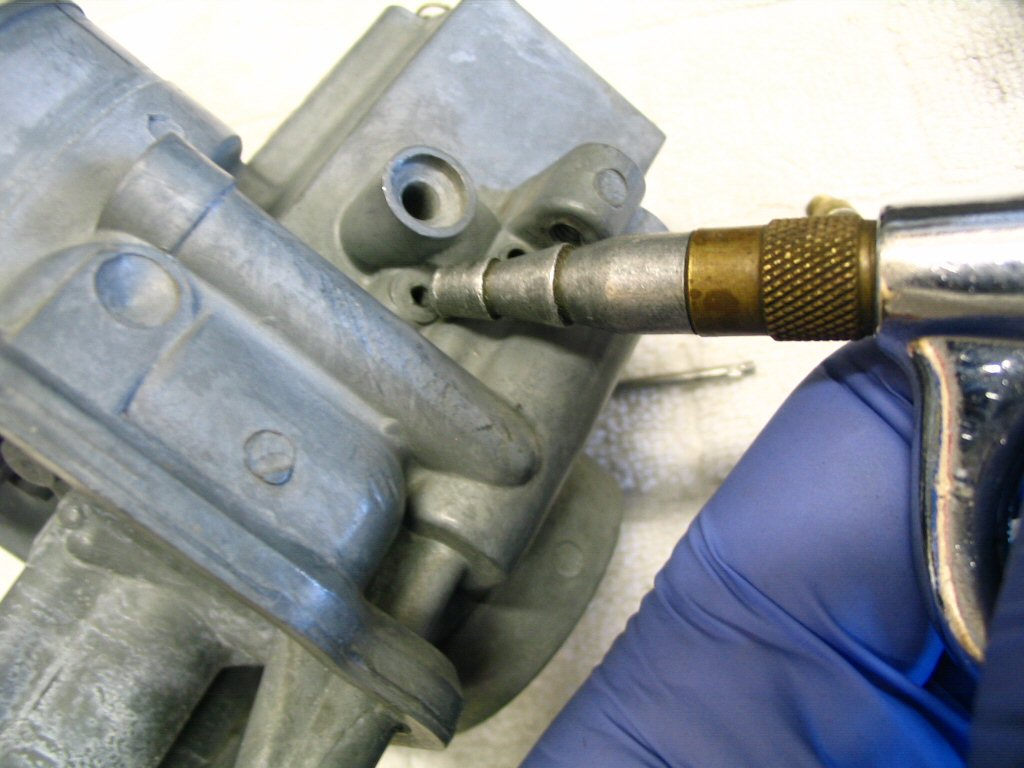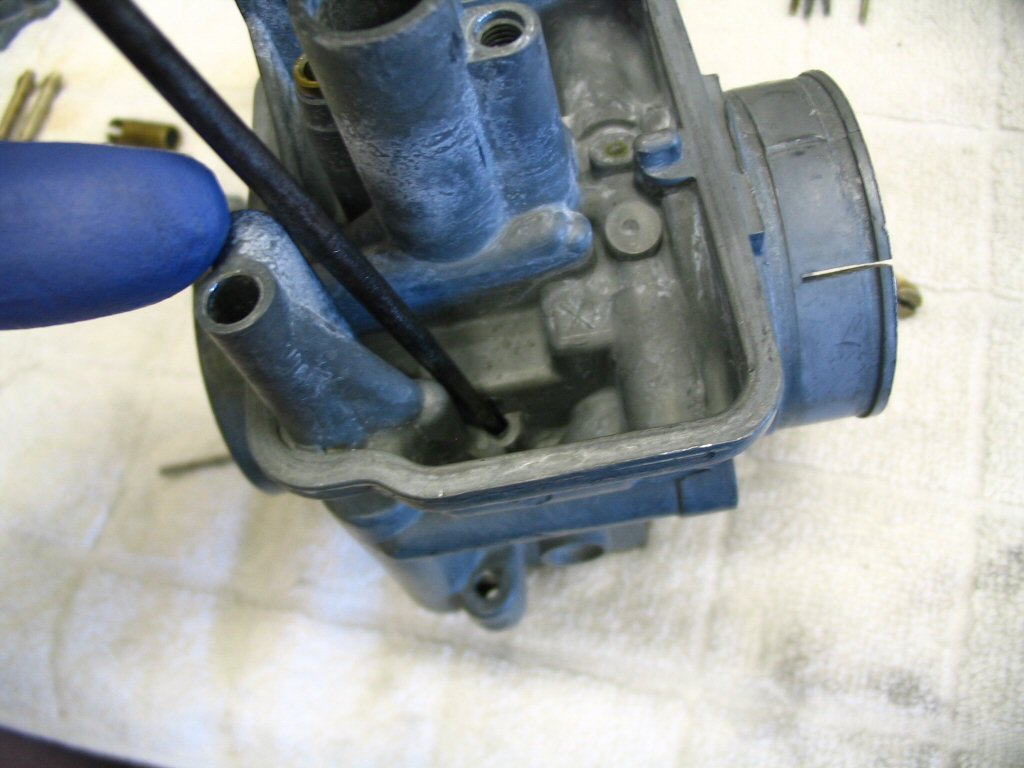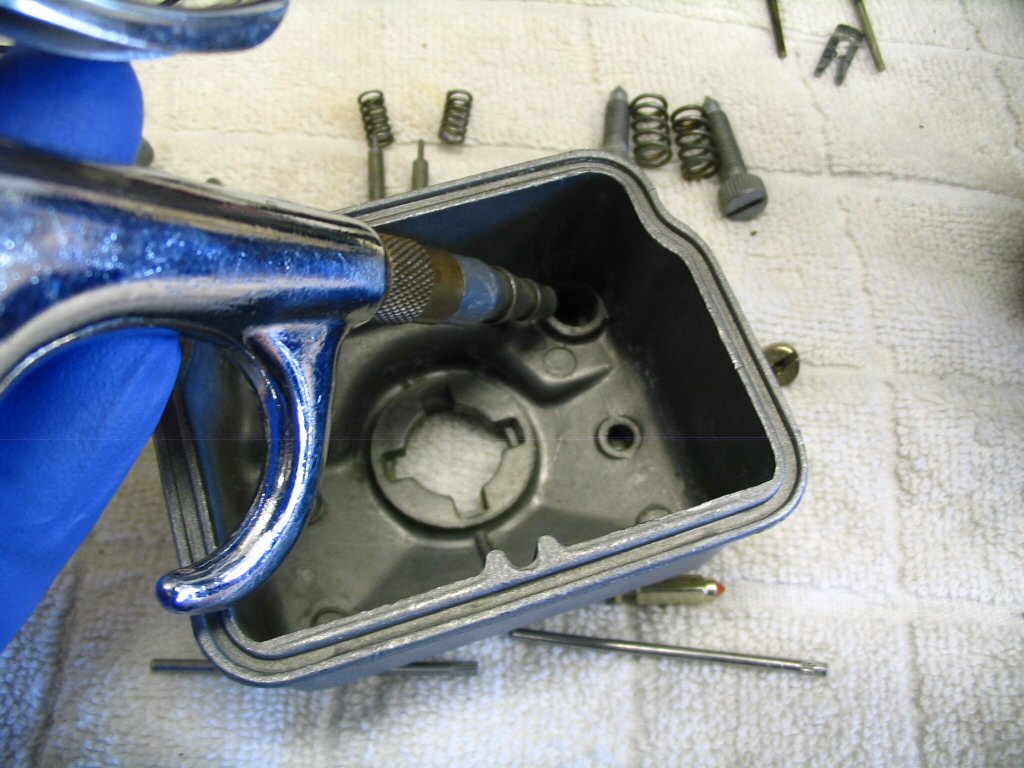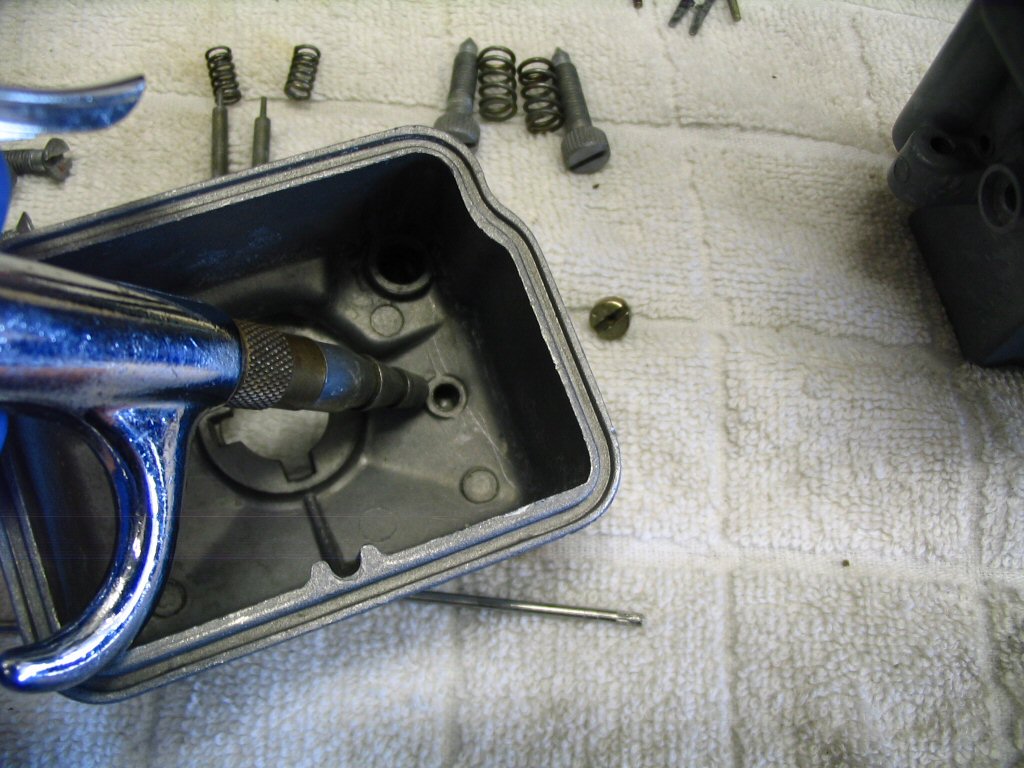 Accelerator pump, atomizer, main jet
Note: Some prefer not to disassemble the accelerator pump piston; choosing instead to consider it perfectly functional if they hear the plastic ball bearing rattle inside the accelerator pump piston.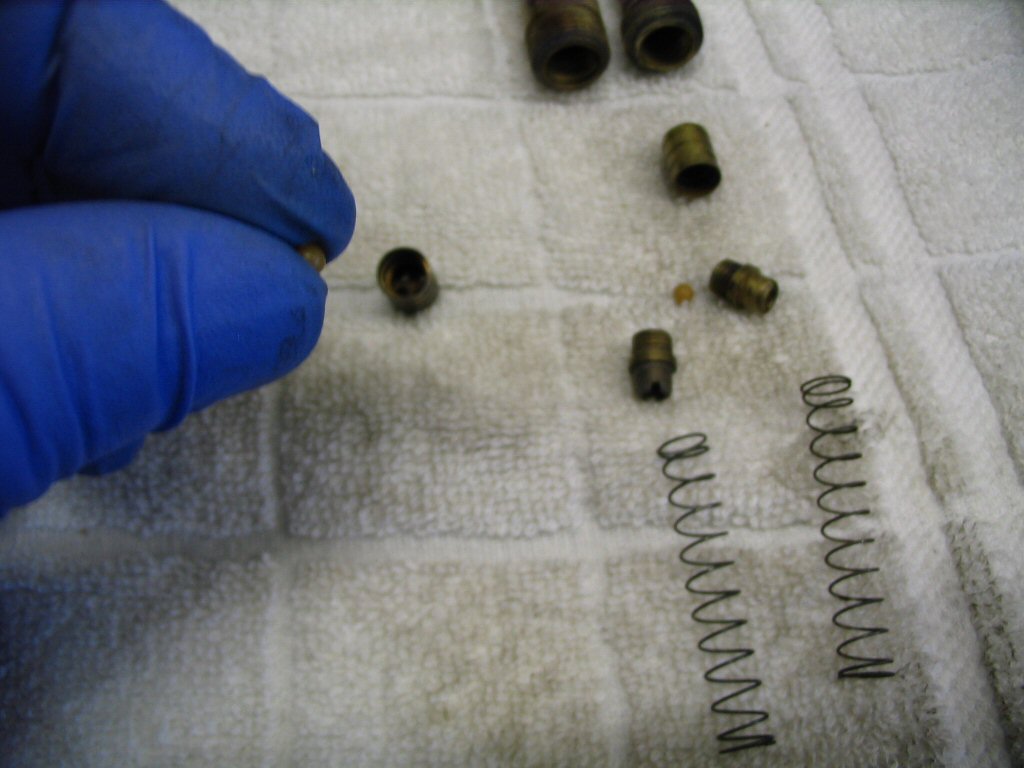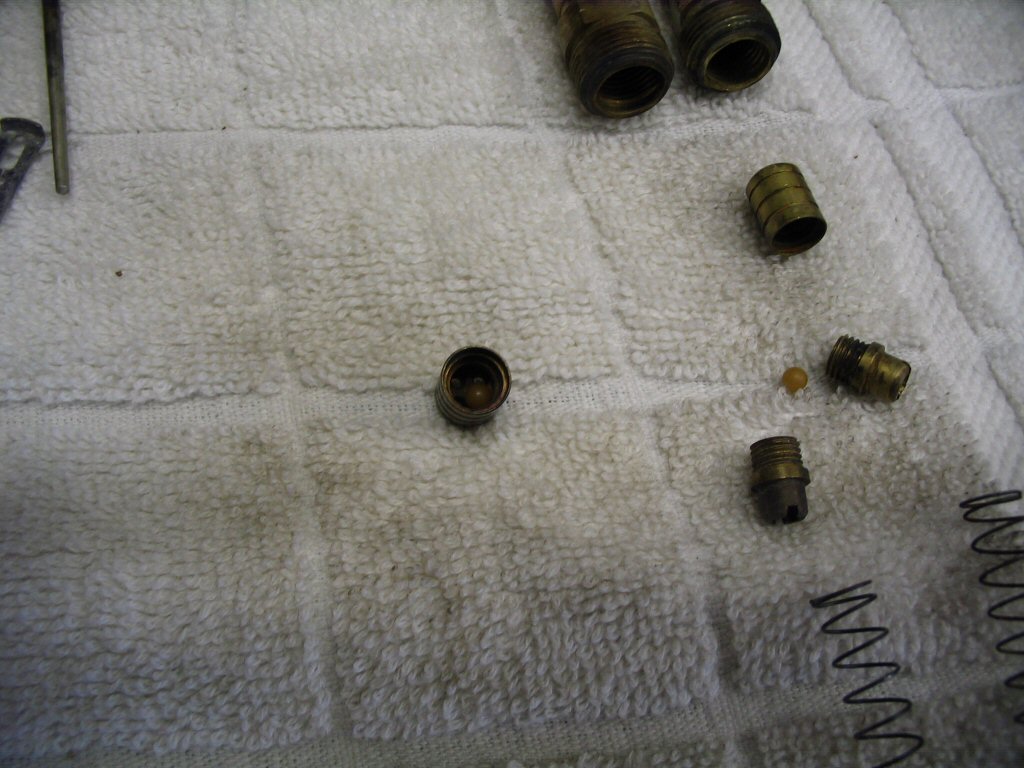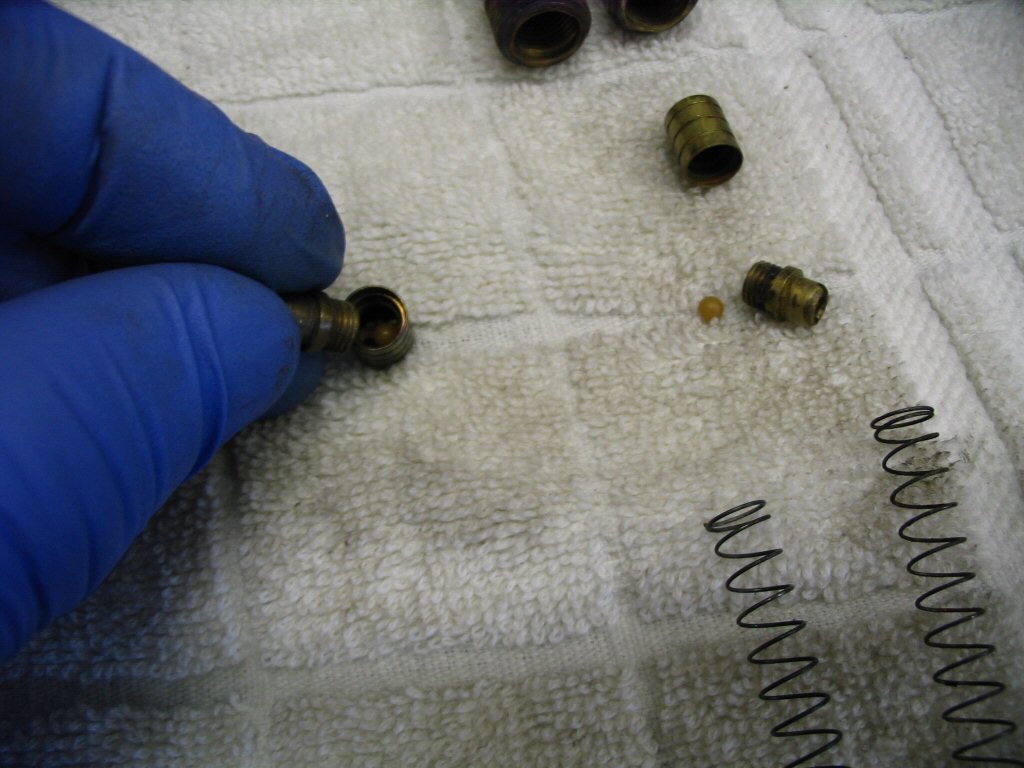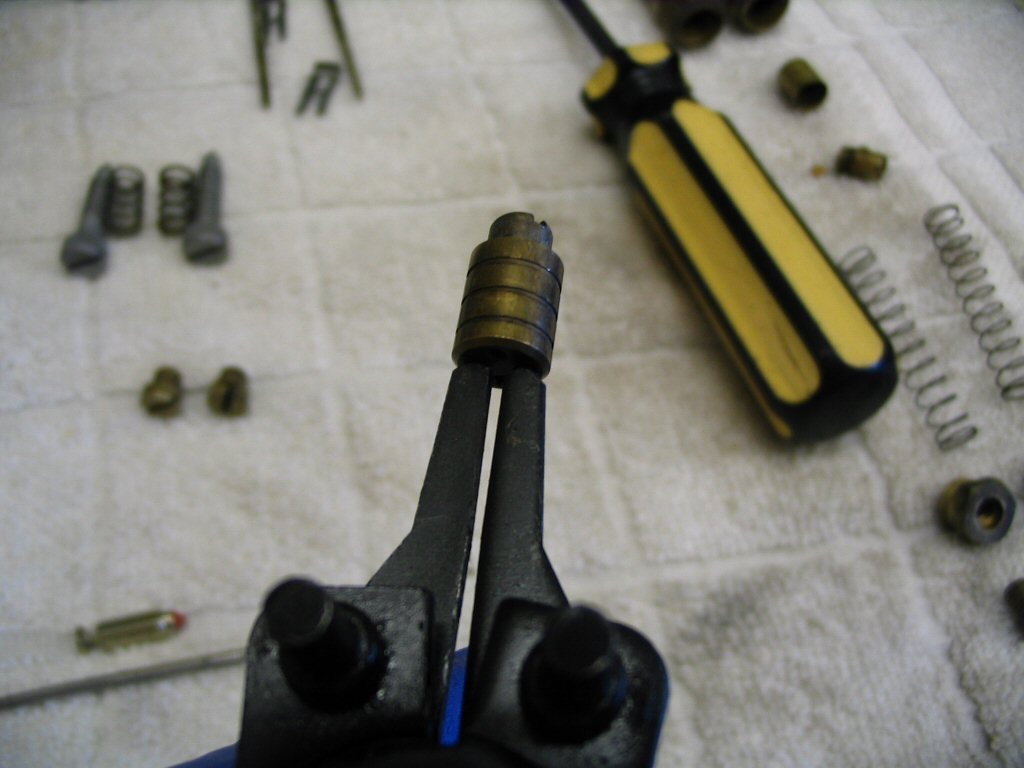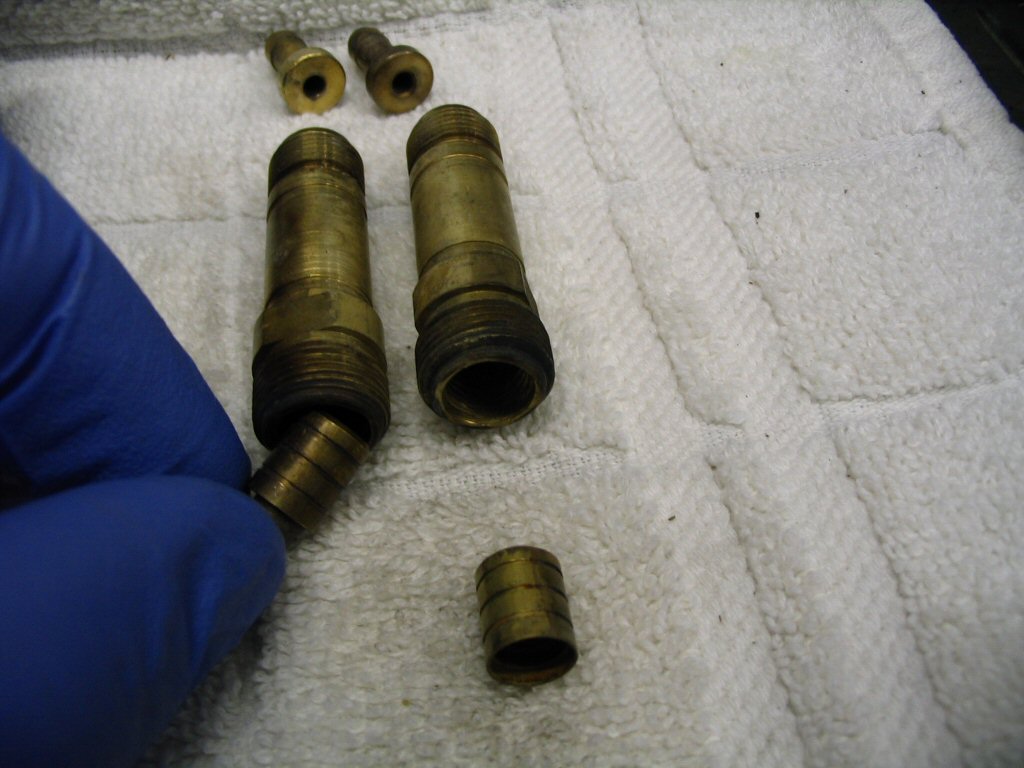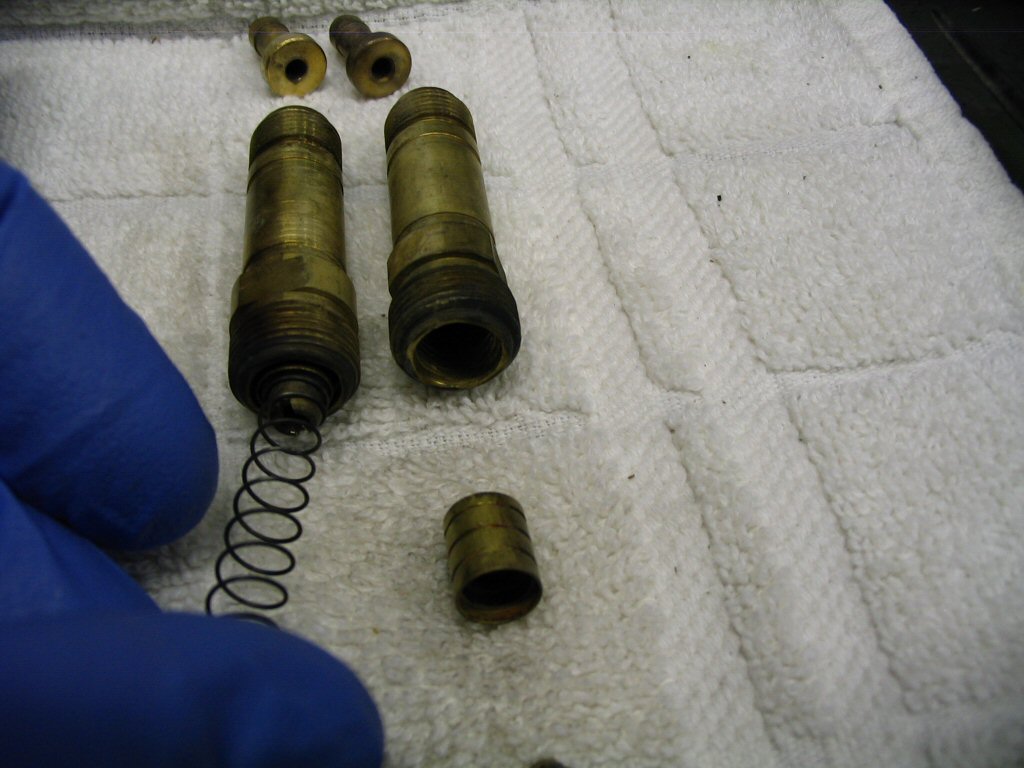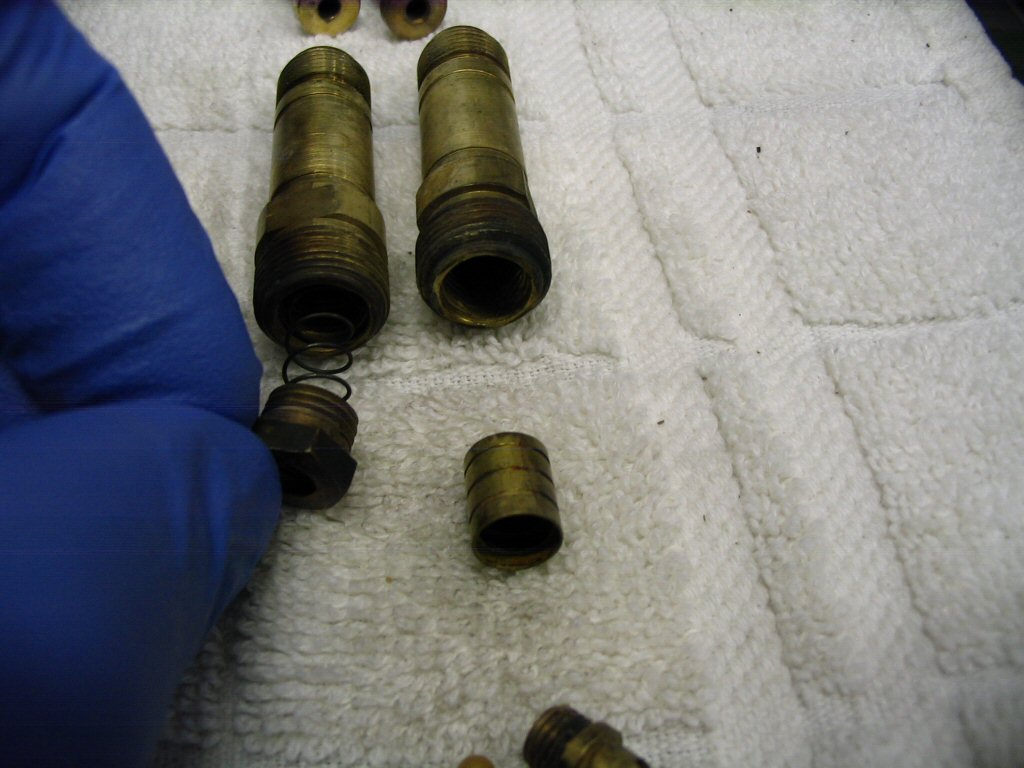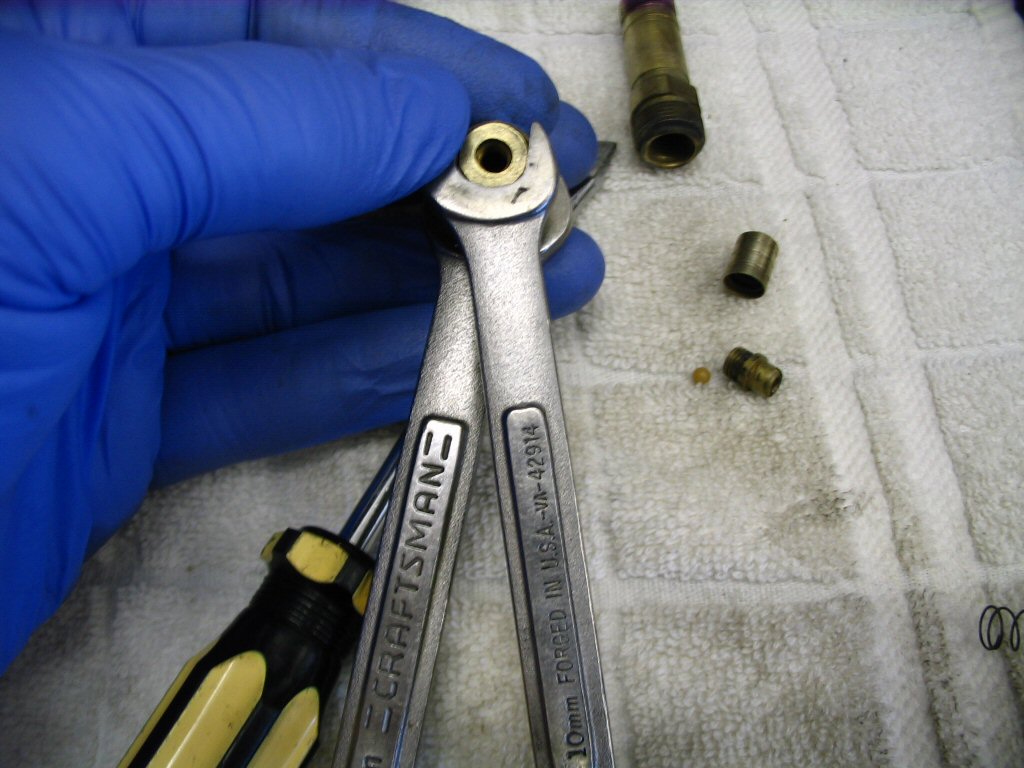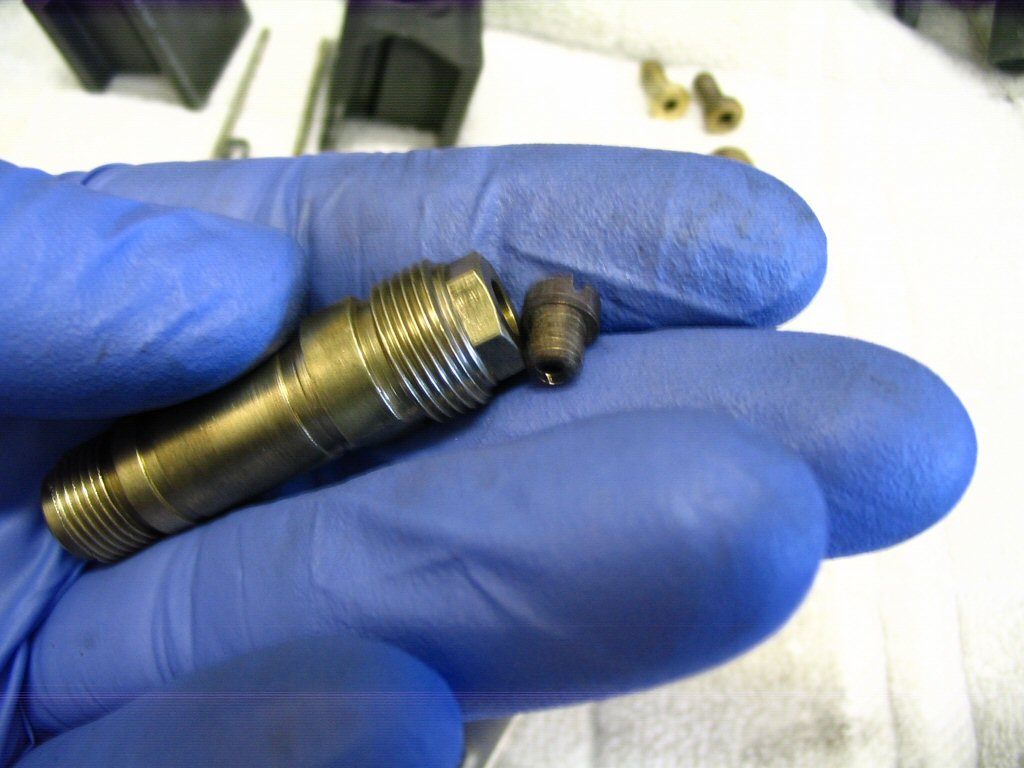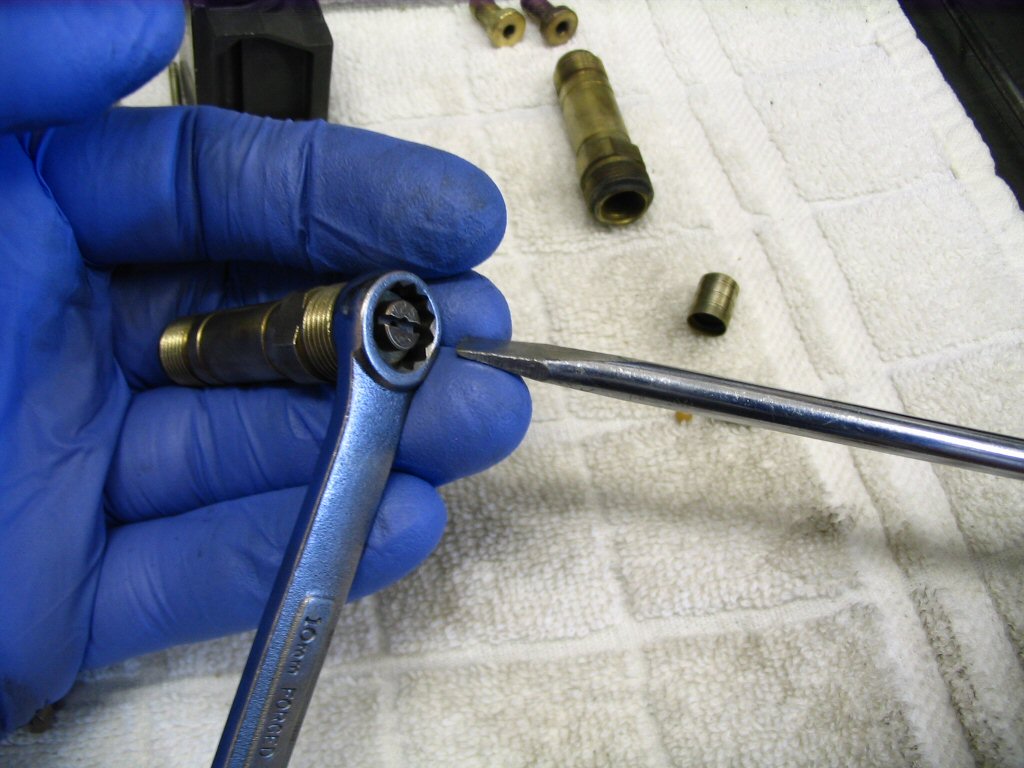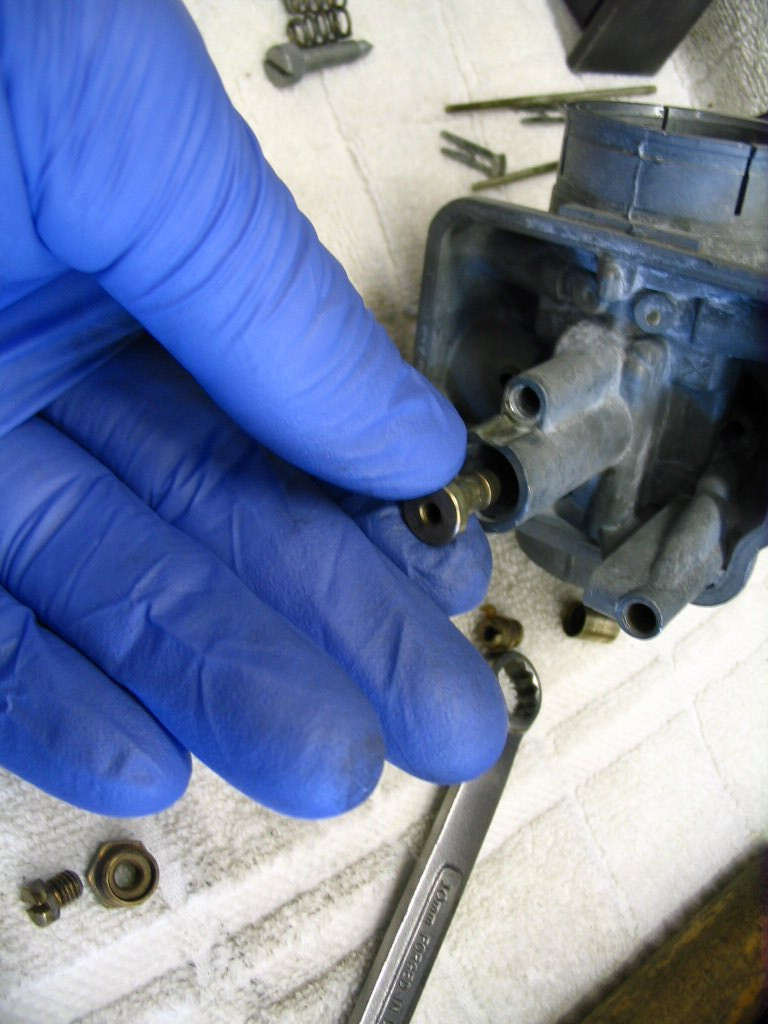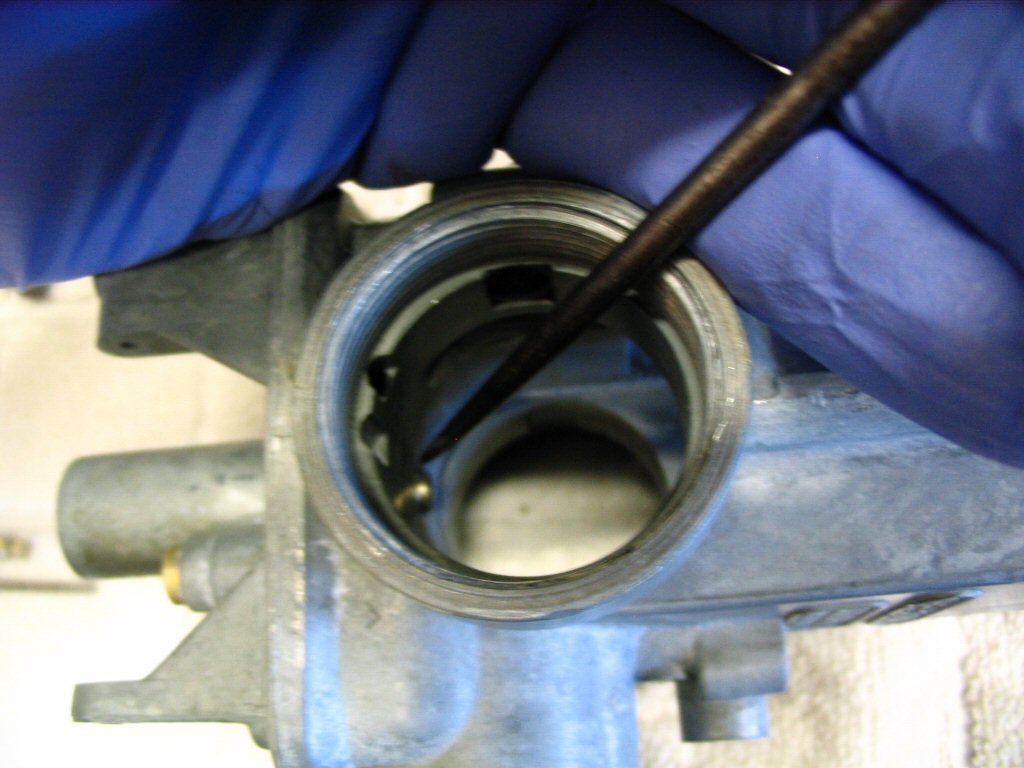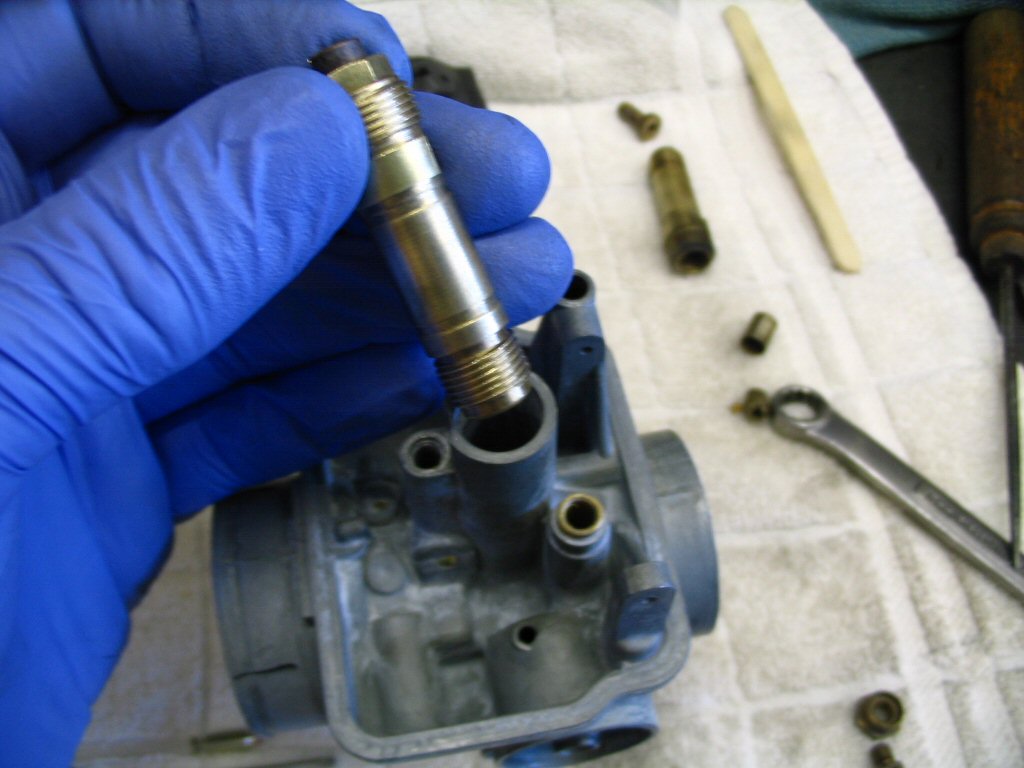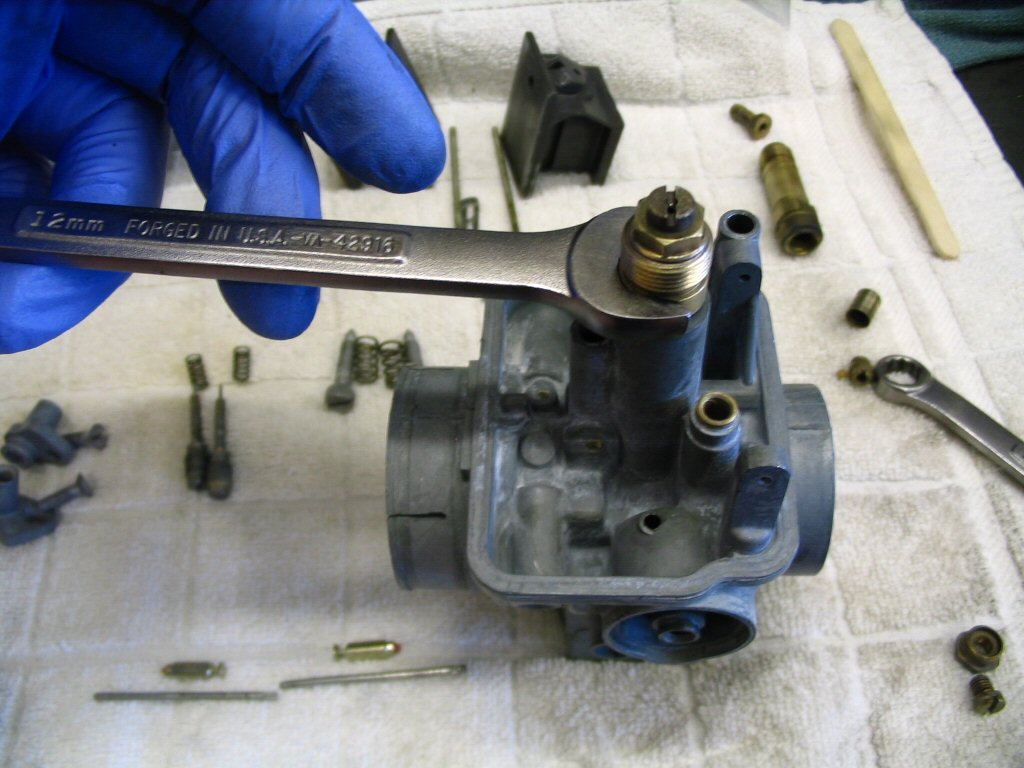 Idle jet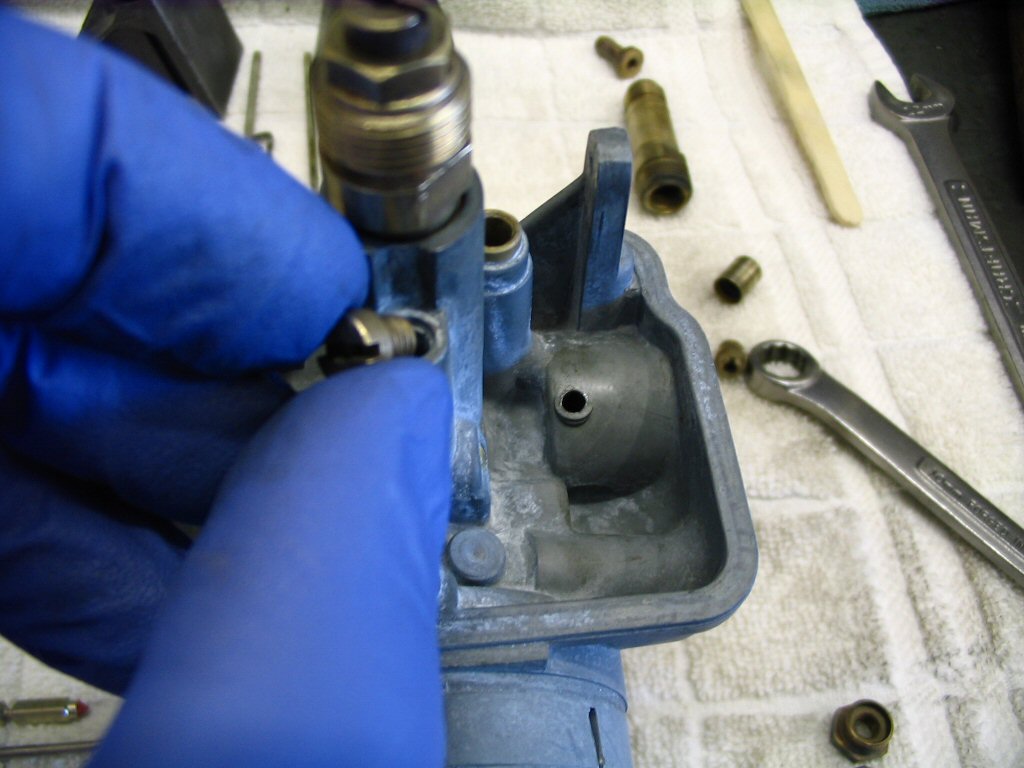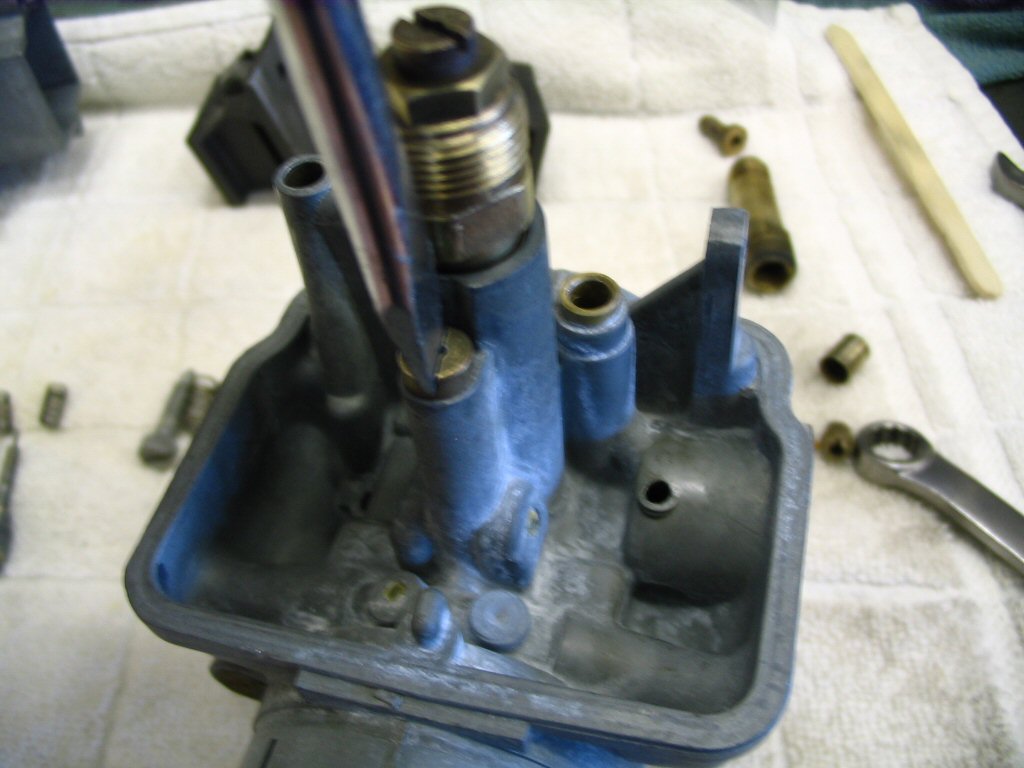 Choke (enricher) jet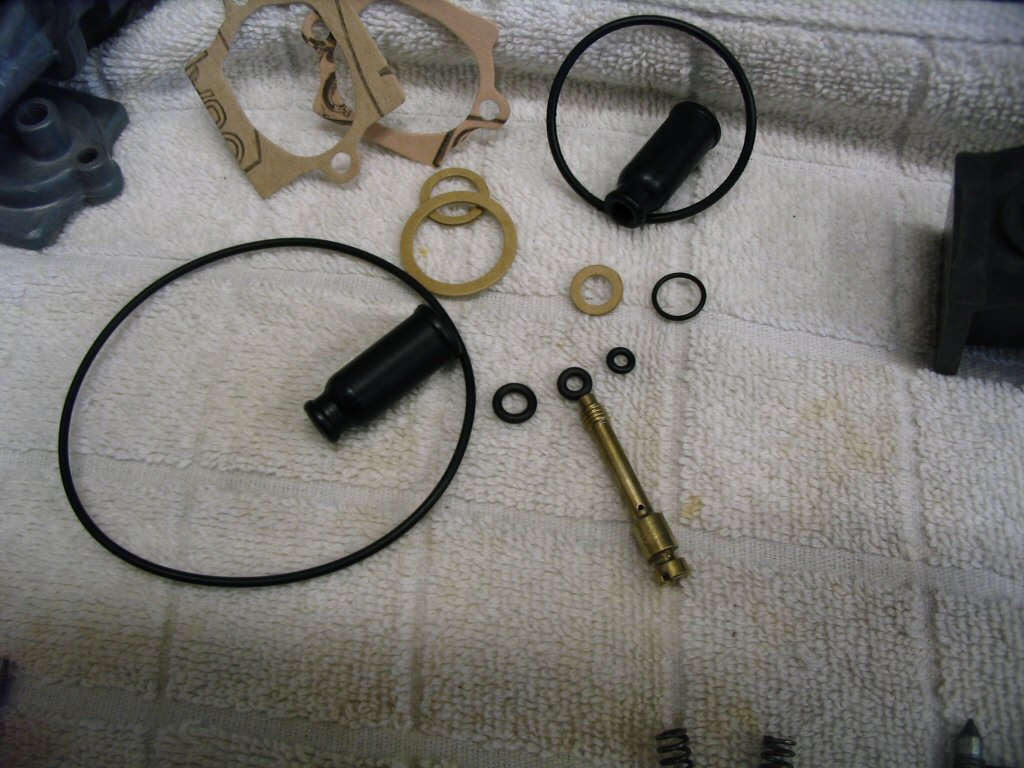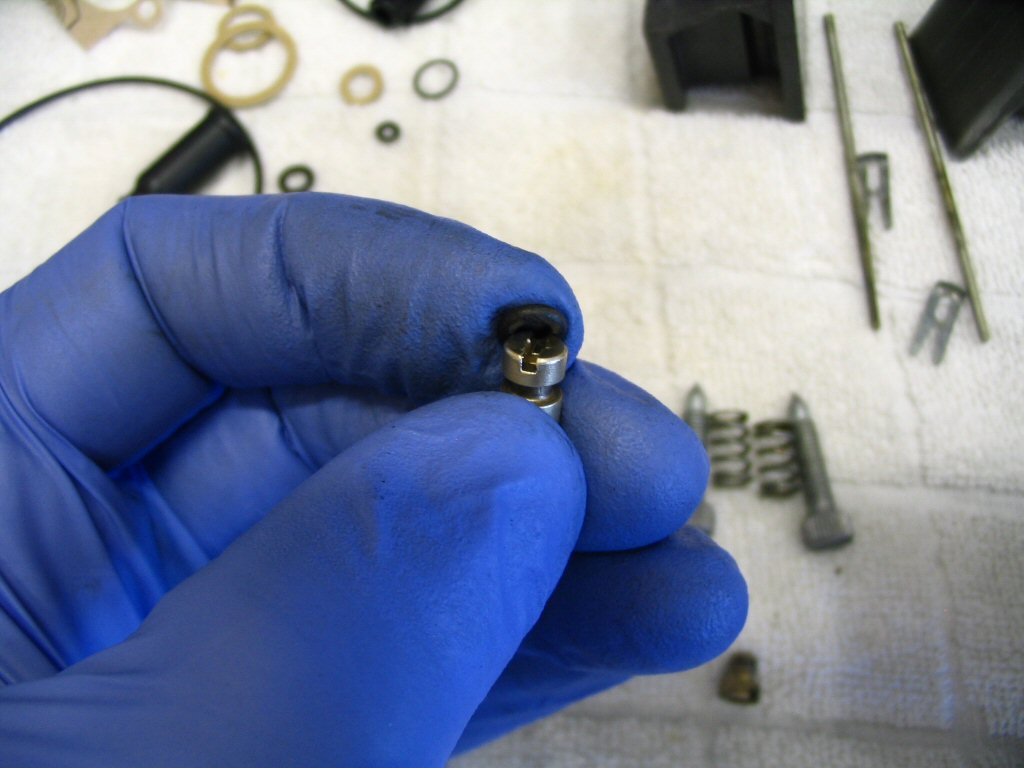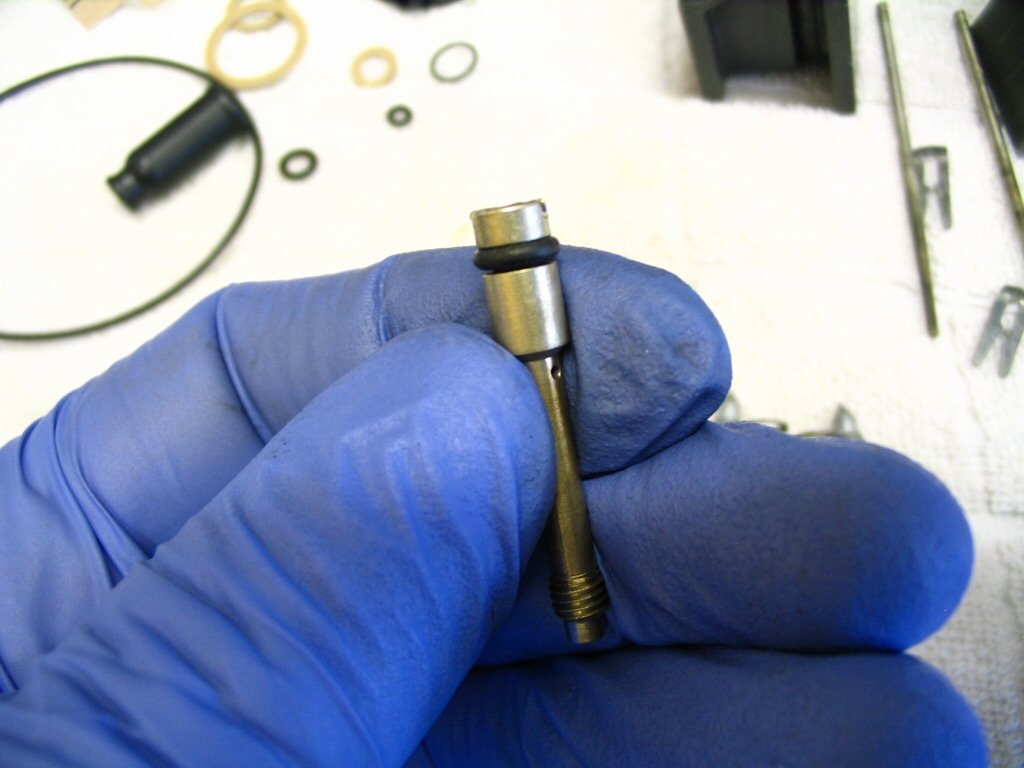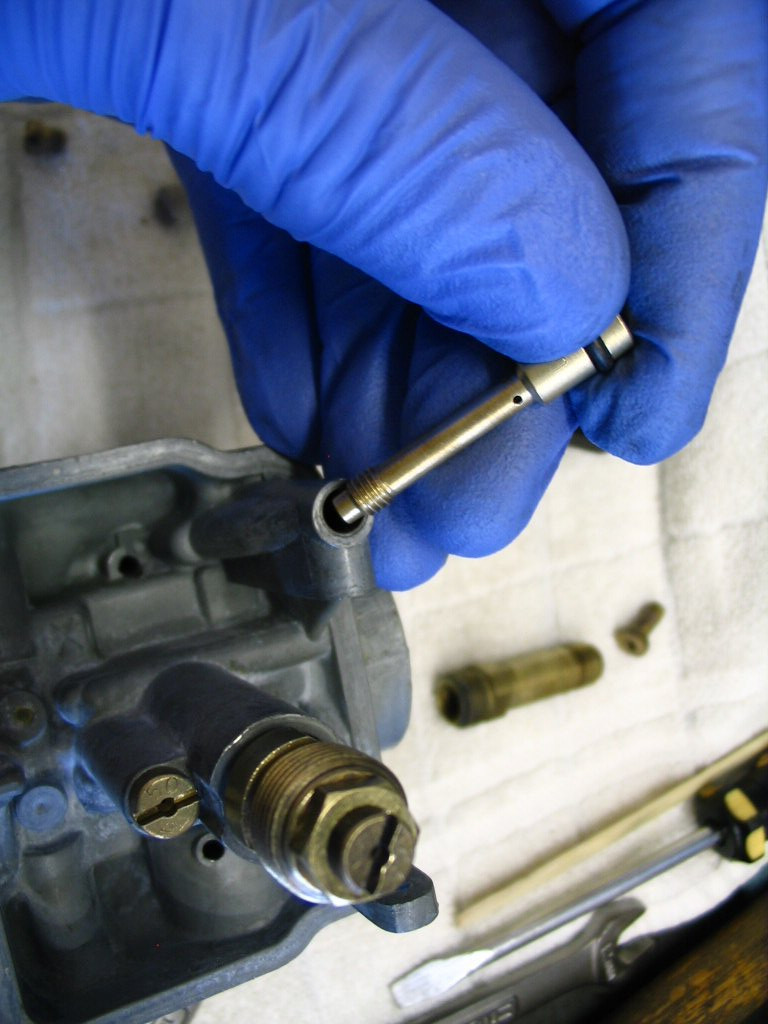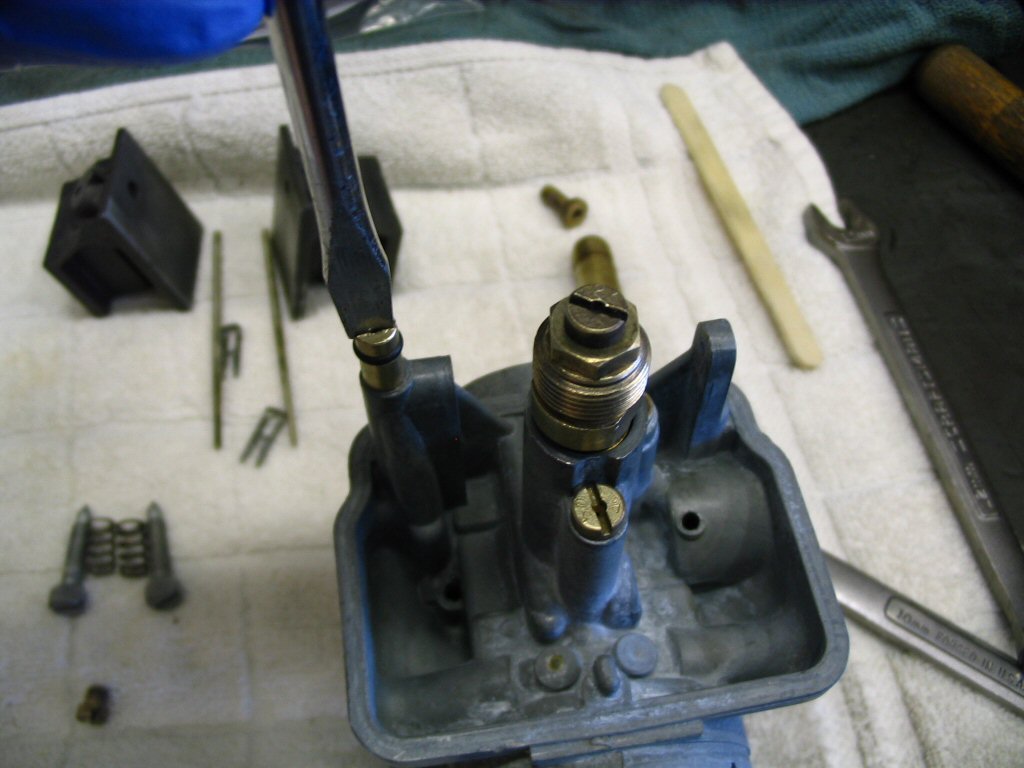 Float, float needle, float pivot pin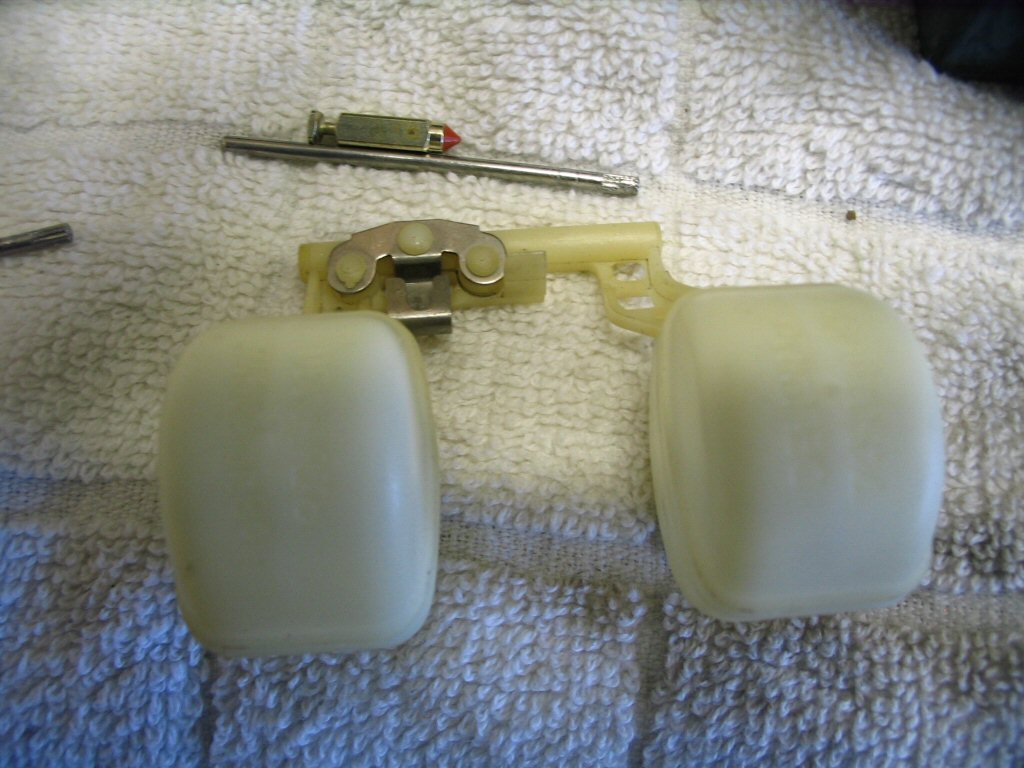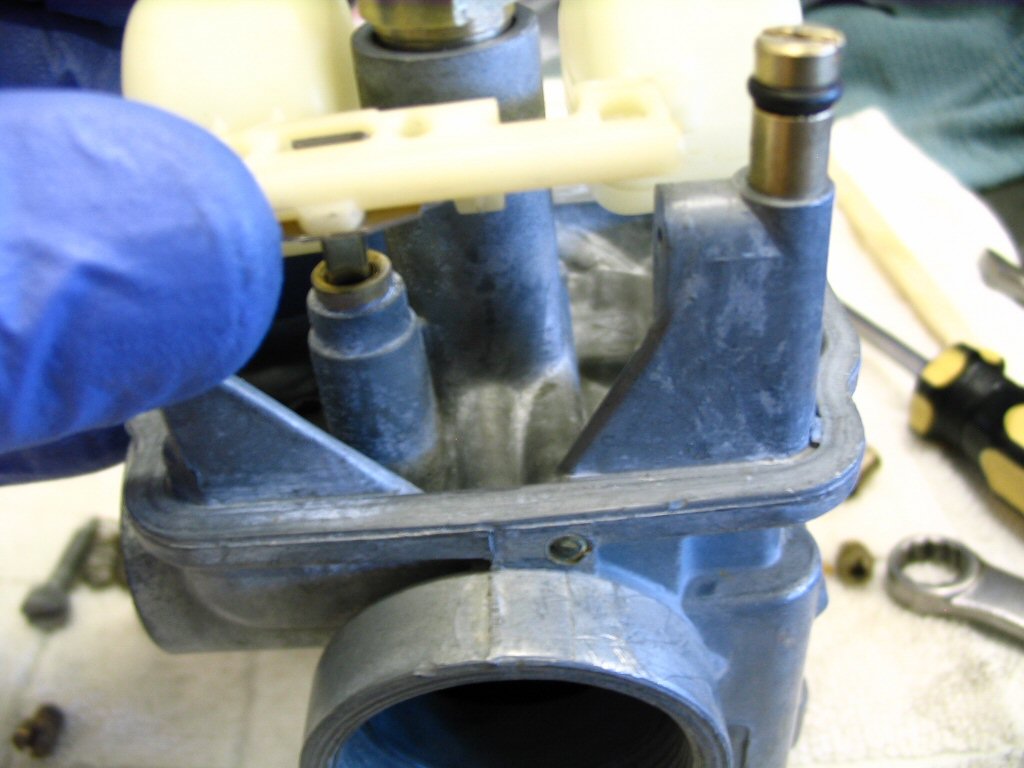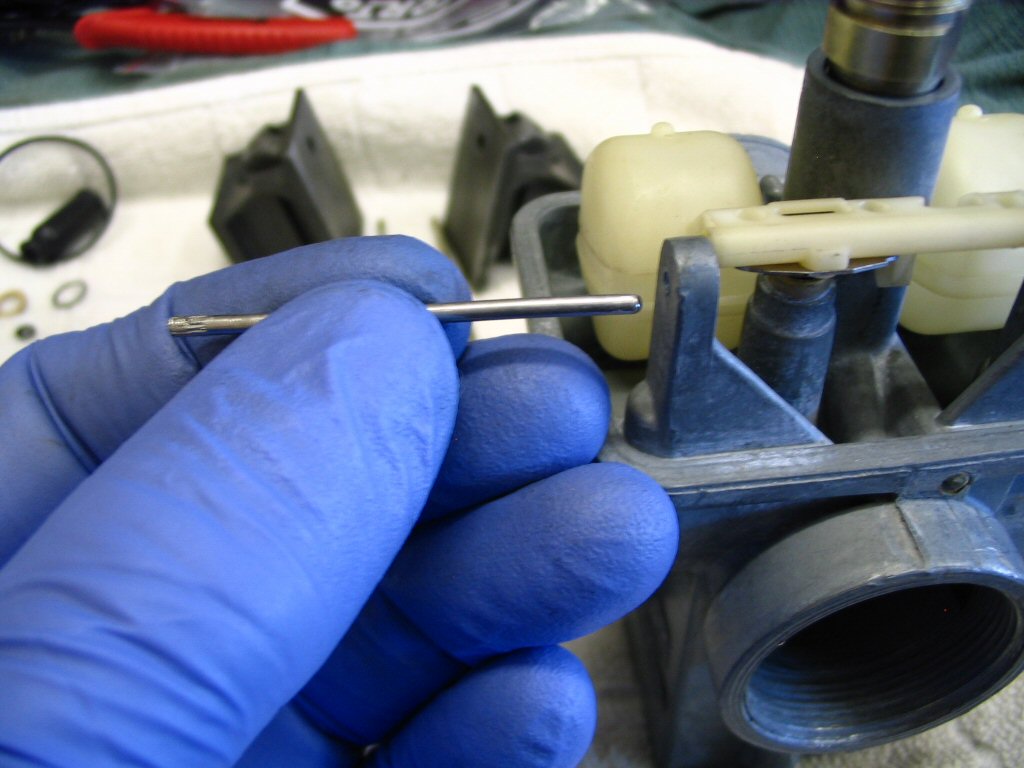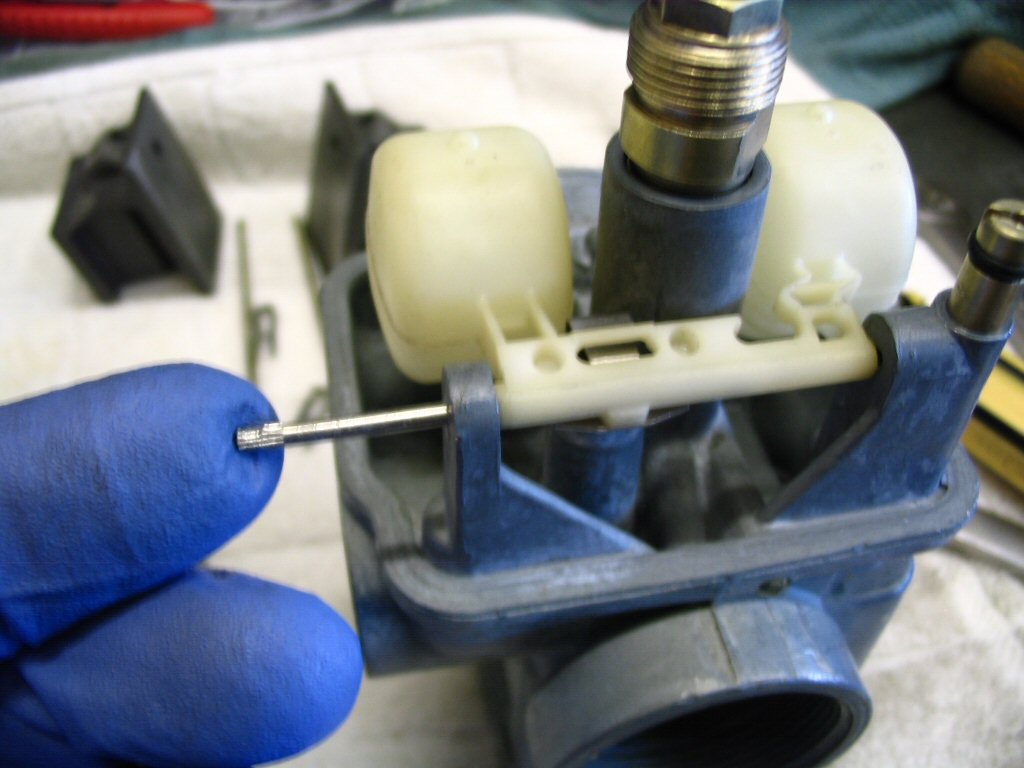 Float bowl, float bowl nut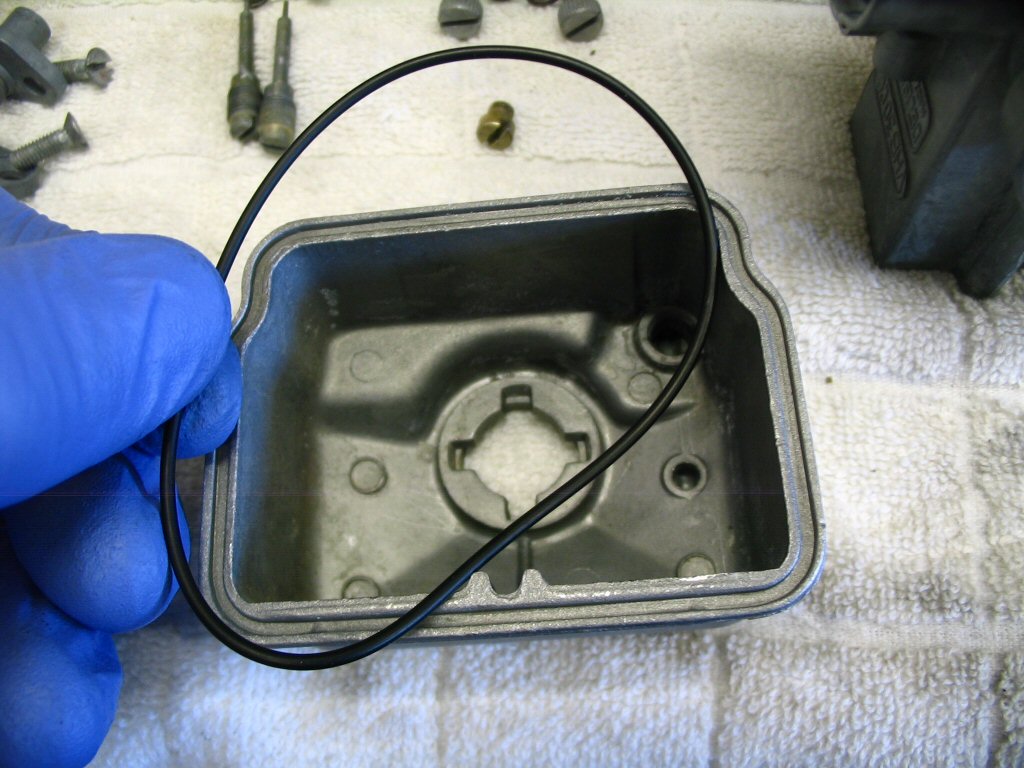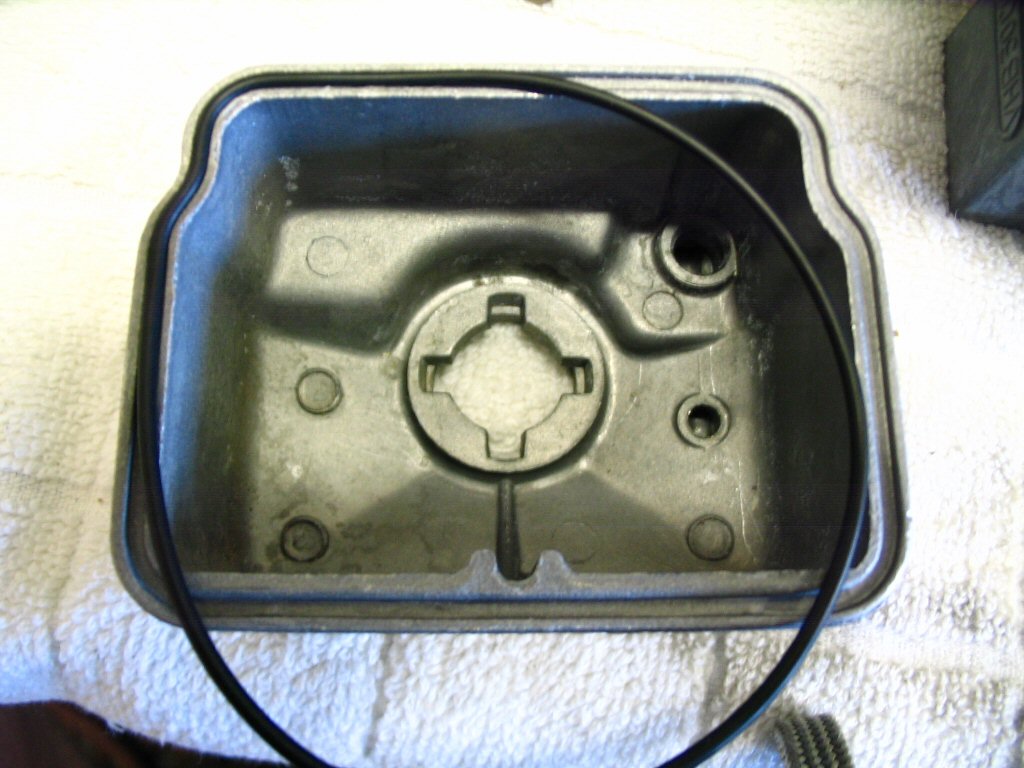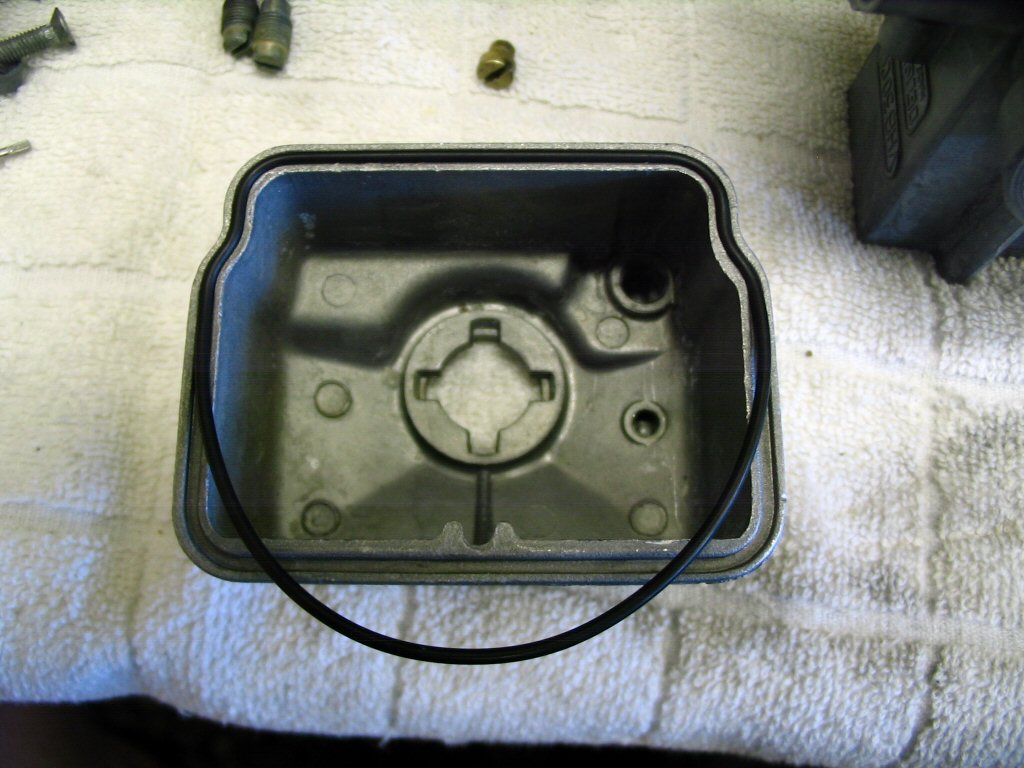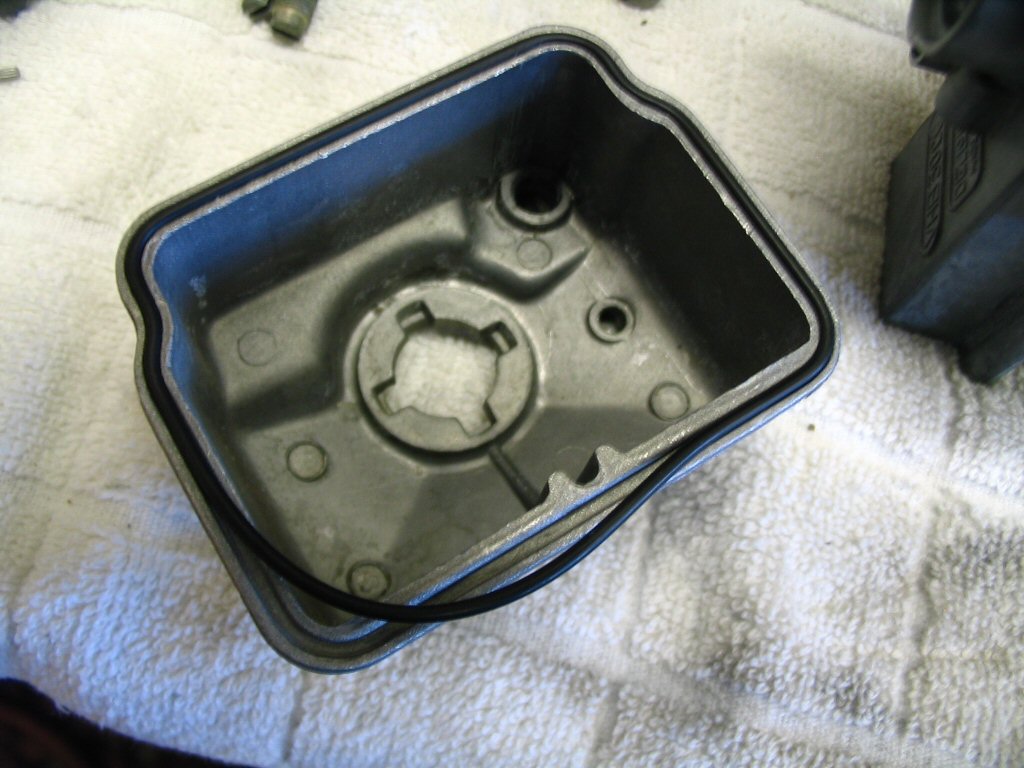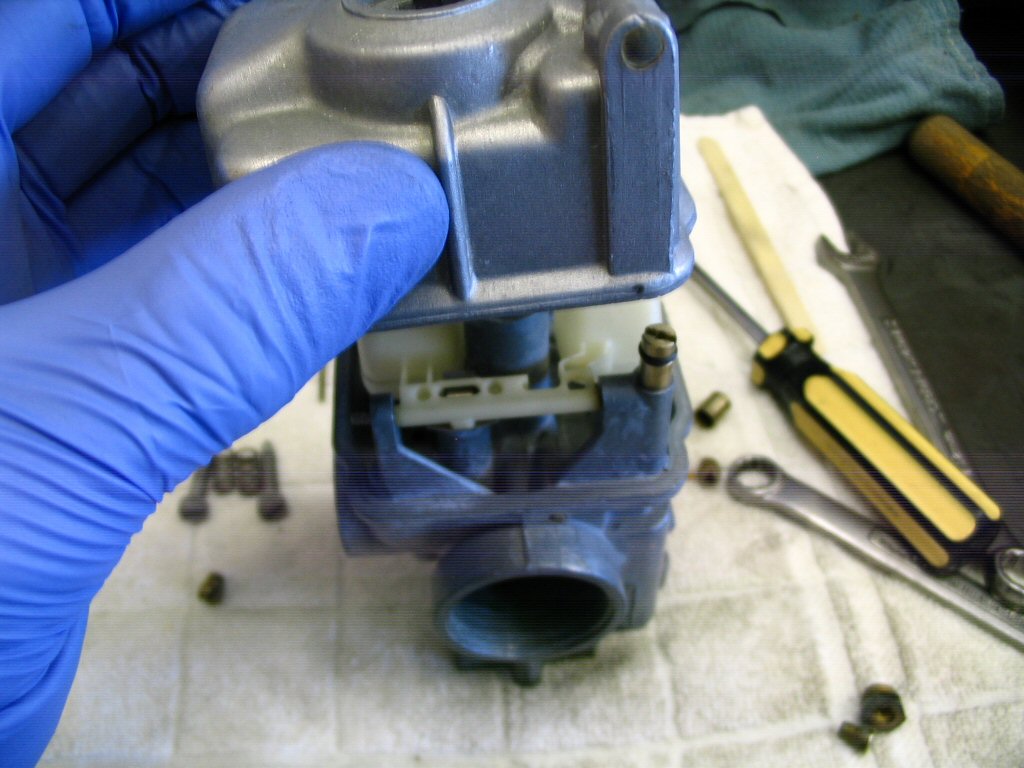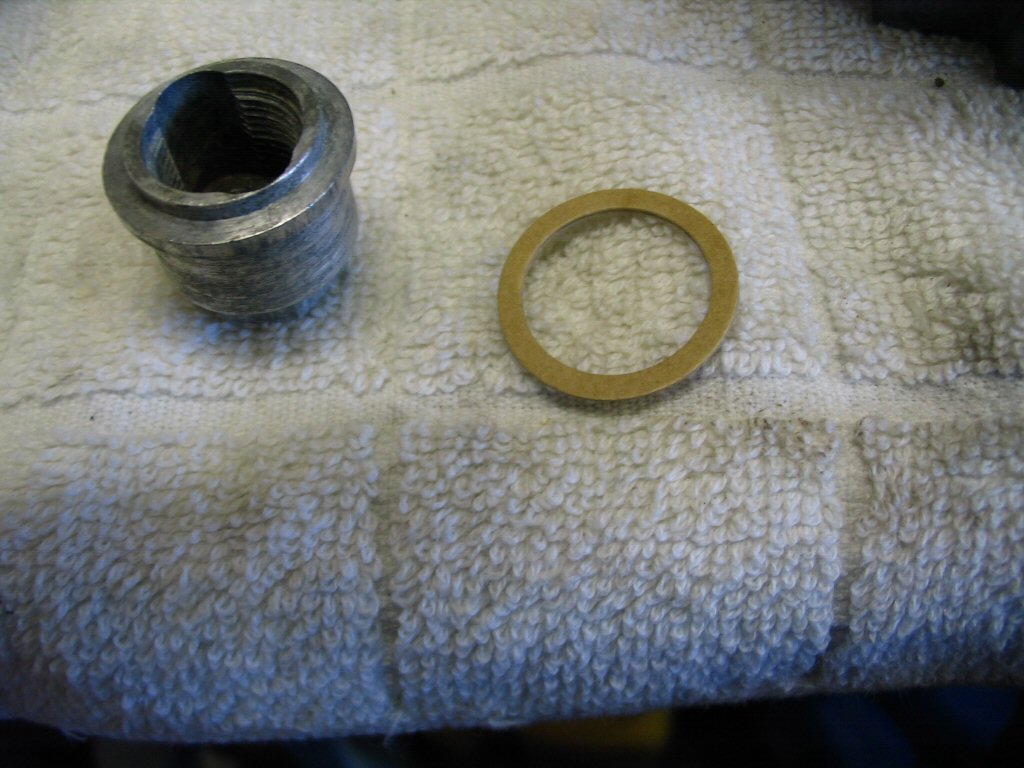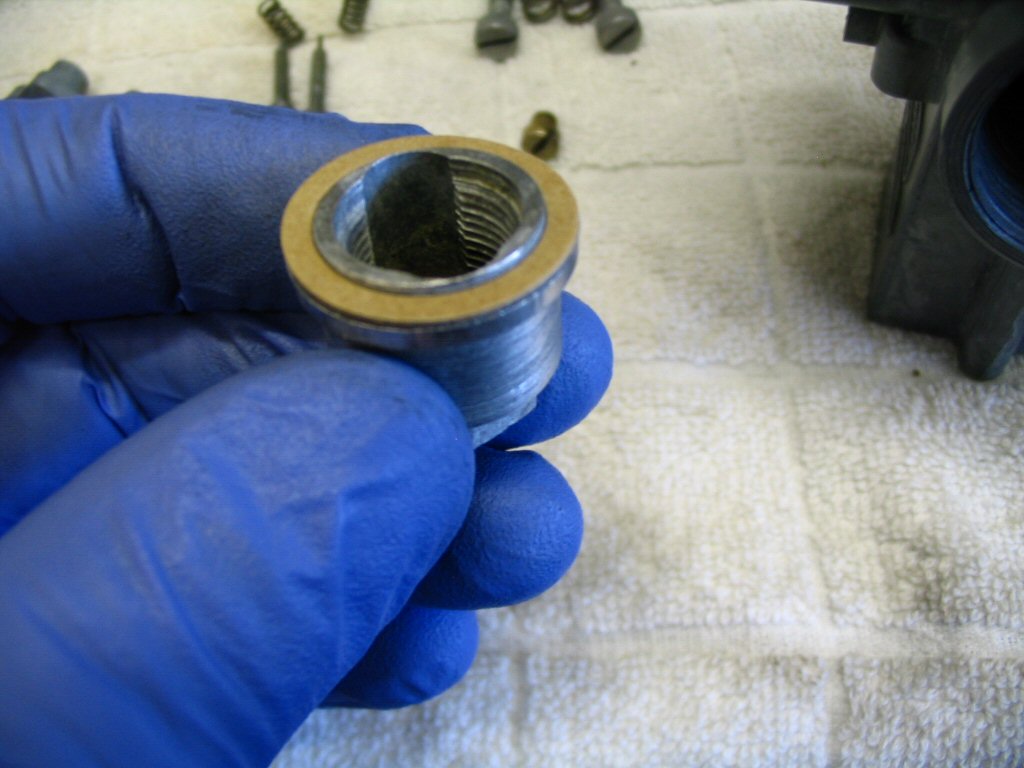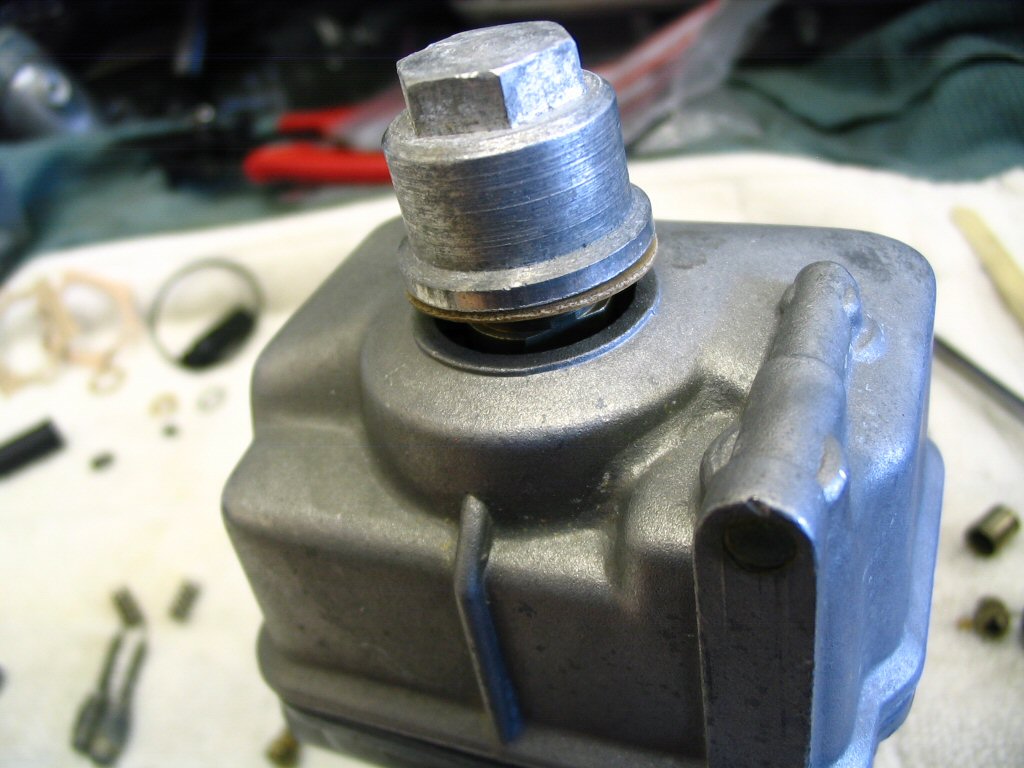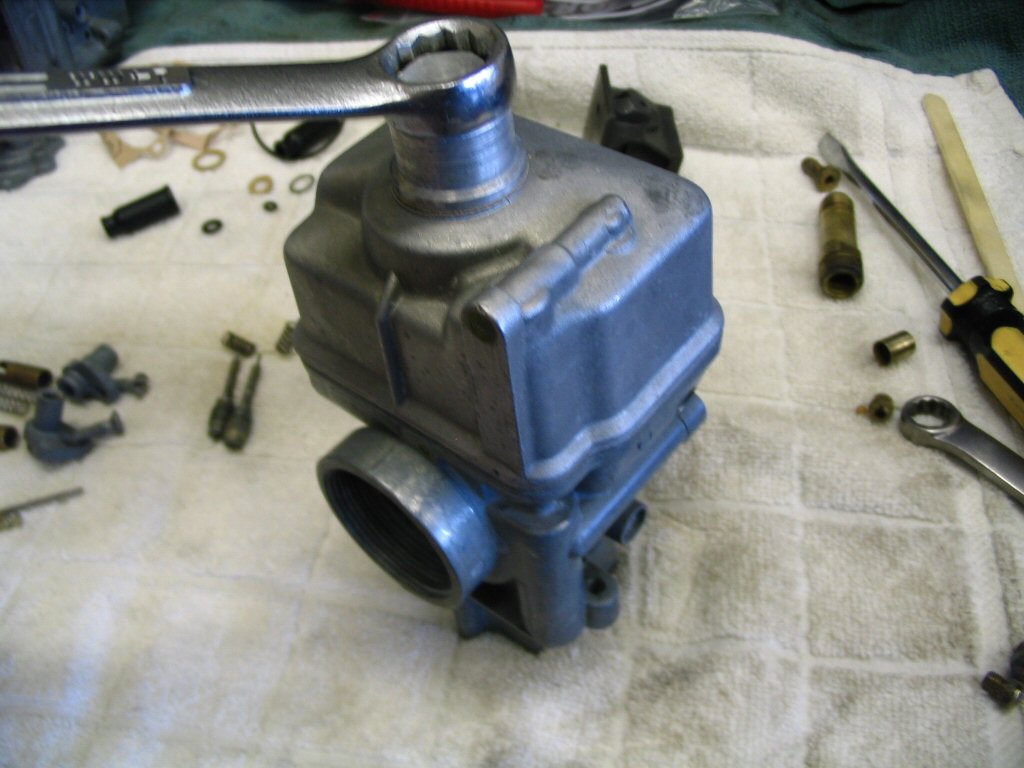 Idle speed screw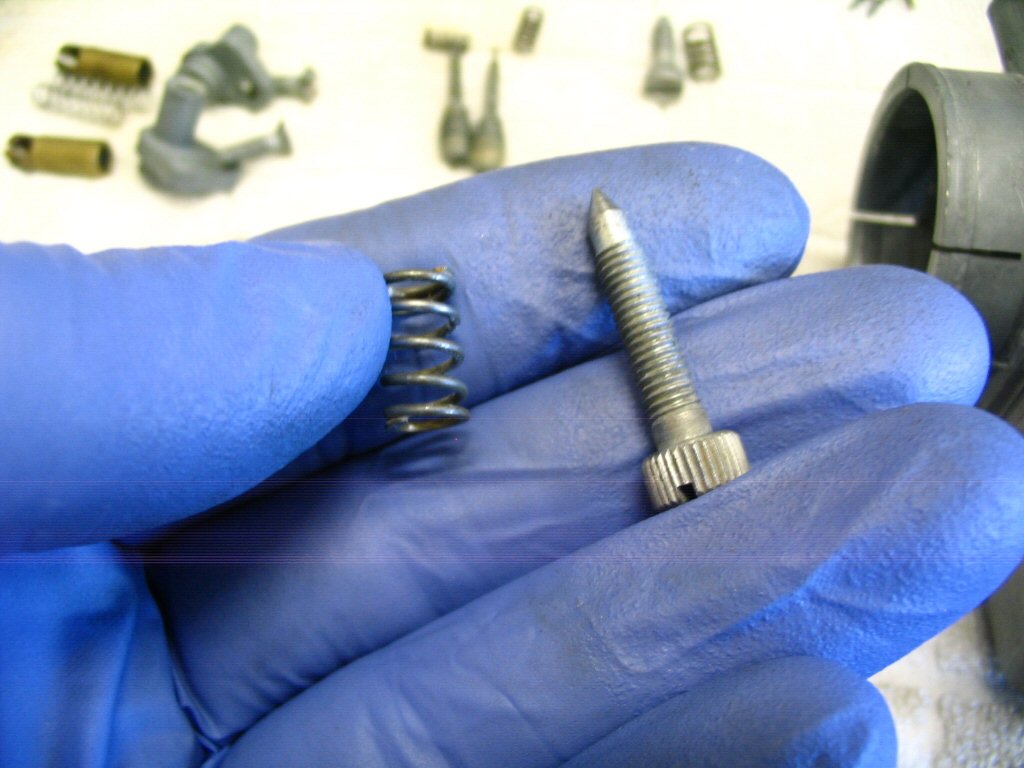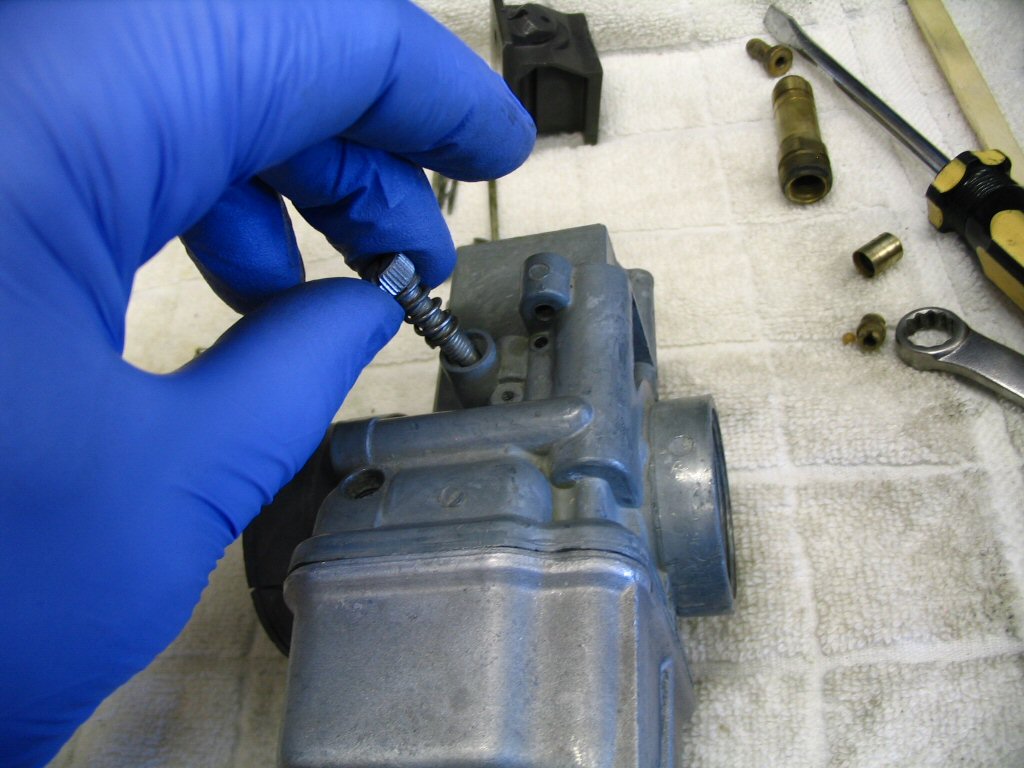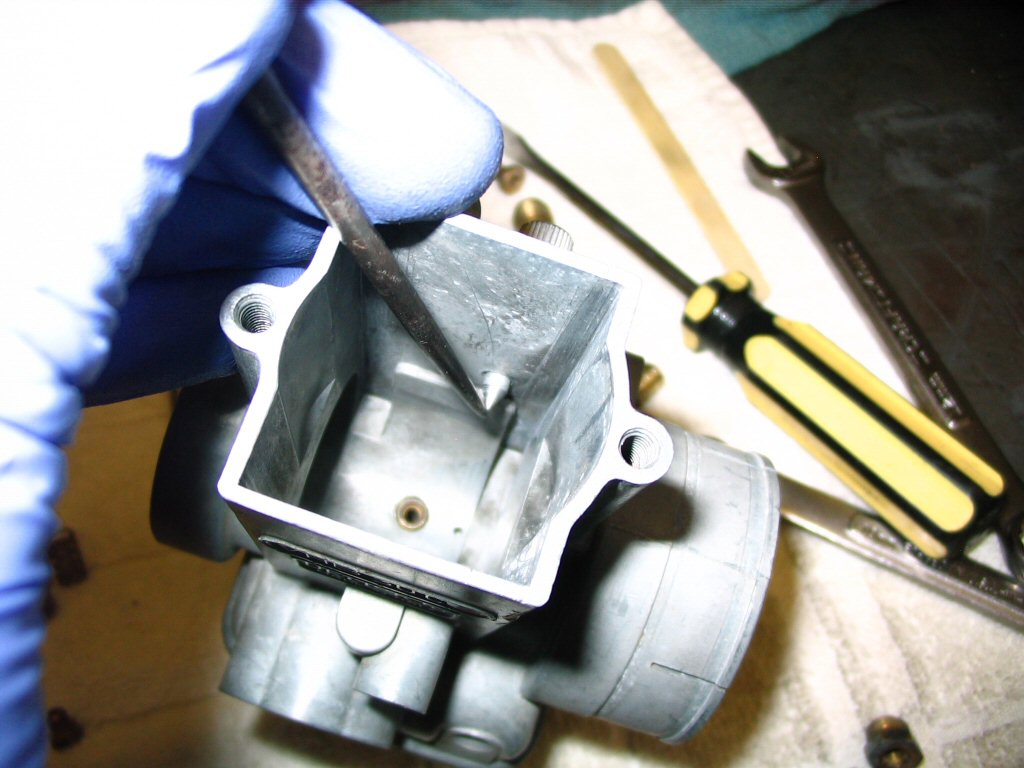 Mixture screw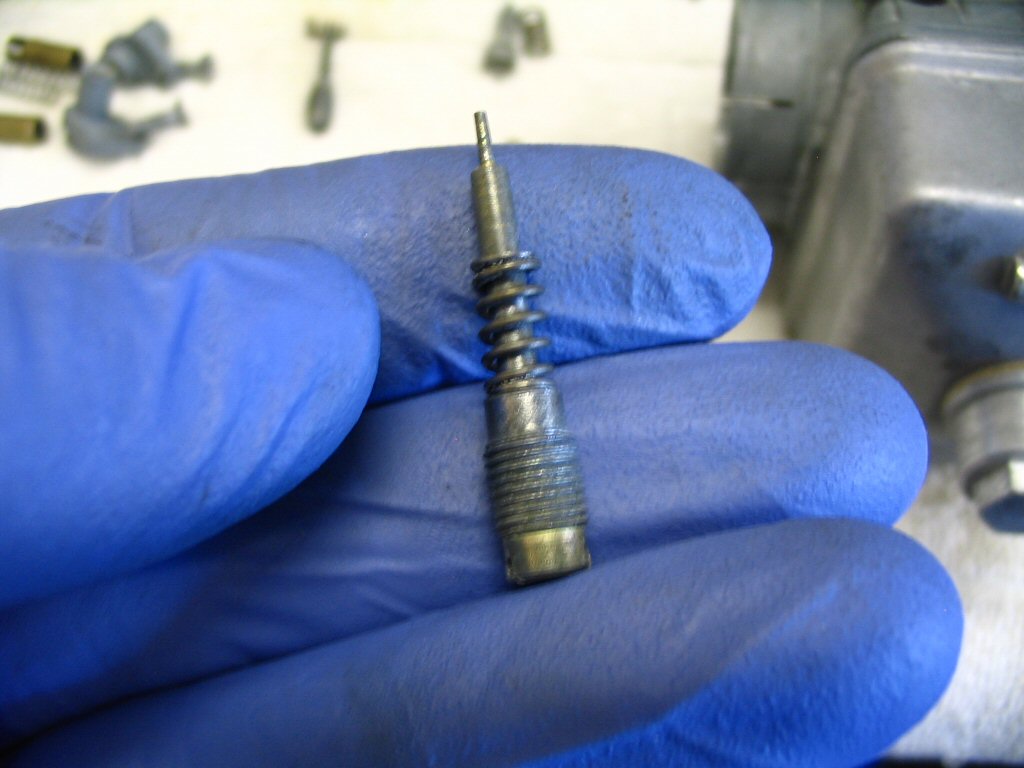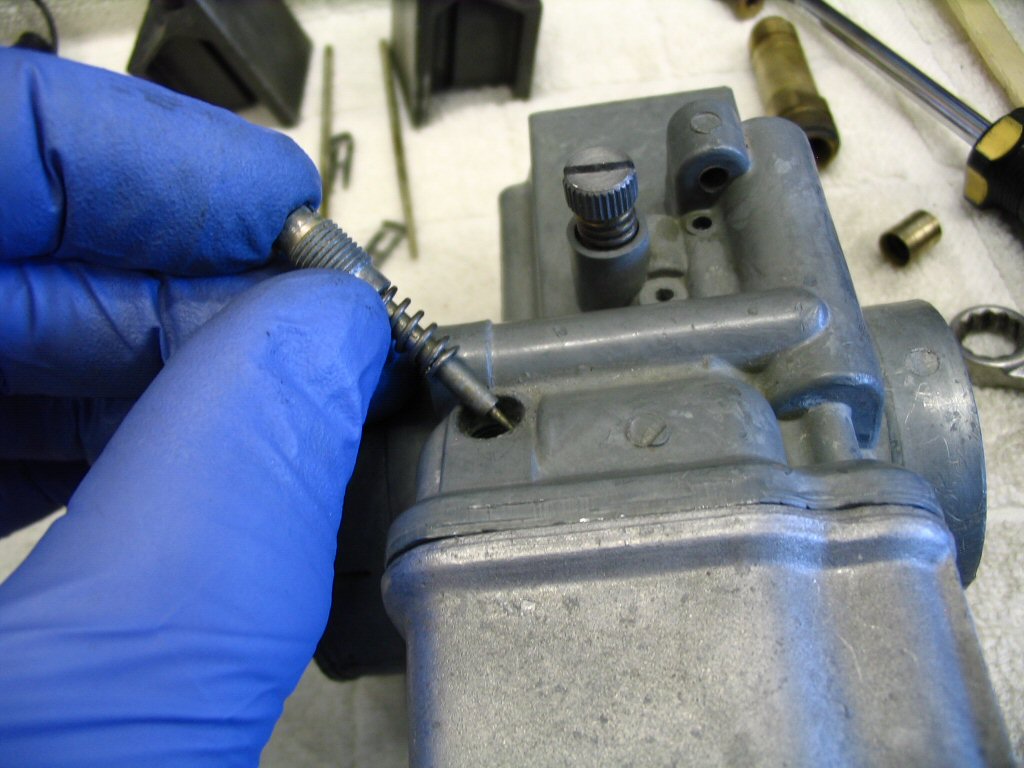 Slide and tapered needle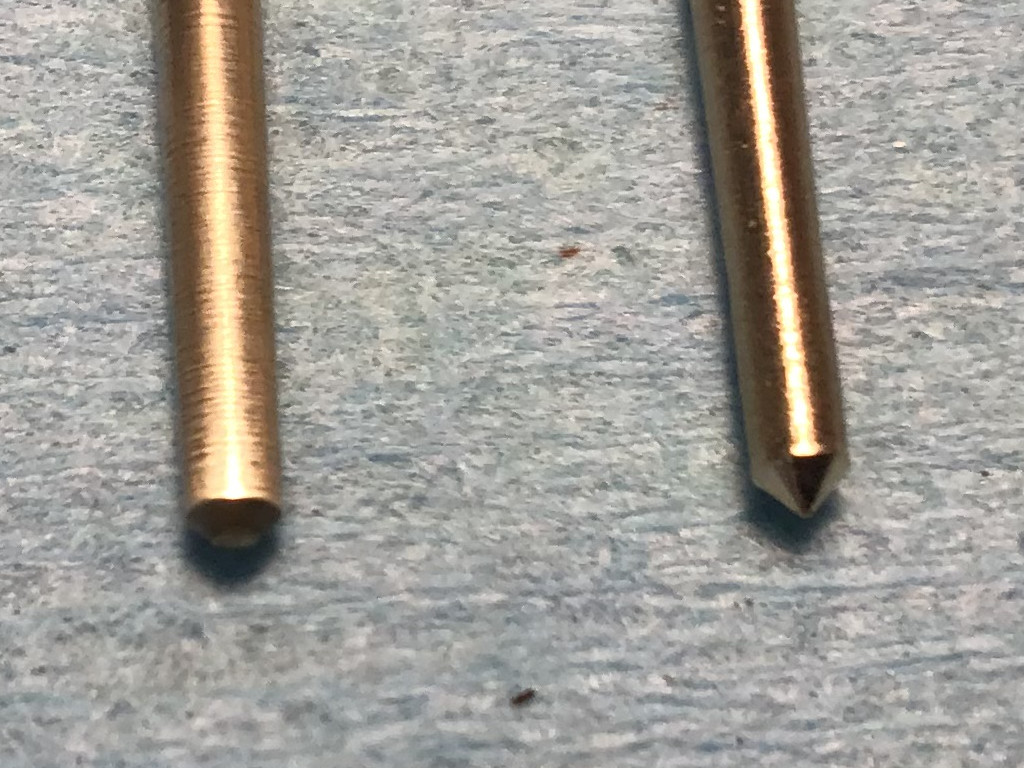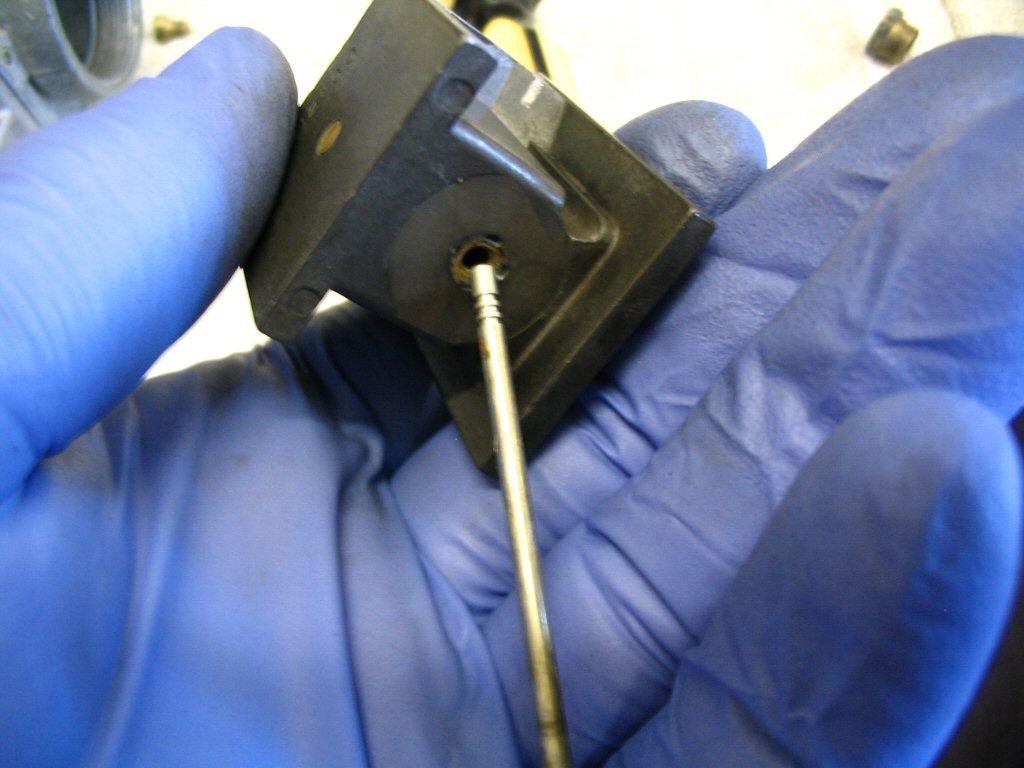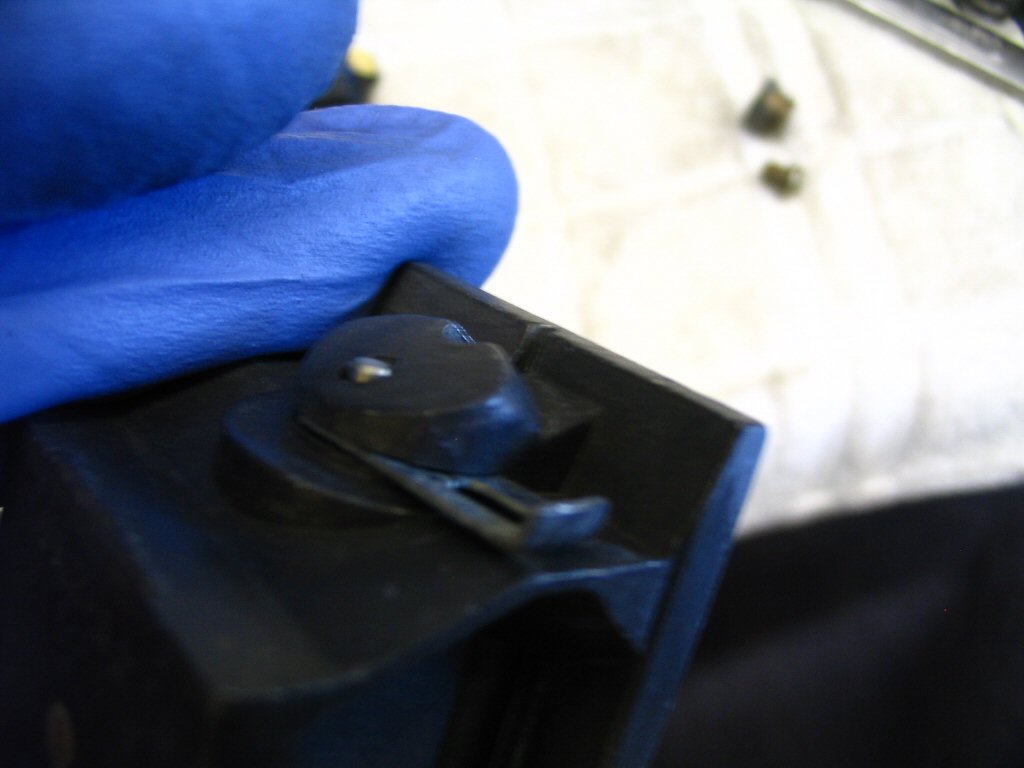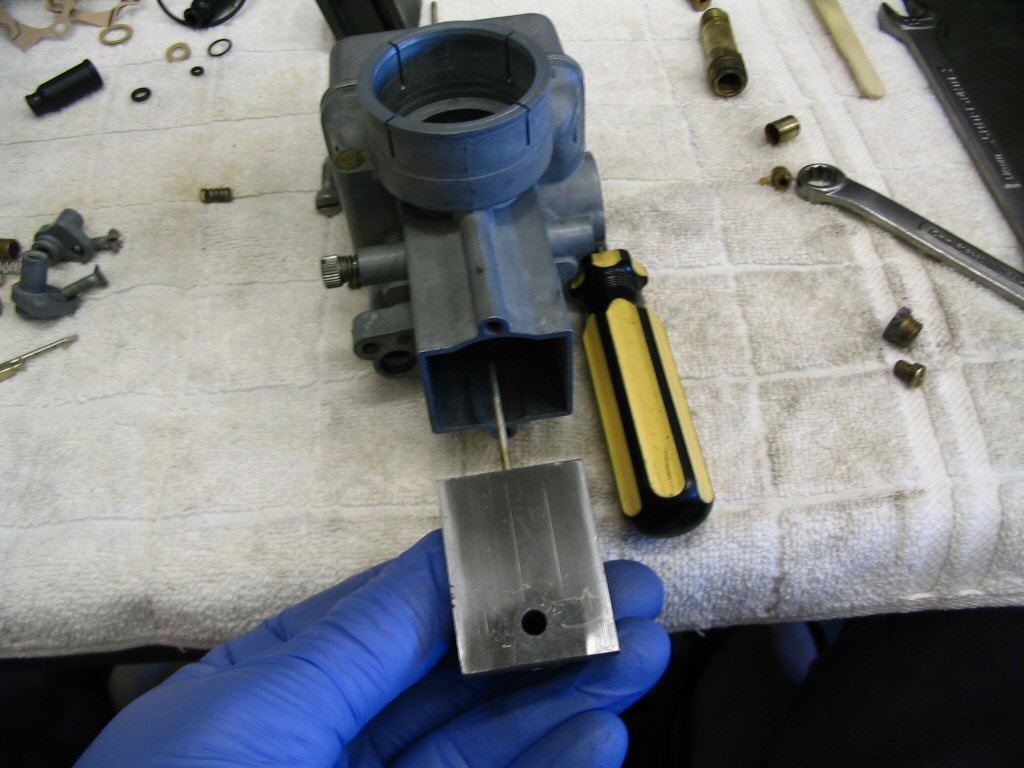 Carburetor top and throttle return spring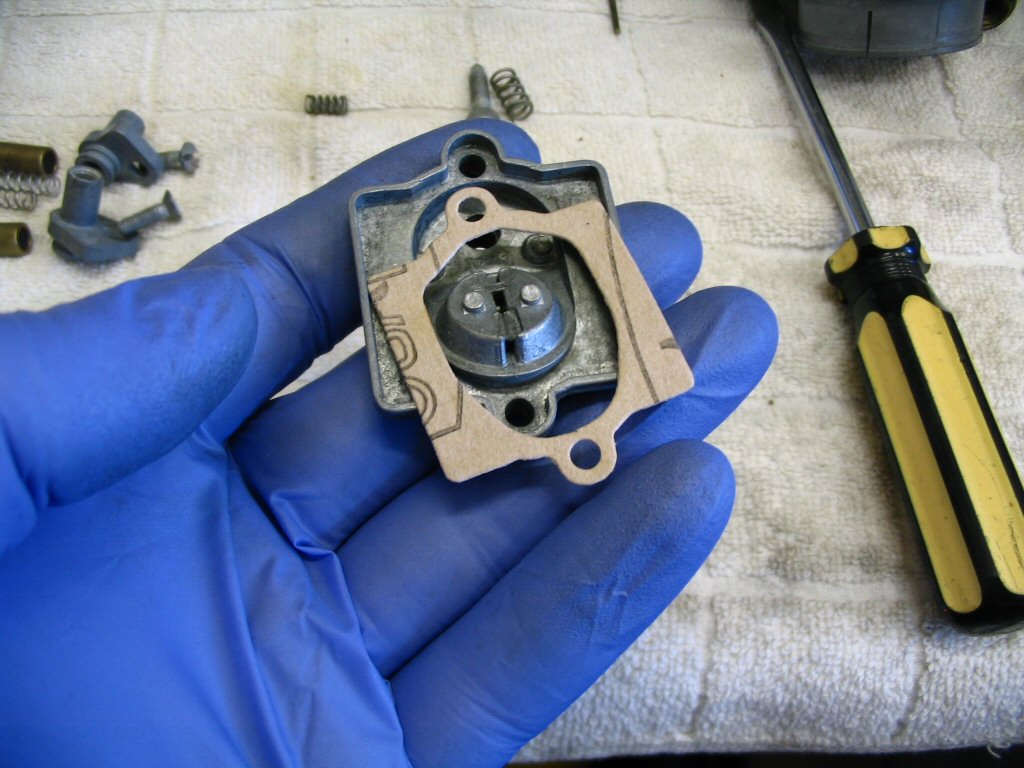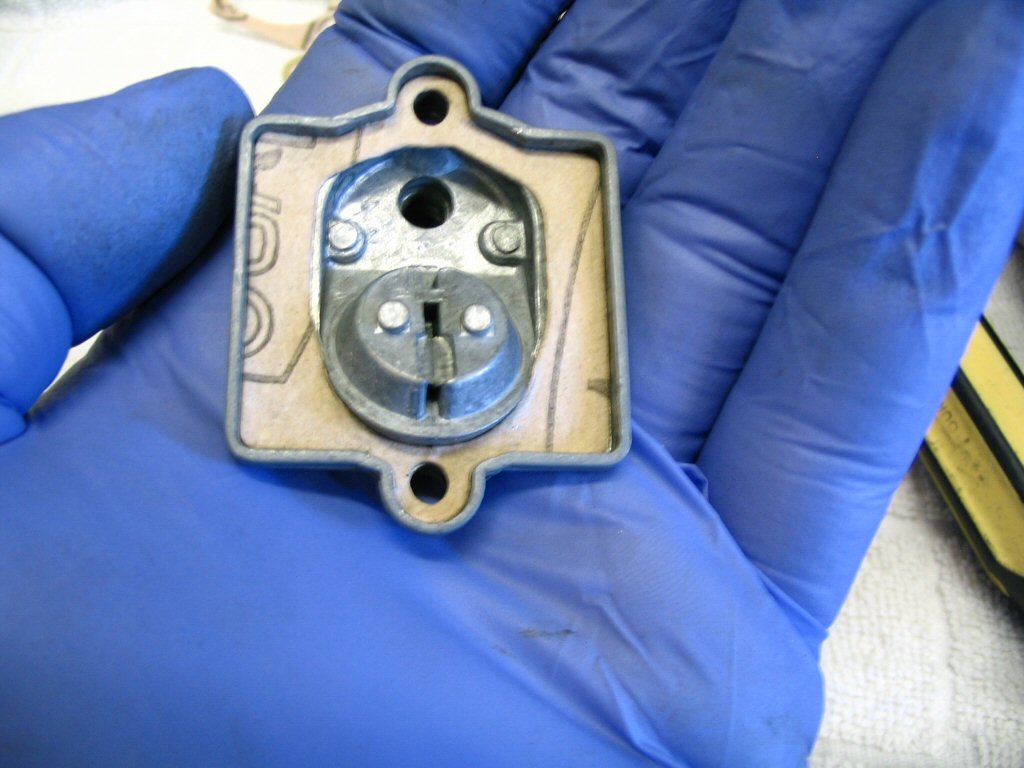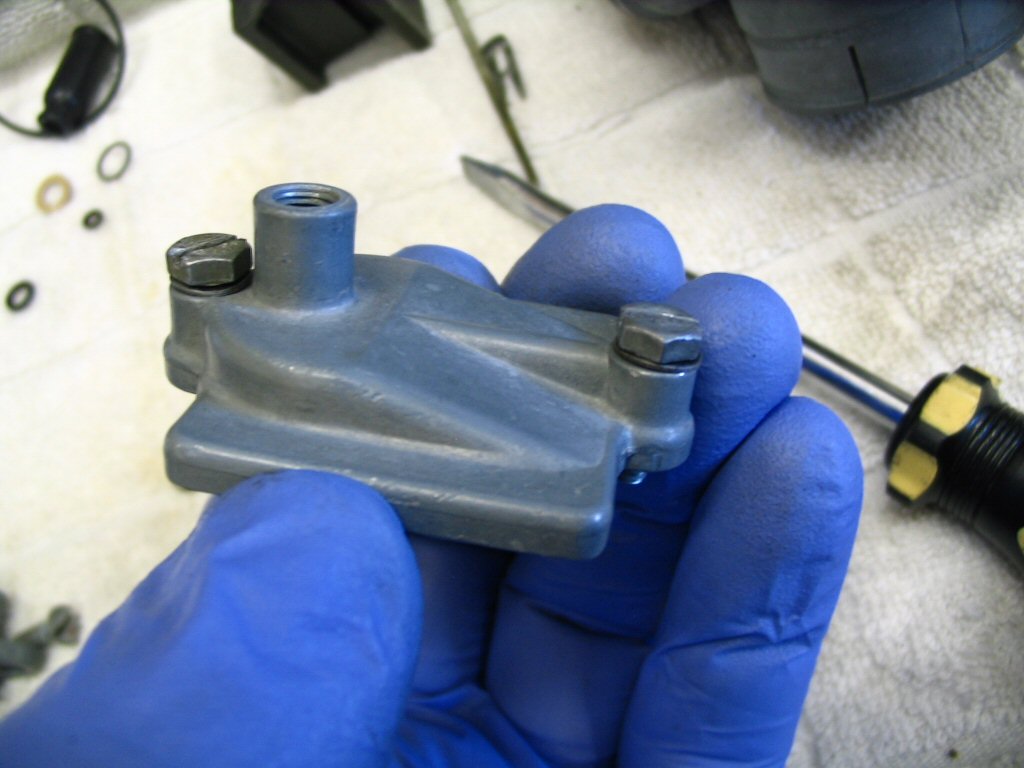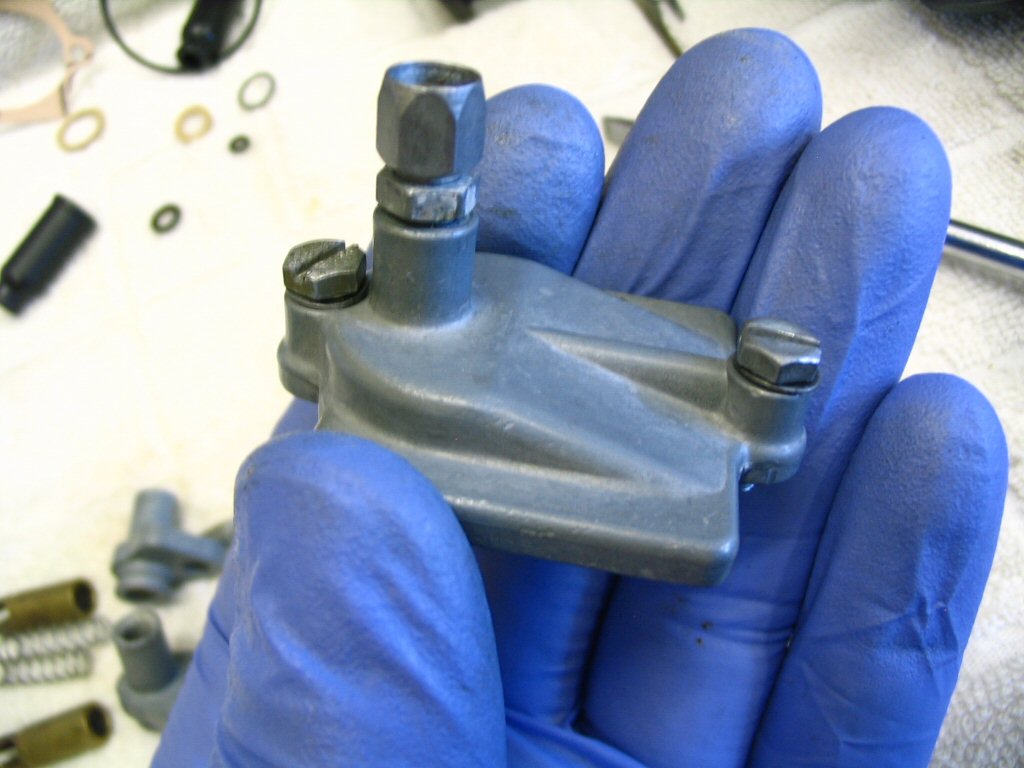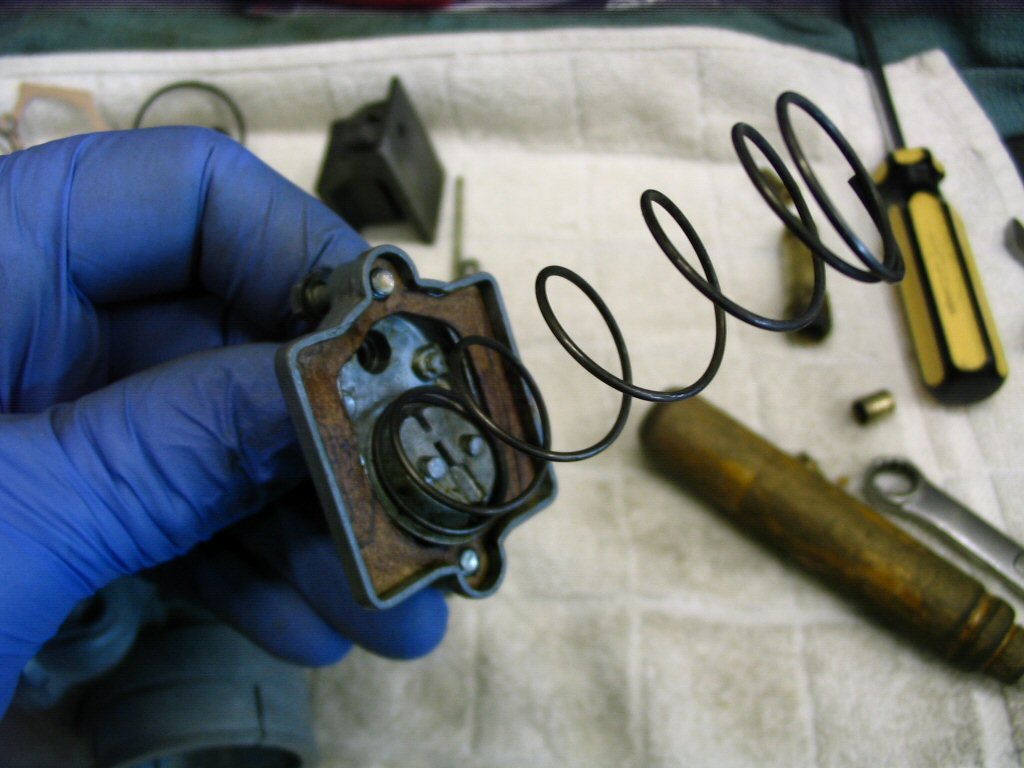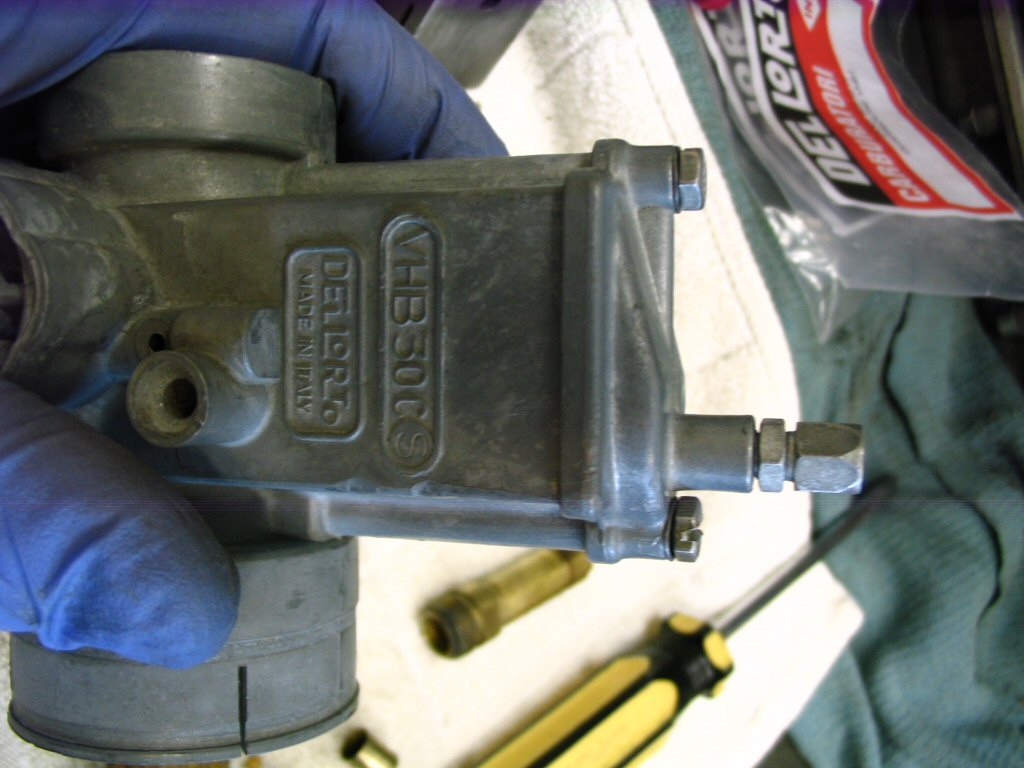 Choke (enricher) assembly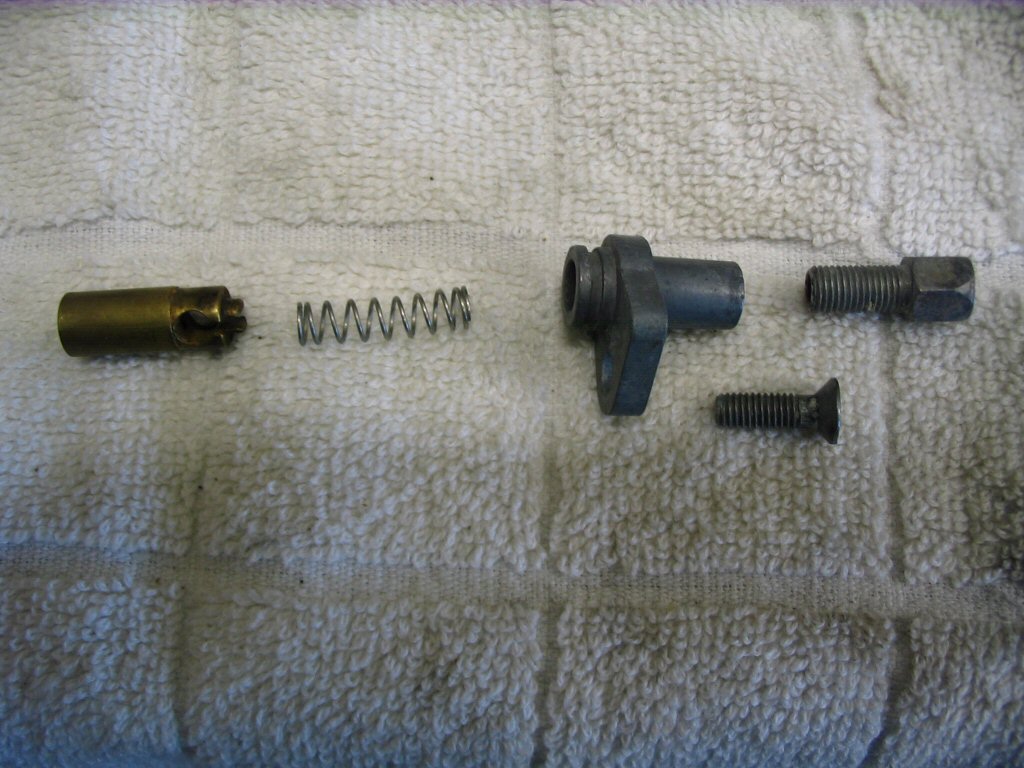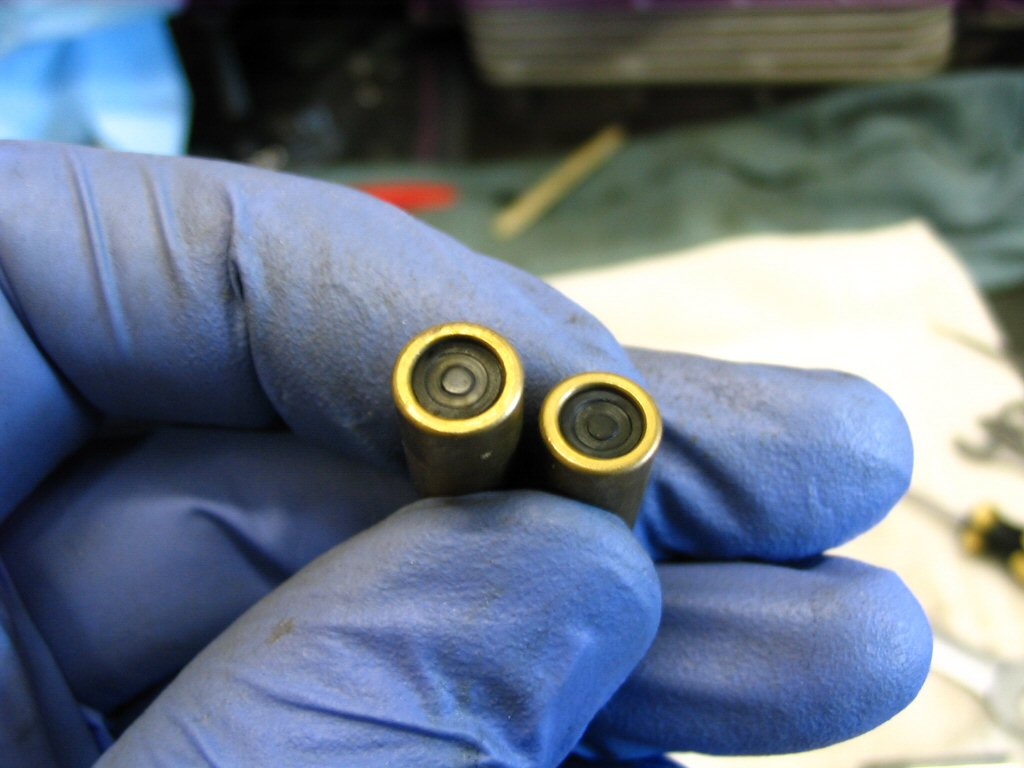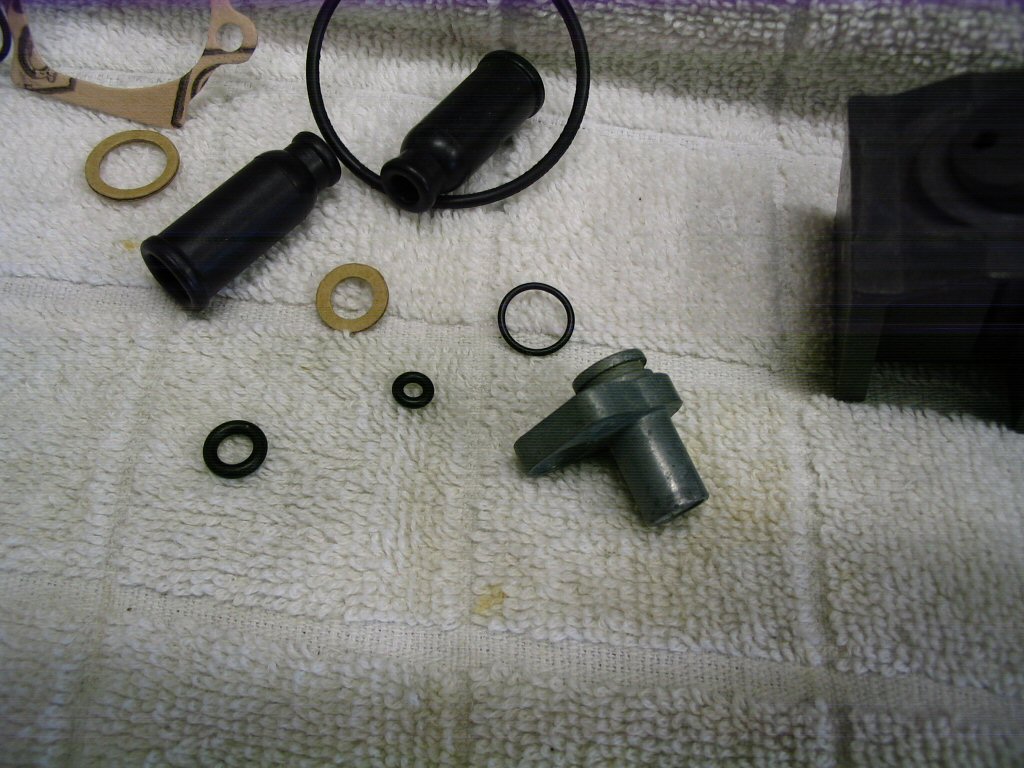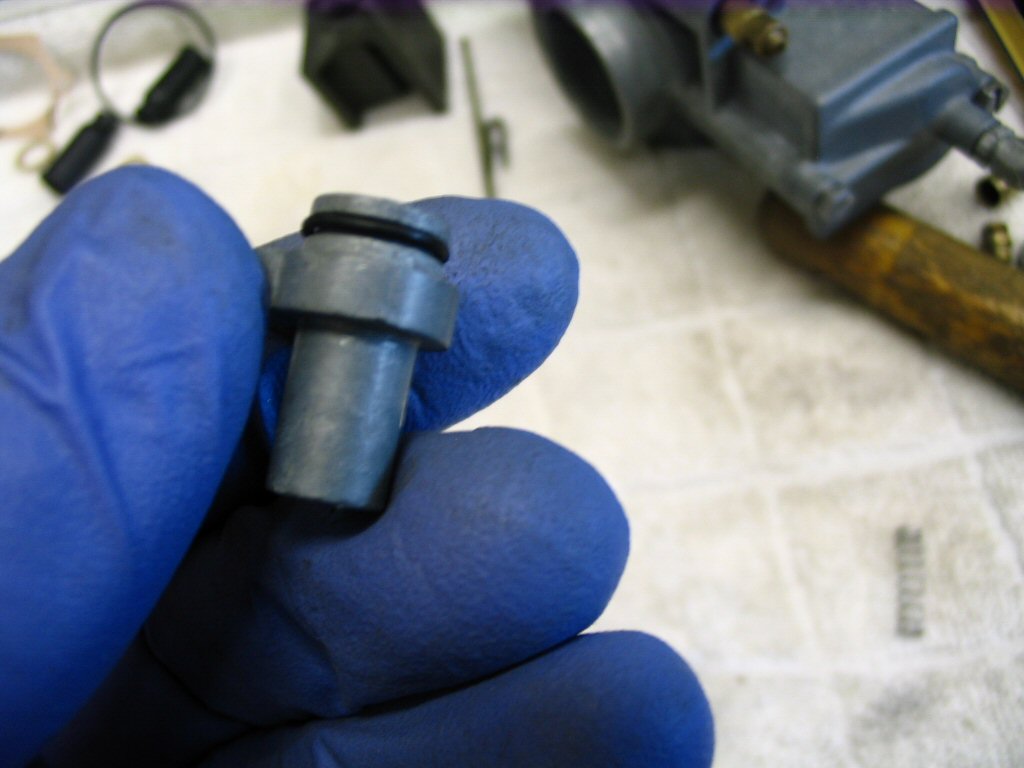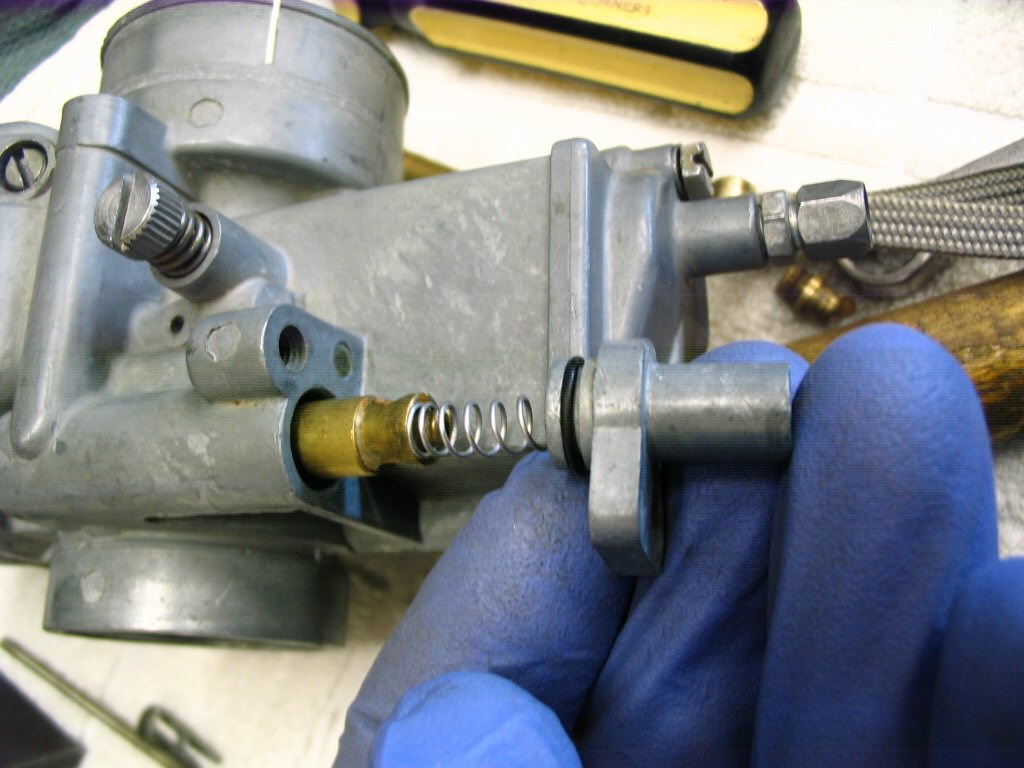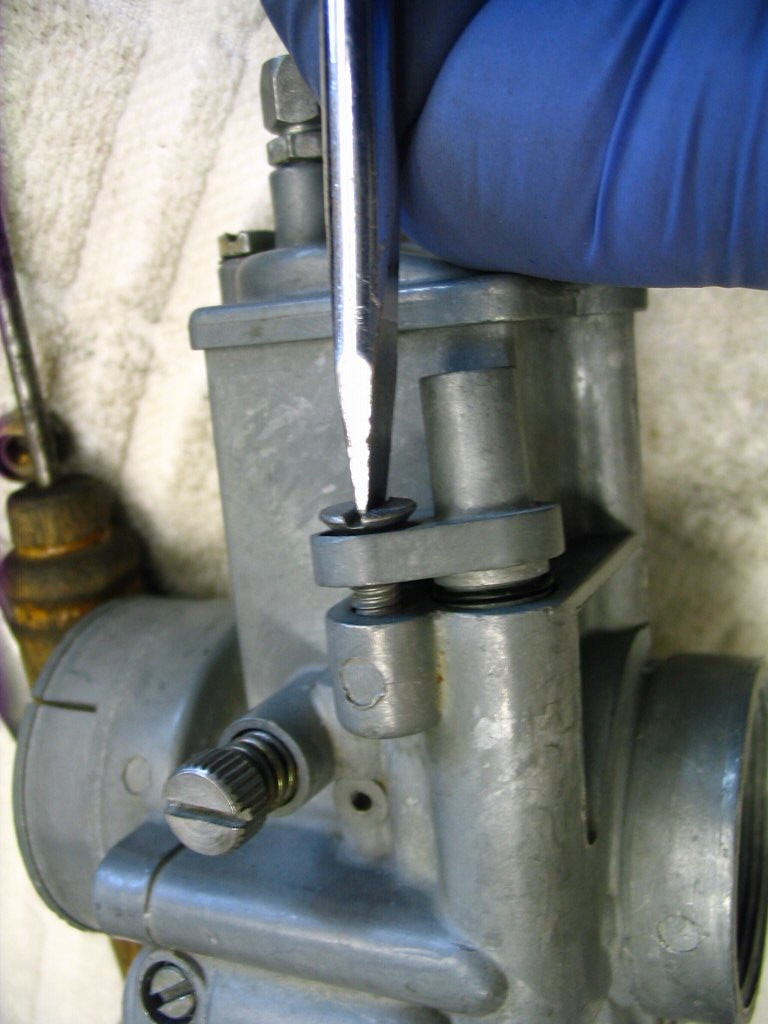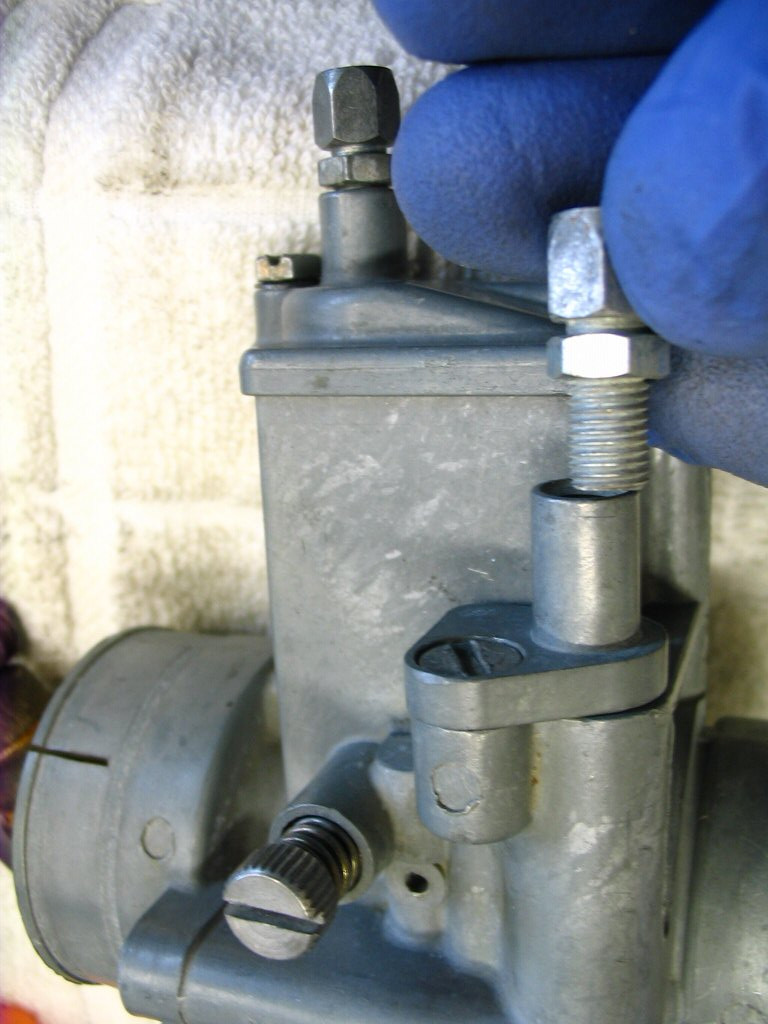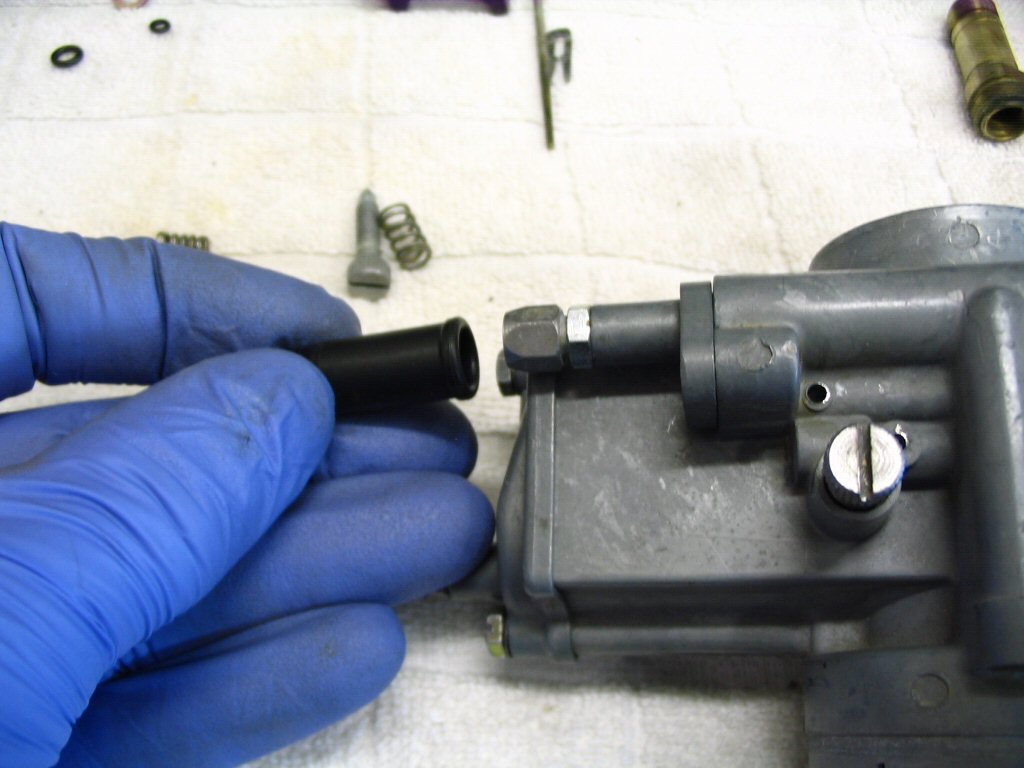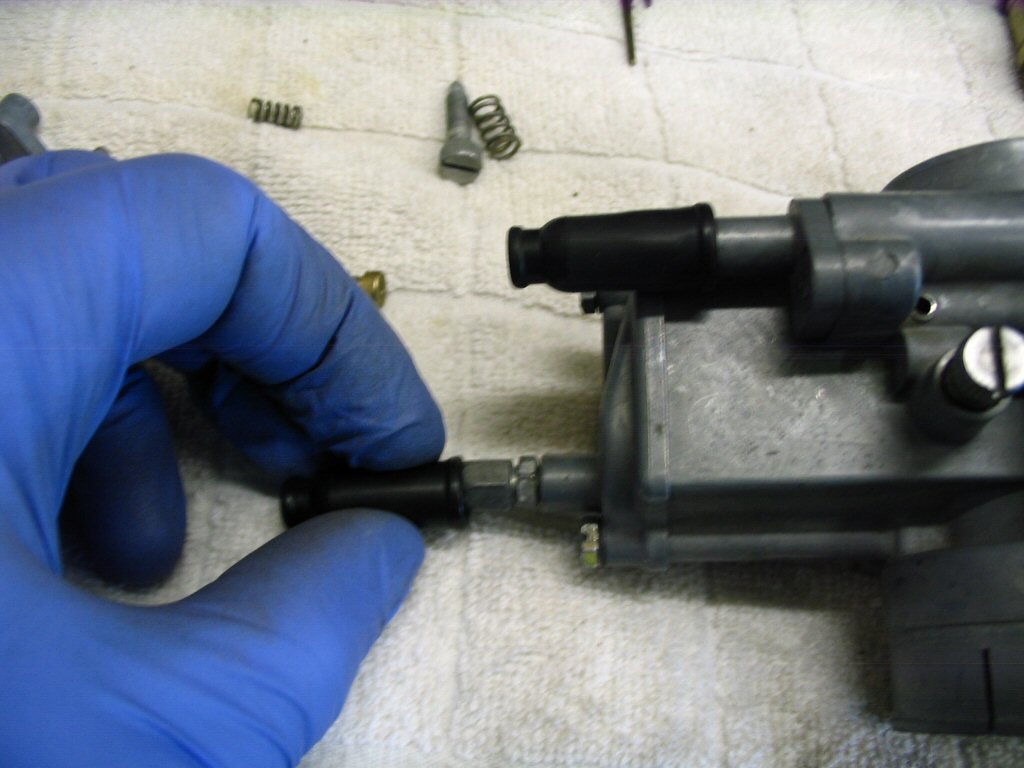 Banjo fitting and filter