Decals and silk screening
Moto Guzzi V700, V7 Special, Ambassador, 850 GT, 850 GT California, Eldorado, and 850 California Police models
Created:
Updated:
Replacement decals for Moto Guzzi V700, V7 Special, Ambassador, 850 GT, 850 GT California, Eldorado, 850 California Police models
Tank, fender tip, and side cover decals can be hard to find. And, if you do stumble across some 30 year old new decals, they're liable to be next to impossible to actually use. Fortunately, John Prusnek has created brand new, high-quality decals that are very close to being exactly like the original silk screened version. I used them during my Ambassador restoration and I am very pleased with them. Please read this document for more information: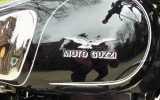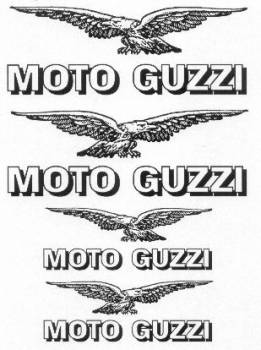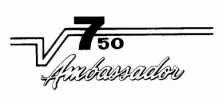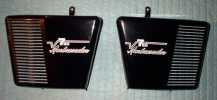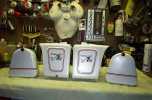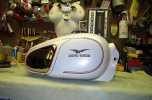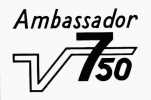 What was originally applied by the Moto Guzzi factory: decals or silk screened paint?
I extracted this information from Greg Field and testa_di_formaggio off of the old Yahoo! Loopframe_Guzzi news group (which has now moved to Groups.io). This is the best summary on this topic that I've read and Greg Field and testa_di_formaggio are on my extremely short list of highly trusted sources for this kind of information. In their own words:
A post by Greg Field:
FWIW, I have seen a lot of V700s in original condition, including one NOS tank. All had decals/transfers on the tanks. I have never seen what I considered an unmolested set of sidecovers, so I do not know what to say regarding silk-screes vs. decals/transfers on the sidecovers. All later loops I have seen, from A-series Ambos-on, had silk-screened eagles and logos on the tanks and sidecovers. I personally know of no exceptions to this.
A post by testa_di_formaggio:
FWIW, I have a spare NOS V700 tank, red, with the multi color decals. Over the years, I've only seen V700s and the earliest Ambassadors with these decals. The slim, big chrome panel tanks. Similar to Stornello decals, but larger. Have seen a couple original white '68 V700s with the same decals.

Domi Racer in Ohio used to make available a decal that as I recall was the correct V700 size, but only one side. I have one or two of them in the stash. They were one of the first to import Guzzi twins in the mid 60s.

Any tank I've ever seen that was of standard Ambassador/Eldorado variety, with the smaller chrome panels and larger capacity, had a silk screen rather than a decal. Never have seen one these tanks with a decal, that was original paint.

Complicating it all is that in those days, while a bike might have been 67 or 68 production or model year, if it wasn't sold off the floor until 69 or 70, it was given a year 69 or 70 on the title. This might well apply to the earliest Ambassadors as well. It always appeared that red V700s were 67 importation, white V700s were imported in 68. No doubt some red V700s were also 68 production. For whatever reason, starting about 70, titles seem to reflect actual production or model year. Perhaps some US DOT uniformity or such.

Regarding frame/engine numbers, I've never seen a V700 with matching numbers. I worked hard for years to score a V700 that was owned by a dealer, that he claimed was one of the first imported to the US in early 67. I have no reason to doubt him, he was a close family friend, and to this day, while considered cantankerous, is still highly respected. He was one another of the first dealers in the US to offer the big twins. It's engine number was 0012. Frame number was nothing like that. He offered it with a complete spare motor, as mentioned by someone else previously in this thread, was provided by Guzzi/Importer. He kept the original motor in the bike, with no issues.

It has been my experience that since about 70, the numbers on the metal tag on the headstock will match the numbers on the engine block. Not the number stamped into the right side of the headstock, the metal tag riveted to the front of it. I've never seen an exception to this. Most Ambassadors, and all subsequent Eldorados, Sports, T3s, you name it. While I've not dealt with the numbers of bikes that maybe a very few others may have, I've seen a crapload of them.

Of course, usual declaimers apply. It's an obscure brand bike, Italian record keeping is questionable to say the least. And their propensity to slap a left over part on something coming down the production line just to get product out the door of the factory is almost legendary. And I don't know squat.

YMMV
A post by Greg Field:
I'd concur with Testa. I've seen that V700 (probably it's the same one; from the H-D dealer [Al D-----, from memory??]) a few times. It's very nice and certainly seems unmolested. I hope you end up with it, TF.

I'm not exactly sure what is meant by multicolor decals, since all V700 tank decals I have seen had more than one color. The local dealer here in Seattle, Draegers, had an original one 10 or so years back, and it definitely had multiple colors. Same with my (recently sold) V700 that had never been repainted, so far as I could tell.

Also, in the 1968-69 time-frame in the US, Berliner had a bunch of V700s repainted white and black, to try to sell off old stock. You can never be sure what he used for decals. It wasn't silk screens, for sure. He also imported some of what were the white '68 Euro models, but those probably were all titled 1969 models in the US. Then gain, who knows?

There's a big stew of stuff out there, and much uncertainty. Unless you're trying for Grand Champion in the AMCA (which you will never likely get, against Harleys and Indians), I wouldn't worry overly much about it.
A post by testa_di_formaggio:
Yes Greg, absolutely.

Al and Mary gone now. Bike too, sold at MPLS auction couple years back. Whenever I tried to get it, Mary intercepted me. Hell of it is, Al got less at the auction than I offered him for it.

My reference to multi color was a hint or shade of blue in the decal. The 67 V700 I have was given a vile brush job so I can't ID the decal, some original red paint on underside of tank however. One of the culls in Beaver Dam had the one white 68 I saw worn but original, I sure remember those blue shaded decals. Was bought from Al or the guy in Racine/Kenosha.

My recollection of an early Ambassador with the decals was one owned by who we'll call Kentucky Slim, well known Guzzi old timer in Illinois. Suspect you know him Greg. I can't recall any of his many Guzzis that were anything other than original condition, for better or worse.

No doubt on the V700 decal uncertainty, but like you, I'd say for sure decals. Outside of the one for sure and maybe two real early Ambassadors, I've not seen anything other than silk screens on that model or subsequent. I'll have to look closely tomorrow, but I think that there might have been two different silk screens. My 70 Ambassador has what appears to be unmolested tank, (other than a cinder block shot from an angry wife), with silk screens with larger feathers that the silk screens on all the rest of my tanks or others I have seen.

Keep yer powder dry, smoke pole season is upon us.