Exhaust - flexible crossover pipe
Moto Guzzi V700, V7 Special, Ambassador, 850 GT, 850 GT California, Eldorado, and 850 California Police models
Updated:
Thanks to Ken Wisdom on the old Yahoo! Loopframe_Guzzi news group (which has now moved to Groups.io) for suggesting this idea as well as an inexpensive source for the flexible pipe.
Mufflers sometimes crack right around the fittings for the crossover pipe. Very disappointing when you just spent north of USD $200.00 for one muffler. A flexible crossover pipe might provide enough flex so that the fitting on the muffler is not stressed.
JC Whitney used to sell stainless steel flexible exhaust tubing...USD $21.99 for a 5 foot length of 1 1⁄2 inch ID tubing (item number ZX214035X). I used the JC Whitney product, but since it is no longer available, I would choose a similar (and likely better fitting) product from McMaster-Carr.
Installation
Just cut off the length you want using your existing crossover as a guide. I used my chop saw but a Hacksaw would work, too.
Next, I made two notches in each end to allow the tubing to compress when I clamped it down. Without the notches, the tubing is just too loose to compress enough for a secure fit. Again, I used my chop saw for this and I really appreciated the nice width it provided very quickly. I could have used a hacksaw, but it would have taken a lot longer to remove the required width to allow for ample compression.
The flex tubing fits over the existing muffler connections. It is a little loose, hence the need for the extra notches at the end to allow it to compress sufficiently.
I secured the flex pipe to the mufflers using simple T bolt clamps...like item number 443273 from Dennis Kirk (SuperTrapp part number 094-1500). I can't remember where I got mine, but I didn't pay USD $12.00 each for them.
I can feel a little exhaust leaking around the connection...just too many cuts that permit air to escape. It isn't a lot, though, so I'm hoping it will function properly. The next time I have it off, I do plan to wrap some silver exhaust tape around the connections for an improved air-tight fit (Thanks to Bob Hawkes on the old Yahoo! Loopframe_Guzzi news group (which has now moved to Groups.io) for this suggestion). Other than that, I'm just going to run it this way.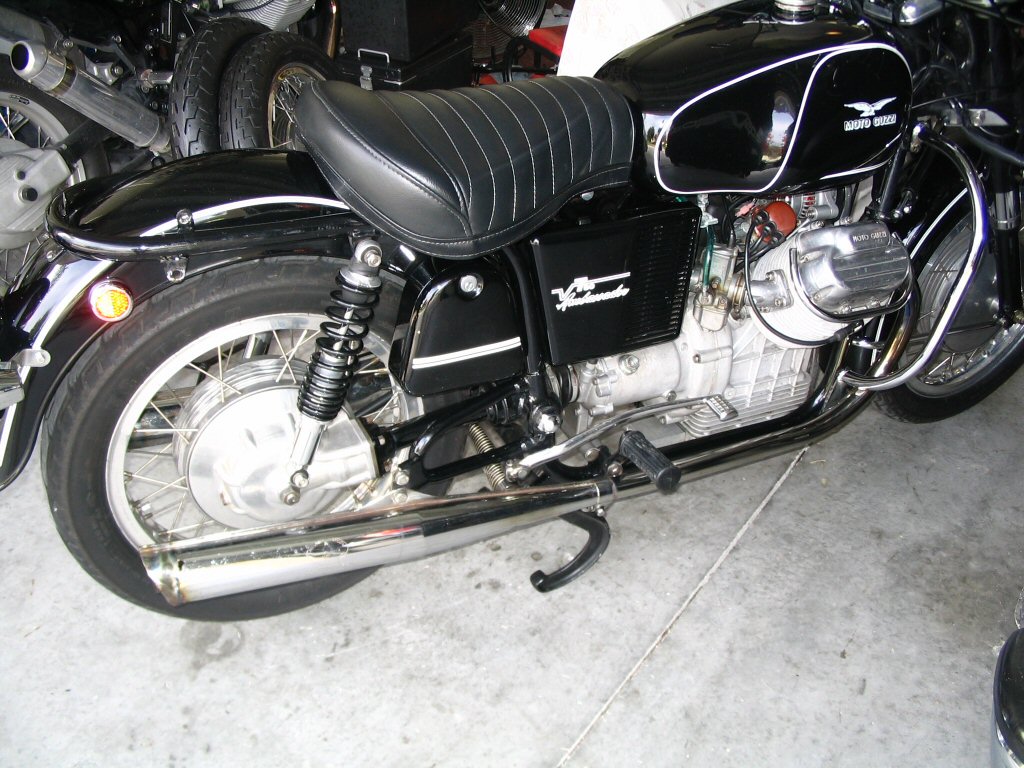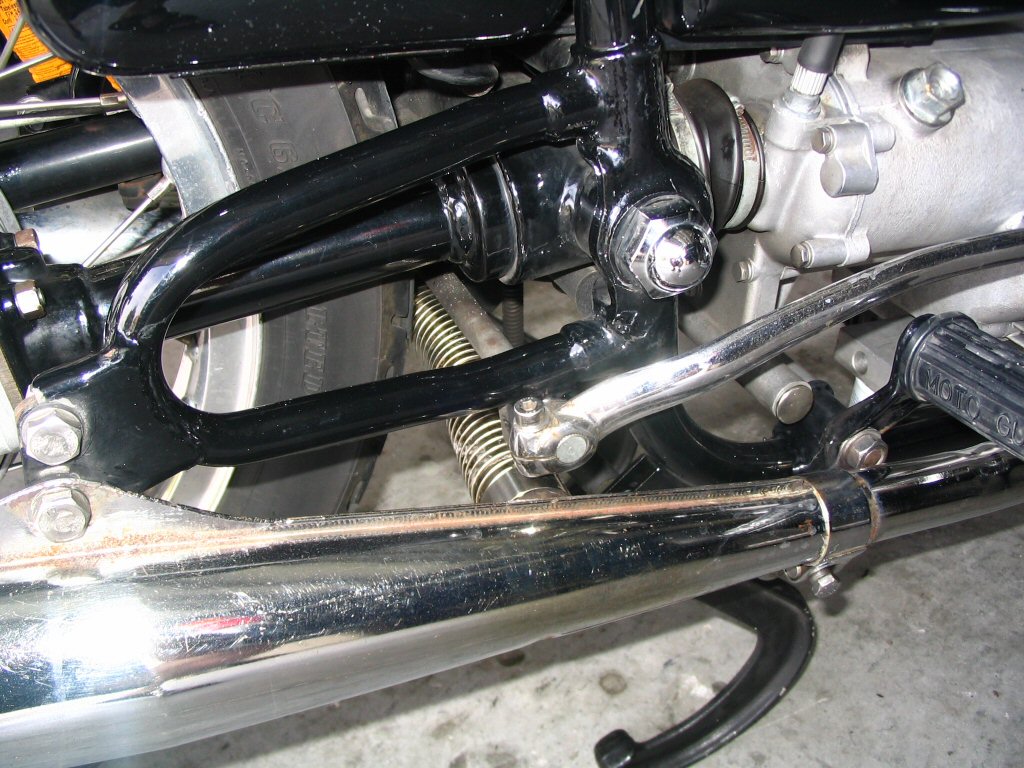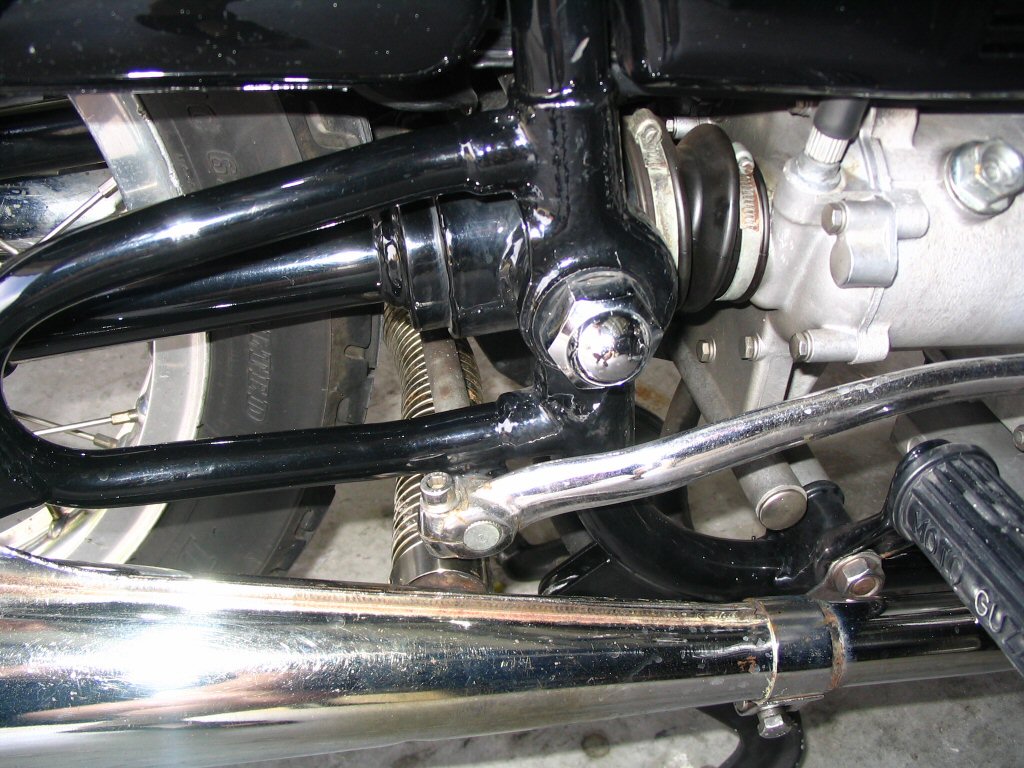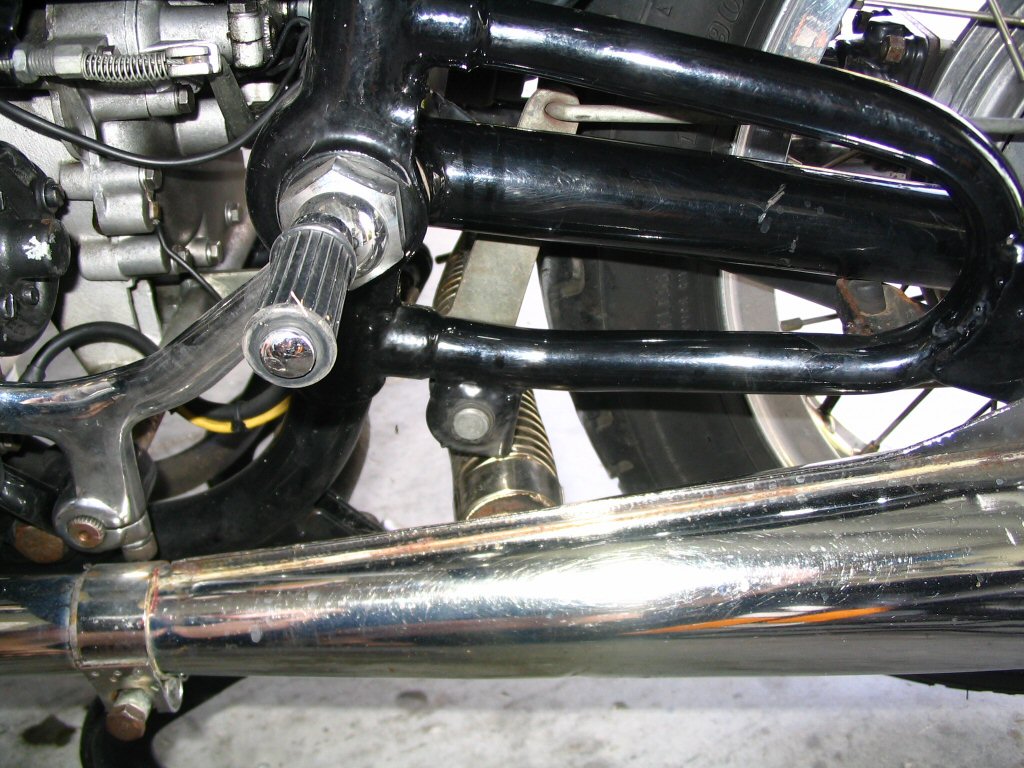 After a few miles...
I rode about 1,000 miles this weekend up, around, and back for the 2006 Florida Campout up in the panhandle at Scott's Ferry (a great time was had by all :>). The flexible crossover pipe functioned perfectly and never budged, vibrated, or changed positions anywhere close to my rear tire. I'm declaring the fitment a success.