Mirror mounts
Moto Guzzi V700, V7 Special, Ambassador, 850 GT, 850 GT California, Eldorado, and 850 California Police models
Created:
Updated:
EMGO mirror mounts
MG Cycle sells a universal 7⁄8 inch clamp on mirror mount for common 10 mm screw in mirrors. Part number 480112. It works okay, but the fit and finish ain't the best.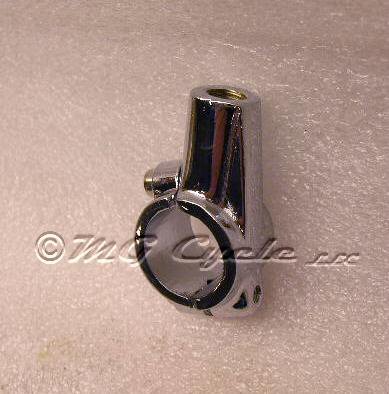 Adapting brake and clutch lever perches
I've never been a fan of the clamp on mirror mounts. Every one I've ever seen has been cheaply constructed, prone to rust, and difficult to keep positioned where I want it.
During the Virginia rally in 2006 or 2007 (I can't remember which) I noticed Charlie Mullendore of Antietam Classic Cycle had adapted a set of inexpensive aluminum hand lever perches that had mirror mounts integrated into them. I was convinced.
First, get two perches. Buy part number ZX023271B from JC Whitney. Get two of them. It doesn't matter if they are for the brake or clutch. Hack saw off the levers. File, sand, and polish the aluminum smooth. A quick and easy and cheap set of stable perches that look good.



Perches used to craft mirror mounts.

Photo courtesy of JC Whitney.

Second, purchase a set of mirrors that bolt right on. I chose these from MG Cycle: Part number 2030650. Screw in round mirror, spring loaded mount allows mirror to rotate. $11.50. Fits

8 mm

or

10 mm

mirror mount holes. Nice wide mirror works particularly well with big handlebars.

These mirrors are inexpensive and work well. Perfect? Well, no they aren't perfect. But they've held up very well for me and have seen a lot of use. Hard to beat at

USD $11.50

each.

Photo courtesy of MG Cycle.