Oil pressure gauge
Moto Guzzi V700, V7 Special, Ambassador, 850 GT, 850 GT California, Eldorado, and 850 California Police models
Updated:
I initially wanted to temporarily connect an oil pressure gauge so that I could do a little investigation into my bottom end components. Once I got it finished, I decided to leave it on. Here is the process that I went through. Please read this entire section as I made important discoveries along the way.
My initial set up
Things to consider:
The threads in the block are

12 mm

×

1.5 mm

. In the US, the commonly available oil pressure gauges come with 1⁄8 inch NPT and 1⁄4 inch NPT adapters. Rather than permanently modify the case, I purchased an adapter that has a

12 mm

×

1.5 mm

male end and a 1⁄8 inch NPT female end.
Things are a little tight around the generator bracket (or alternator bracket, in my case). Rather than struggle with the tight quarters, I extended everything up

4 inch

with a 1⁄8 inch NPT brass pipe.
A 1⁄8 inch NPT brass Tee is the perfect way to connect both the mechanical oil pressure gauge and the stock electrical oil pressure switch. In order to attach the stock electrical switch, drill out one end of the tee with a 13⁄32 inch drill and tap to

12 mm

×

1.5 mm

.
I pushed the small diameter white plastic line through an appropriate length of 5⁄32 inch ID black vacuum hose to give it a little protection and to make it less noticeable.
The gauge I used is not waterproof. But, it can be made very water resistant by liberally waxing the face of the gauge - taking special effort to push the wax under the bezel.
Parts list:
ISSPRO R7962 Adapter (

12 mm

×

1.5 mm

× 1⁄8 inch NPT).
Watts Anderson-Barrows A-721 pipe nipple (1⁄8 inch NPT ×

4 inch

); available in the plumbing aisle of most hardware stores
Watts Anderson-Barrows A-704 female pipe tee (1⁄8 inch NPT); available in the plumbing aisle of most hardware stores
Sunpro (Actron) CP8206 mechanical oil pressure gauge and included fittings
Photos: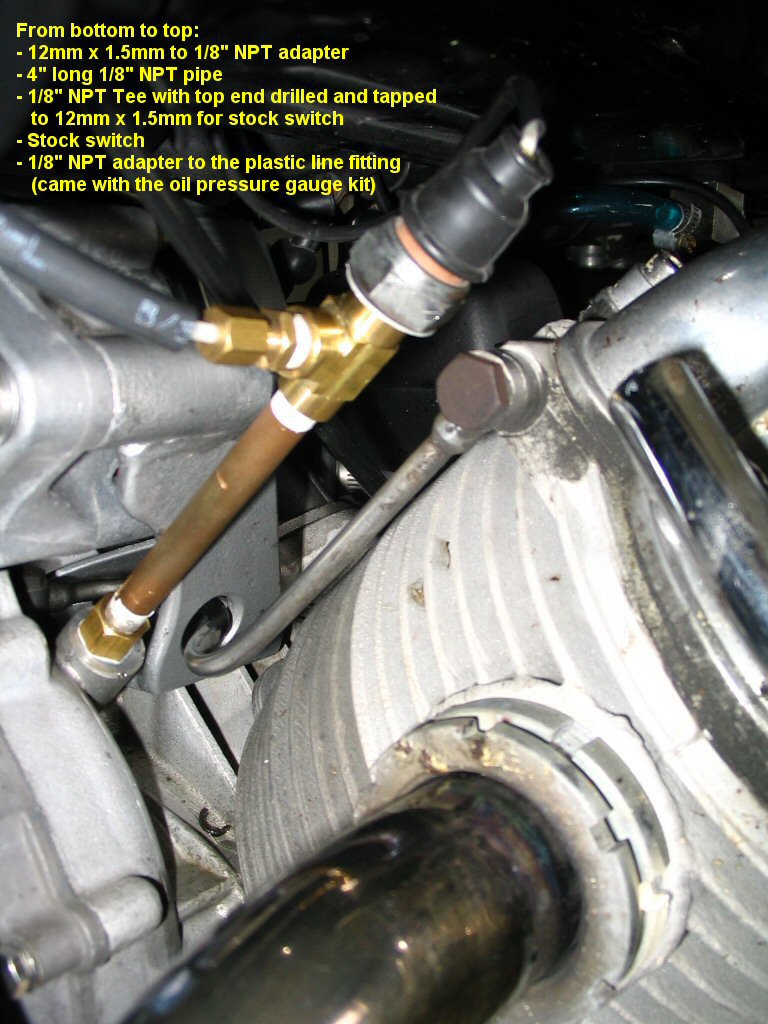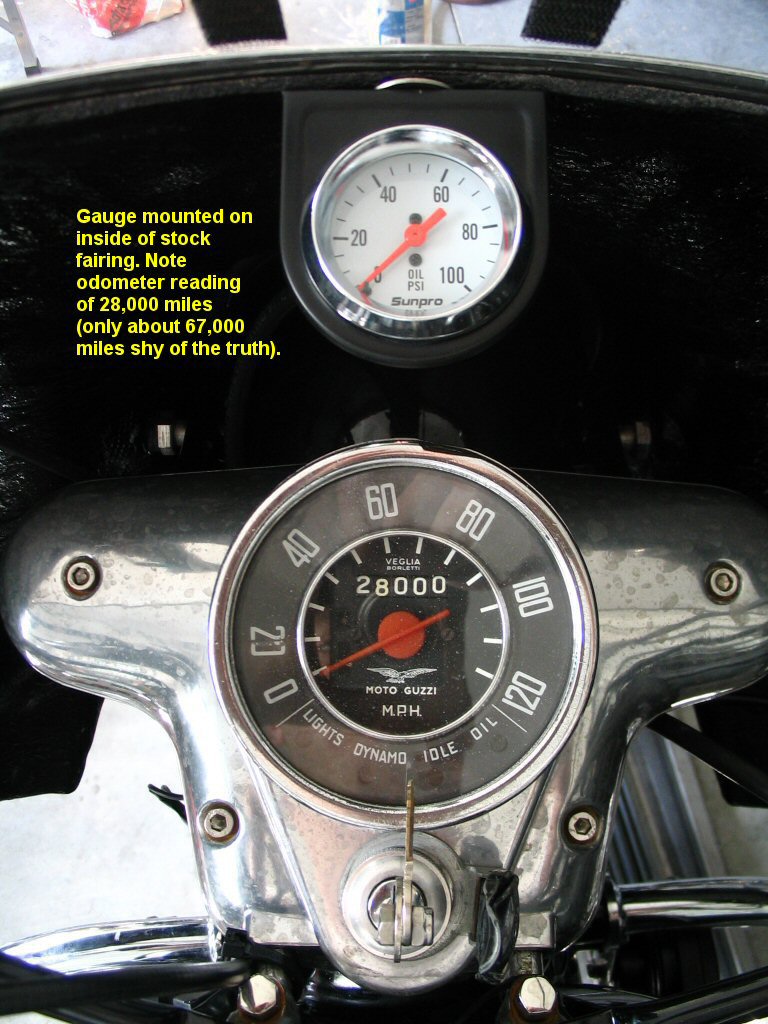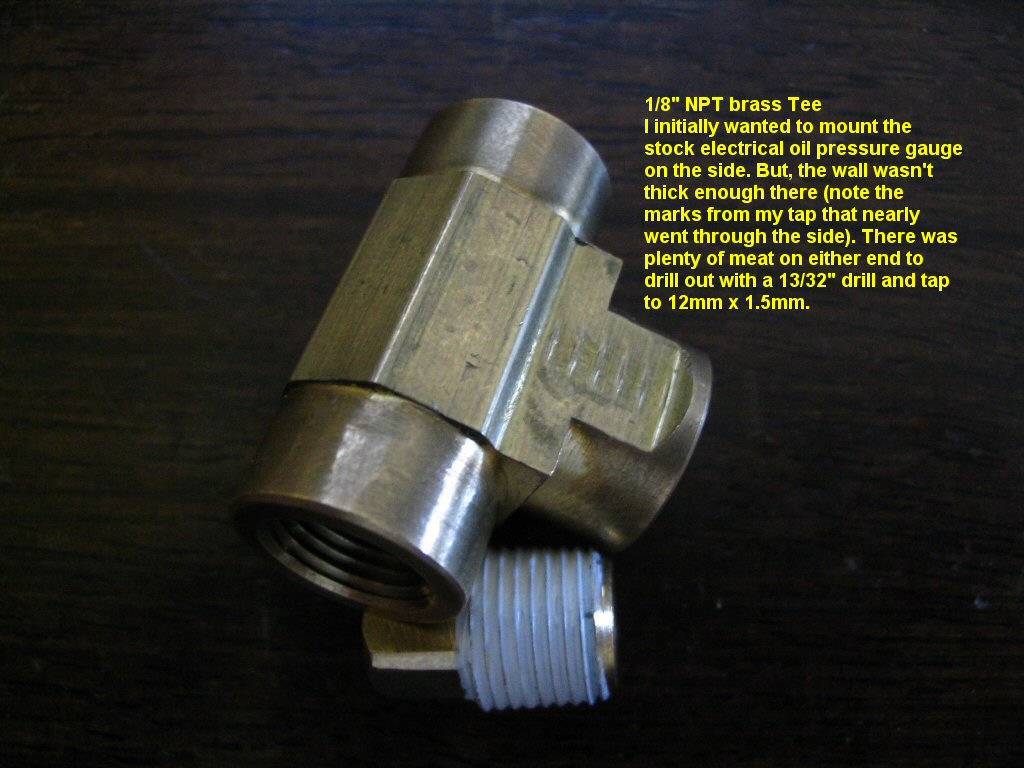 My intermediate set up
Things to consider:
I decided to modify my initial set up for a couple of reasons. First, it was unsightly. Second, I wanted far fewer connections and, thus, far fewer places for potential leaks. The heart of my new set up is an old NOS Murphy swichgage that I purchased on ebay for less than

USD $10.00

. The thing I like about the Murphy gauge is that it combines a switch and a gauge into a single device. I was able to run a single, simple line from my engine block to my gauge, then hook up the electrical wire for the oil pressure indicator light. Furthermore, I am able to set the minimum oil pressure at which the oil light will illuminate. Very simply and very cool.
Important Note: I originally tried to use a ISSPRO R7962 Adapter (

12 mm

×

1.5 mm

× 1⁄8 inch NPT).
The adapter comes with a rubber O-ring that is *supposed* to securely seal the adapter to the block. I trusted it and it worked flawlessly for over 250 miles. Then, in an instant, hot oil was being pumped past the O-ring at an alarming rate. Do not underestimate the mess this will cause all over your bike or how nervous you will be for the next 1000 miles as you wonder what damage you did to your engine. Still trying to use the purchased adapter, I attempted to get it to seal properly to the engine block with an aluminum crush washer. This failed, too. There simply isn't sufficient sealing surface on the adapter to get the job done. Don't waste your time trying to use this adapter. Make your own!

To make my adapter, I started off with a

12 mm

×

1.5 mm

bolt, drilled it clear through with a smaller sized bit, then drilled and tapped the head with a 1⁄8 inch NPT tap. Using a bolt provides a great sealing surface for the aluminum crush washer.
I have found that teflon tape on the threads tends to disintegrate with heat and use. Make your connections seal without it.
Parts list:
One

12 mm

×

1.5 mm

bolt. An odd size, to be sure. Rather than spend half a day scrambling around town looking for one, I purchased a box full from McMaster-Carr.
Sunpro (Actron) CP7554 nylon tubing kit
Murphy swichgage oil pressure gauge
Photos (I still have some more work I want to do to improve the appearance of the mounting bracket):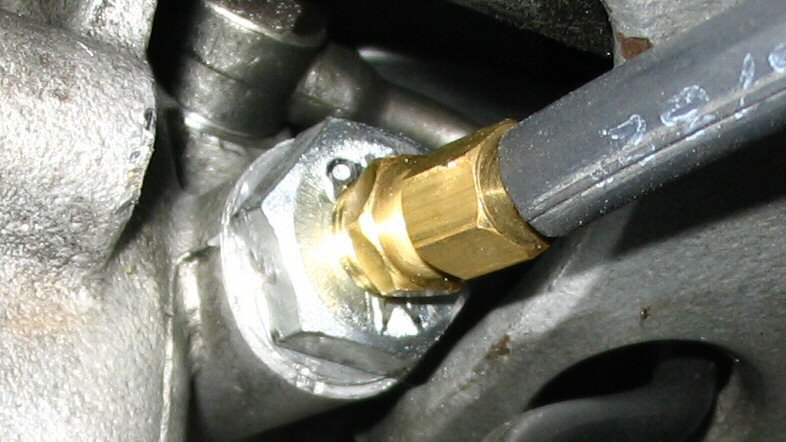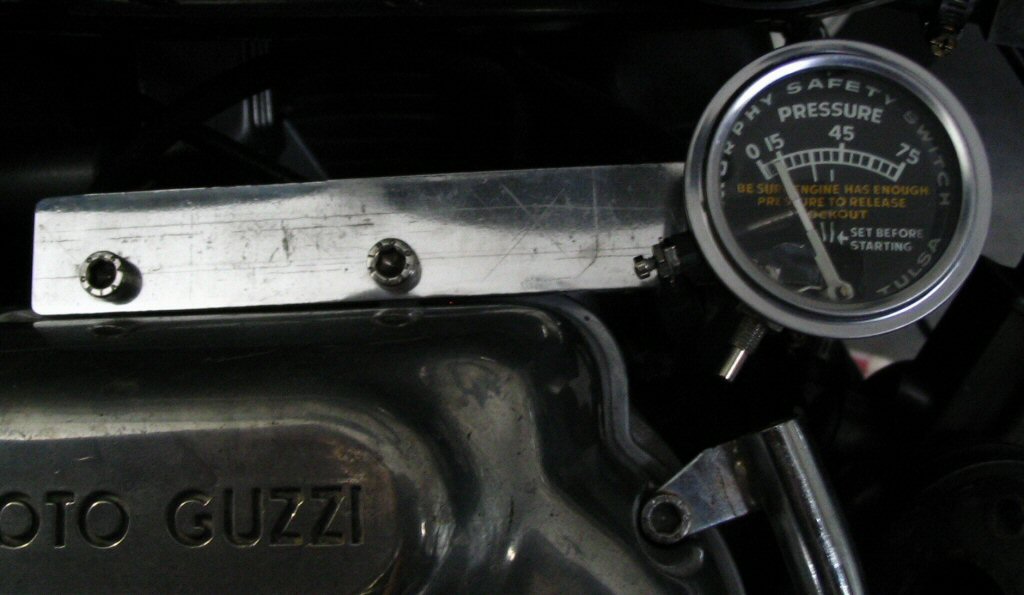 My final set up
Things to consider:
I decided to modify my intermediate set up to get rid of the plastic tubing. So, I took careful length measurements and went down to Amazon Hose in Tampa, Florida and had them build me a braided stainless steel hose for less than

USD $30.00

. In the process, they also replaced the adapter. I wish I had gone there in the first place and not messed with all of time consuming homemade solutions I had come up with. Oh well, live and learn.
Parts list:
#4 male JIC ×

12 mm

×

1.5 mm

steel male metric thread adapter
#4

0.187 inch

ID 3000 PSI stainless steel braided/teflon hose
Stainless steel 1⁄4 inch Female JIC for #4 hose (this is the fitting that connects the hose to the adapter)
Stainless steel 1⁄8 inch MP with collar for #4 hose (this is the fitting that connect the hose to the gauge)
Photos: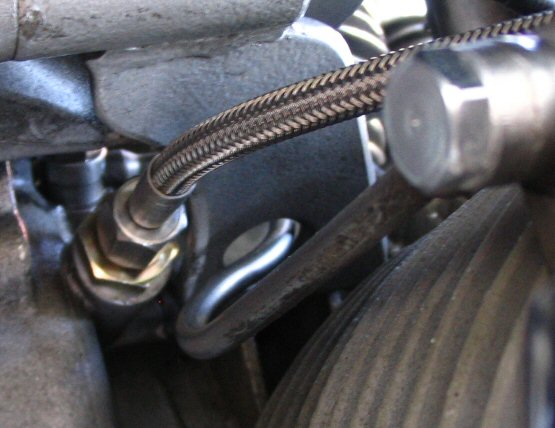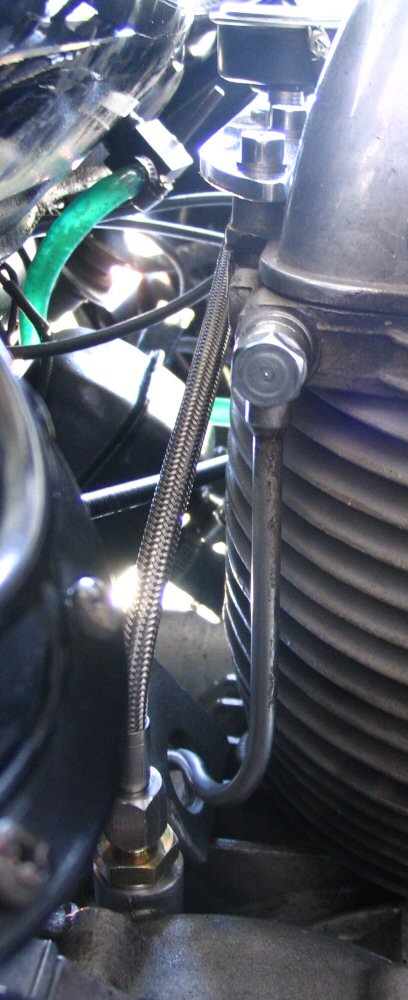 Bill Cohoon's set up
Bill Cohoon sent me this photo of his oil pressure gauge mount.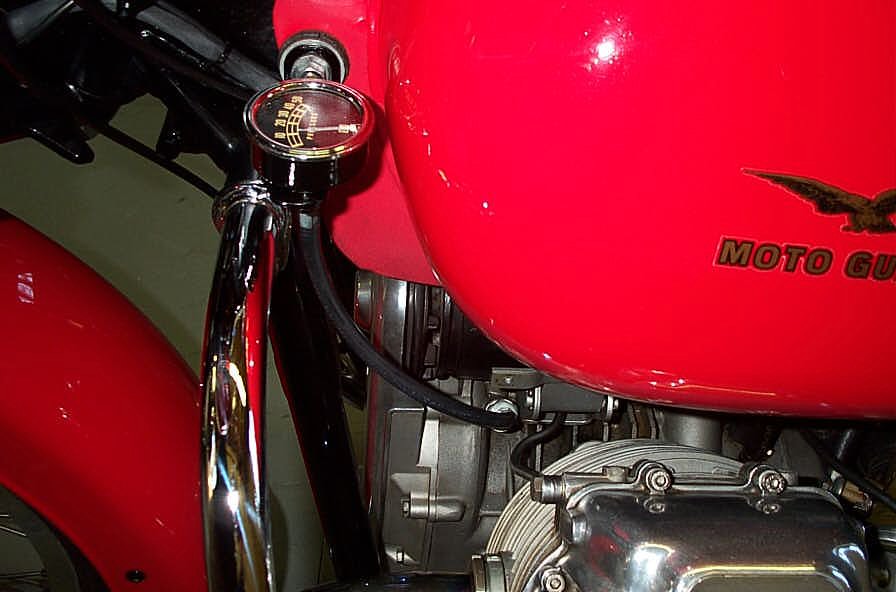 Mike Jones' set up
Mike Jones sent me this information about his oil pressure gauge.
It is a USD $20.00 gauge from Harbor Freight (item number 98475) that requires no oil lines to the gauge, using an electronic sender and an electrical signal from the sender to the gauge. I've used this on my Vert for about half a year now and am happy with it.