Rear main bearing installation
Moto Guzzi V700, V7 Special, Ambassador, 850 GT, 850 GT California, Eldorado, and 850 California Police models
Created:
Updated:
To avoid oil leaks, installation of the rear main bearing requires some special attention. Charlie Mullendore and I share the same basic approach to installation. I extracted this information from Charlie Mullendore of Antietam Classic Cycle on the old Yahoo! Loopframe_Guzzi news group (which has now moved to Groups.io). In Charlie's own words:
What I do (others may have their own preferences).

rear main seal holder? If you mean the rear main bearing flange, the factory torque figure is 22 ft. lbs. for the

8 mm

×

25 mm

grade 8.8 bolts. I recommend using new bolts and DIN 137 wave washers (no lock plates). This is what Guzzi upgraded to on the '90s Californias. No Loctite on those bolts - I use a light coating of Hondabond 4 as a low-strength thread locker on the six that aren't under the oil level. The two bottom bolts get a liberal coating of the same in order to keep them from leaking. I also use the Hondabond on the banjo bolt of the oil return pipe along with the crush washers.
I apply a light coating of Permatex 300 on the outside of the seal before installation into the rear main bearing flange. A light coat of engine oil on the seal lip(s) is all that's necessary there.
I also use a light coating of Permatex 300 on the gasket surfaces of the crankcase and rear main bearing flange (along with the paper gasket of course). Same on the breather pipe gasket. JB Weld to seal the cam plug.
Blue Loctite on the (new) grade 10.9 flywheel bolts along with schnoor washers. Torque to 30 ft. lbs.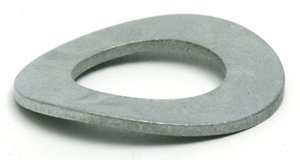 Source for thick wave washers: