Voltage regulator cross-references - Magneti Marelli mechanical
Moto Guzzi V700, V7 Special, Ambassador, 850 GT, 850 GT California, Eldorado, and 850 California Police models
Created:
Updated:
I extracted some of this information from the old Topica Loopframe_Guzzi news group (which has now moved to Groups.io).
An aftermarket voltage regulator is available from MG Cycle.
NOTE: This unit is no longer available.
This is the unit that Keith Ruff installed on his loop during the 2005 National rally in New Cumberland, West Virginia. It works great.
NOTE: This unit is no longer available.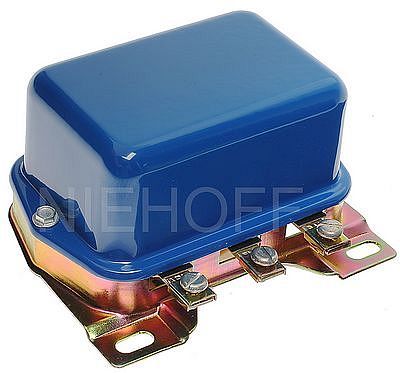 Auto Zone (Duralast): VR603 or PT804
See Charlie's notes below.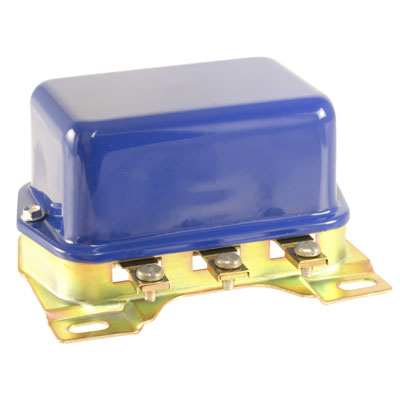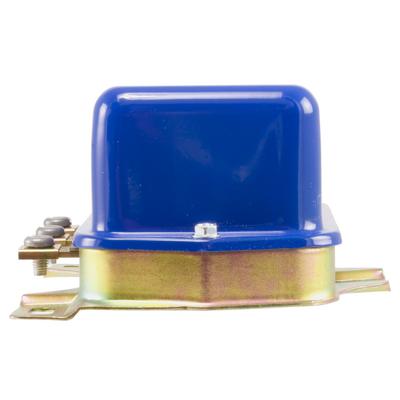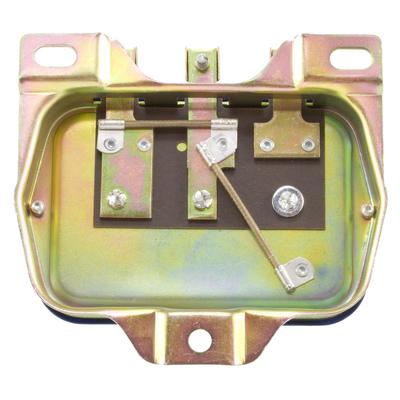 Thanks to Charlie Mullendore of Antietam Classic Cycle for graciously providing me with updated information about the above voltage regulator. In Charlie's own words:
There's been a change in what voltage regulator is offered by Advance Auto Parts. They no longer stock the GP Sorensen VR203 unit. After perusing the Advance Auto Parts website and looking around elsewhere last night, I've come to the same conclusion - the FF150E is really what I want.

Advance Auto Parts shows the Niehoff FF150E on their website, but when you go into the store and ask for that part no. they try to give you a fuel filter. All of the others on their website seem to be unavailable - when the counter person checked they all came up NLA - use Borg-Warner R400Z (which is for alternators!). Could be this is a computer glitch or operator error on the part of the counter person, who knows? Didn't even try ordering the FF150E online - see below.

Called AutoZone - I asked for one for a '62 Ford Falcon, they could get a Wells VR603 in one day for $34.99, but I elected to order it on their website since I wouldn't be back into Hagerstown until Monday the 15th. Ordered Monday, arrived Thursday, total cost $42.37 with shipping and tax. Looks identical to the Advance Auto Parts Niehoff FF150E, they're probably all made by the same company. Made in the USA! Wow! 3 month warranty. Installed today and it works great - peaks out at 14.1 volts. Of course, you do have to make a mounting adapter plate, but it wires up exactly the same.

BTW, NAPA and other auto parts stores can get the same thing but charge as much as USD $90.00 for it!

On a side note/related topic: The Ambassador I'm currently working on has a Ford Falcon regulator fitted - it's mounted upside down so that the terminals are at the top instead of underneath. In this orientation, no adapter plate is needed - it bolts directly to the regulator bracket. Wiring reaches okay. It does set lower and may foul the starter relay if one is fitted, but this Ambo never had one and the unused tab on the Ford regulator is where I'm mounting one.

Photo courtesy of Charlie Mullendore, Antietam Classic Cycle.
Vehicle cross-reference
The voltage regulator was used on the following vehicles:
| Make & Model | First Year | Last Year |
| --- | --- | --- |
| Ford Club | 1957 | 1962 |
| Ford Club Wagon | 1962 | |
| Ford Country Sedan | 1957 | 1962 |
| Ford Country Squire | 1957 | 1962 |
| Ford Courier Sedan Delivery | 1957 | 1960 |
| Ford Custom | 1957 | |
| Ford Custom 300 | 1958 | 1960 |
| Ford Del Rio Wagon | 1957 | 1958 |
| Ford Econoline | 1961 | 1964 |
| Ford F Series | 1956 | 1959 |
| Ford F-100 Pickup | 1960 | 1964 |
| Ford F-250 Pickup | 1960 | 1964 |
| Ford F-350 Pickup | 1960 | 1964 |
| Ford Fairlane | 1957 | 1962 |
| Ford Falcon | 1960 | 1962 |
| Ford Falcon Sedan Delivery | 1961 | 1962 |
| Ford Galaxie | 1959 | 1962 |
| Ford Ranch Wagon | 1957 | 1962 |
| Ford Ranchero | 1957 | 1964 |
| Ford Skyliner | 1957 | 1959 |
| Ford Starliner | 1960 | 1961 |
| Ford Sunliner | 1957 | 1962 |
| Ford Thunderbird | 1957 | 1962 |
| Ford Victoria | 1957 | 1962 |
| Lincoln Capri | 1956 | 1959 |
| Lincoln Continental | 1958 | 1960 |
| Lincoln Lincoln Series | 1960 | |
| Lincoln Mark II | 1956 | 1957 |
| Lincoln Premier | 1956 | 1960 |
| Mercury Colony Park | 1957 | 1962 |
| Mercury Comet | 1960 | 1962 |
| Mercury Commuter | 1957 | 1962 |
| Mercury Country Cruiser | 1959 | 1960 |
| Mercury Medalist | 1958 | |
| Mercury Meteor | 1961 | 1962 |
| Mercury Montclair | 1957 | 1960 |
| Mercury Monterey | 1957 | 1962 |
| Mercury Park Lane | 1958 | 1959 |
| Mercury Turnpike Cruiser | 1957 | |
| Mercury Villager | 1962 | |
| Mercury Voyager | 1957 | 1959 |