Wheel bearing cross-references
Moto Guzzi V700, V7 Special, Ambassador, 850 GT, 850 GT California, Eldorado, and 850 California Police models
Updated:
Two leading shoe front wheel bearing cross references (and all rear wheels)
Hayden informs me that these wheel bearings where also used on the Fiat 500 and 126 automobiles.
Marc Schneider sent me some additional information via email. In Marc's own words:
As the rear wheel bearing on drum brake loop frames is made of unobtanium I talked to my bearing guy and he dig a bit into the numbers. As you might have guessed: the bearing is still not being produced (one exception listed below) and there are only NOS left. But he gave me some additional reference numbers that might help in locating old stock.

The RIV number 01-02-4210 corresponds to the old SKF 639193 and the new SKF 330686 number (6xx xxx and 3xx xxx numbers are used for non-standard bearings, custom bearings, small batches and so on). But the SKF bearing was sold out years ago. FAG used the number 506186 for our bearing. OVR (Italy) also produced the bearing. I don't have the number but I'll get the OVR bearings itself next week. I'll check if they have a number.

What do those numbers help? You can use those number to search in bearingnet.net, a dealer network platform. That way your dealer should be able to locate remaining stock of one of those bearings all around the world. A quick search revealed dozens of dealers in Europe, Turkey, Asia and Australia. But interestingly none in the States. Guess your Guzzi part dealers got hold of all of them. Not a bad thing either. In Europe there were a couple of dealers buying all the stock from RIV as they got merged into SKF. And several shops have popped out over the years with hard to get bearings. Fun thing my bearing guy told me: always check ebay first, you'll get the most information there. And if you can't find it there you probably won't anywhere else.

Stein-Dinse also sells the bearing, but it's a batch produced in India. And if it has the same quality the other parts they produce in India have I would not bother ordering them. The fork tubes were utter crap: wrong taper dimensions, bad surface finish, bad steel quality). And other European Guzzi fans aren't happy with the products either (one exception: the seals). I haven't tried those bearings but heard from others that they just weren't up for the task in terms of precision and material quality.

There are shops in Germany offering new spline tubes that fit industry standard bearings. Haven't looked into those modifications yet...
Moto Guzzi

MG# 92246922

[

22 mm

ID ×

48 mm

OD ×

15.5 mm

wide]
RIV 01-02-4210 (01/02/4210 or 1-2-4210)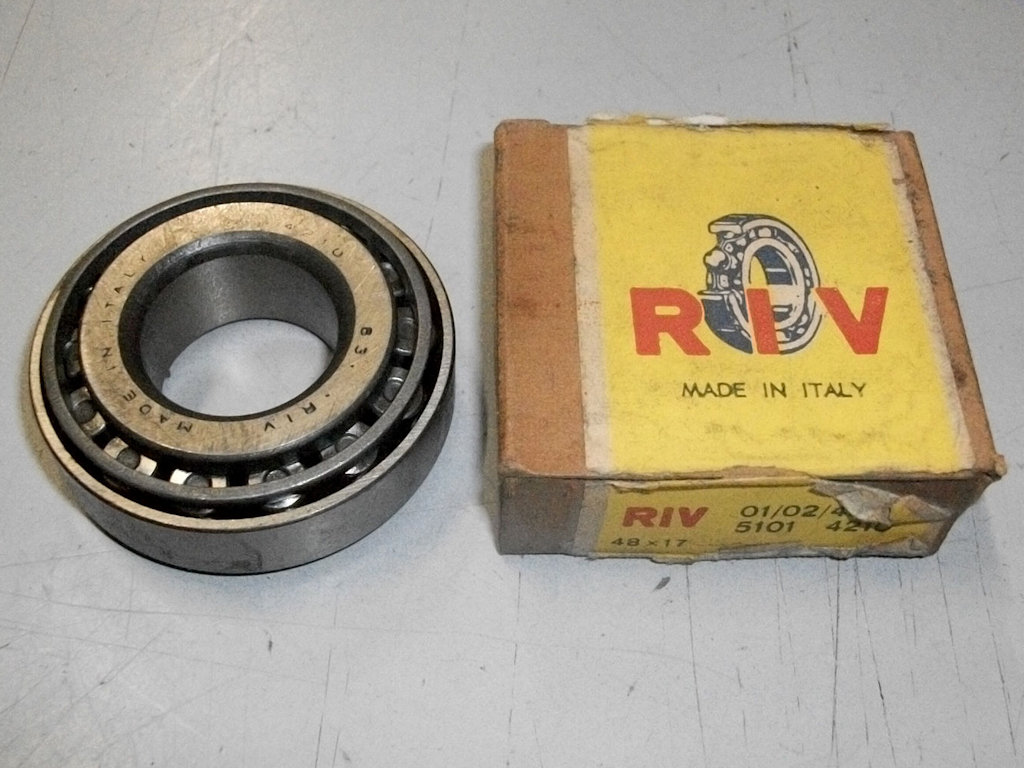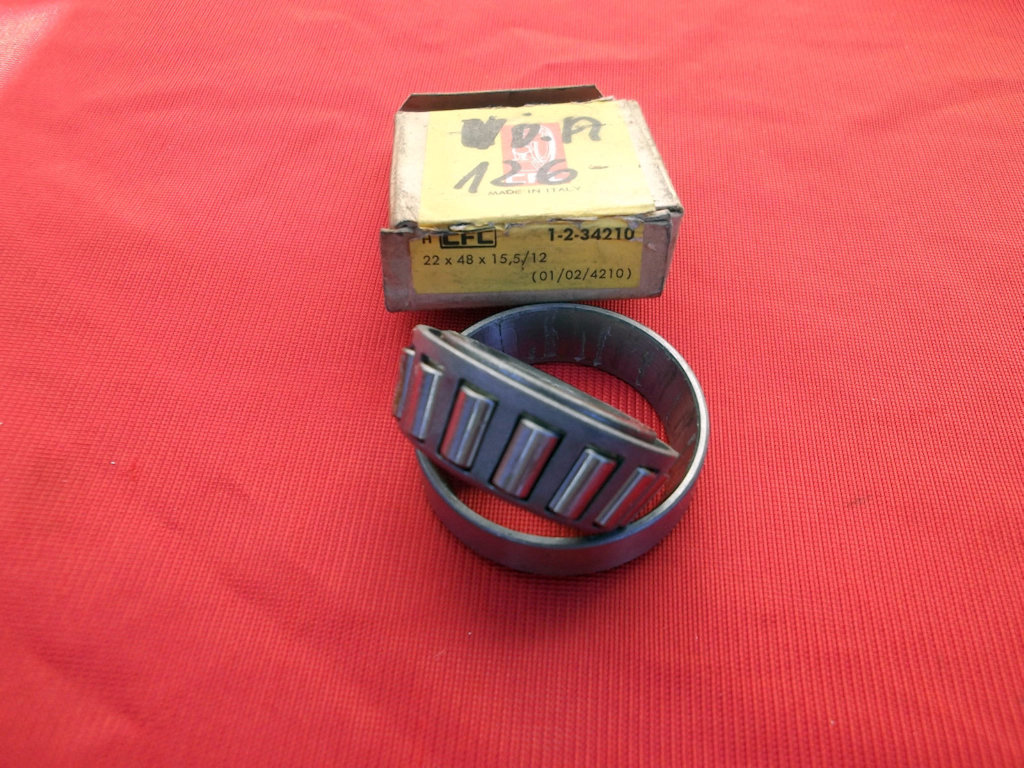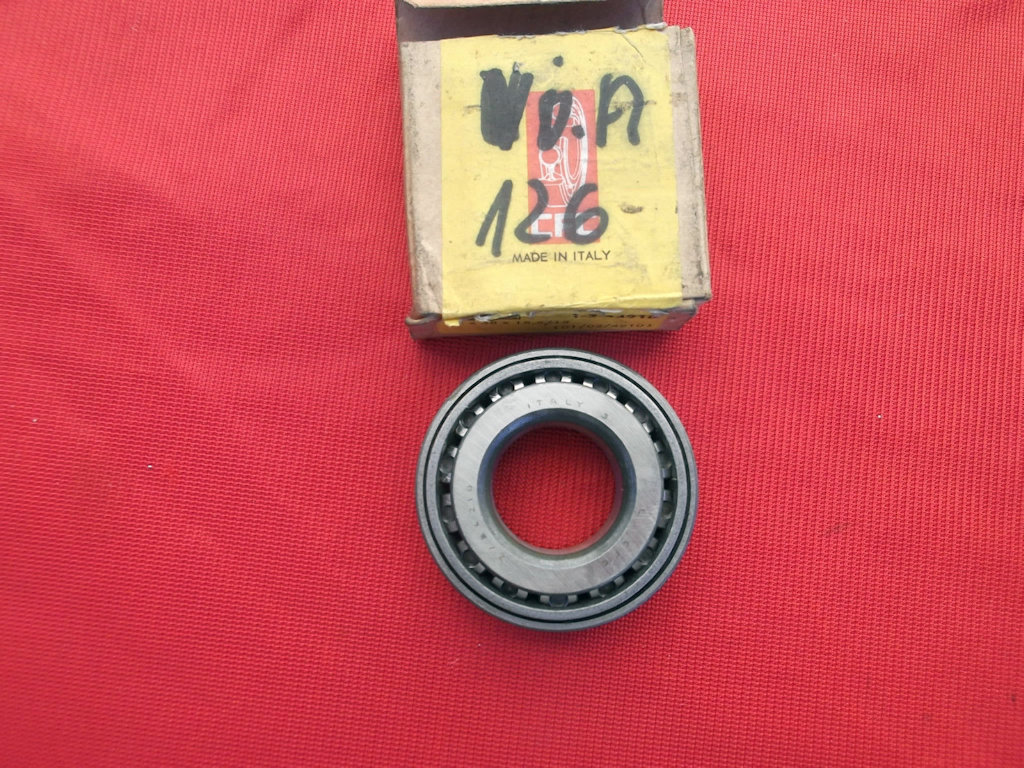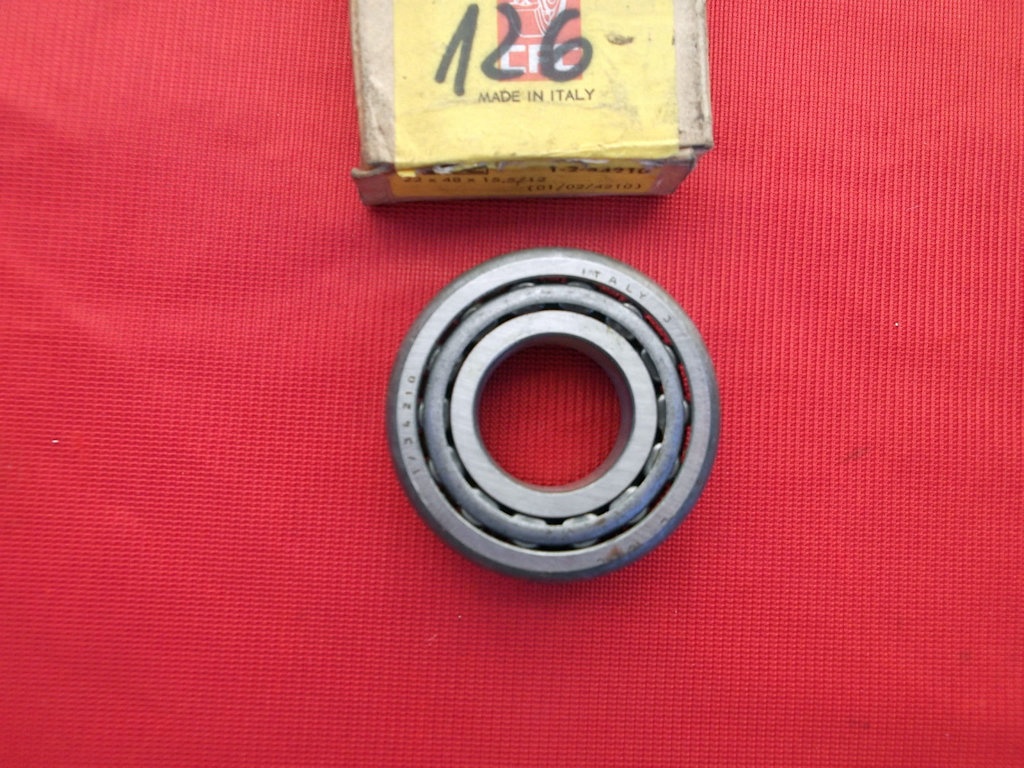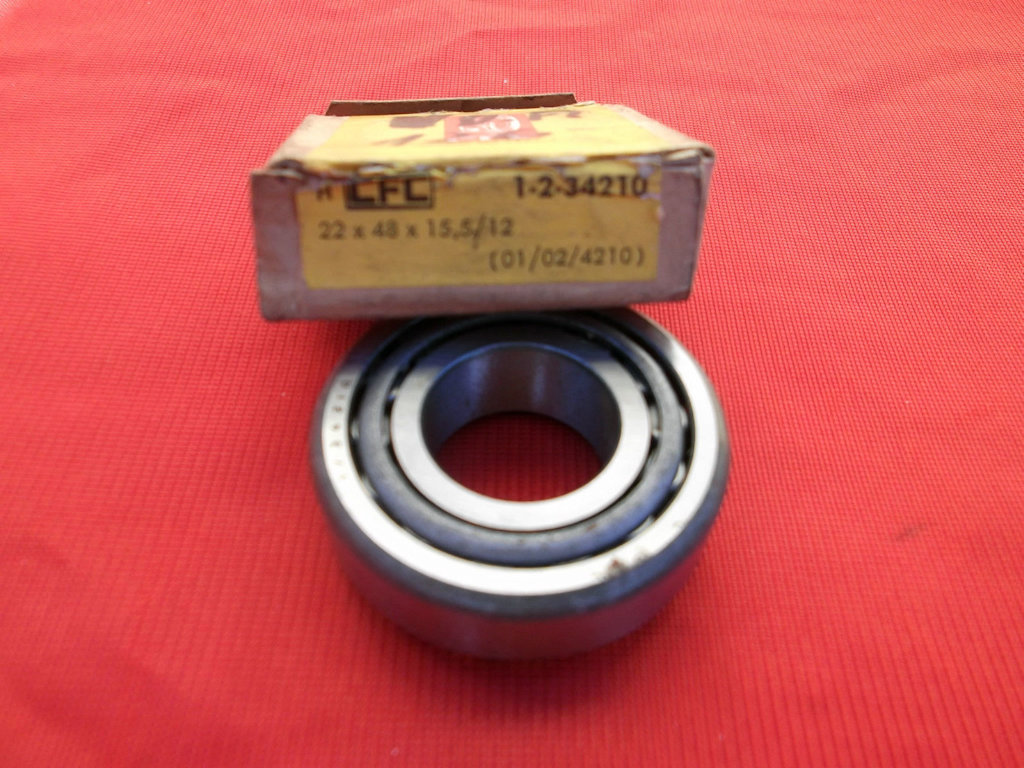 Four leading shoe front wheel bearing cross references
Chester Clifford Schrieb provided key starting information for these cross-references.
Moto Guzzi

MG# 92201420

[

20 mm

ID ×

52 mm

OD ×

15 mm

wide]
FAF 304K
FAG 6304
FED 1304
MRC 304-S
ND 3304
New Departure 3304
NH 304
RIV 5B
SKF 6304
STEYR 6304
Since this bearing is of the simple, ball-bearing variety, a sealed version could easily be fitted (thereby circumventing the need to pack the bearings or fit seals). Here are the cross-references for double-sided sealed bearings.
Moto Guzzi

MG# 92201420

[

20 mm

ID ×

52 mm

OD ×

15 mm

wide]
FAF 304PP
FAG 6304.2RSR
FED 1304RR
MRC 304-SZZ
ND Z99604
New Departure Z99604
RIV BLN 20
SKF 6304.2RS
STEYR 6304.2RS
Disc brake front wheel bearing cross-references
Bob Greene provided key starting information for these cross-references.
Here are several cross-references:
Moto Guzzi

MG# 92204220

[

20 mm

ID ×

47 mm

OD ×

14 mm

wide]
FAF 204PP
FAG 6204.2RSR
FED 1204RR
MRC 204-SZZ
ND Z99504
NH 204NN
RIV ALN 20
SKF 6204-2RS1
STEYR 6204.2RS