Wrist pin puller tool
Moto Guzzi V700, V7 Special, Ambassador, 850 GT, 850 GT California, Eldorado, and 850 California Police models
Created:
Updated:
Charlie Mullendore's version
I extracted this recommendation from Charlie Mullendore of Antietam Classic Cycle off of the old Yahoo! Loopframe_Guzzi news group (which has now moved to Groups.io). In Charlie's own words:
I made a wrist pin puller out of a PVC pipe nipple, a 3⁄8 inch stove bolt w/nut and some washers. Ground the head of the stove bolt down to the same diameter as the piston pin and wrapped a little duct tape around the shaft so that it would fit into the pin snug. Cost me about USD $2.00 and worked just fine.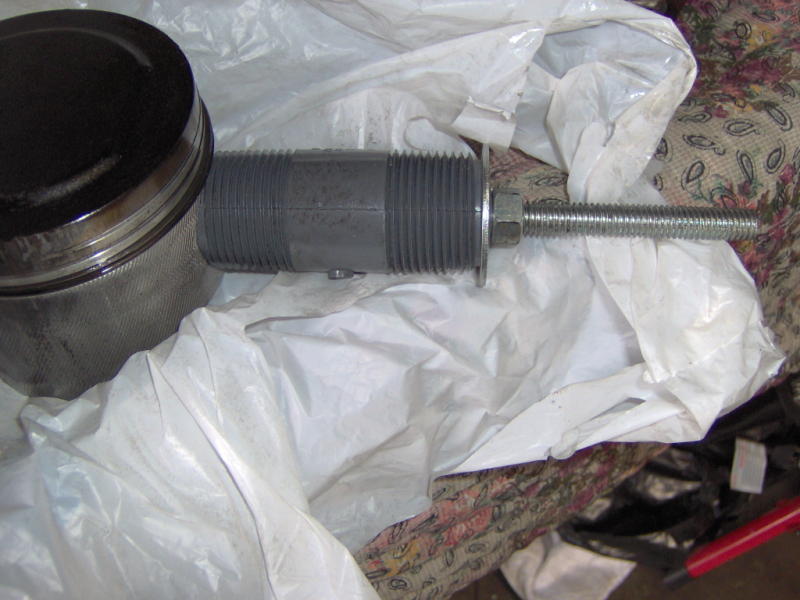 Joe Tokarz's version
Thanks to Joe Tokarz for sending me his variation on this tool. In Joe's own words:
Here's an alternative that was inspired by Charlie Mullendore's solution.

Parts:

3⁄8 inch-16 carriage bolt

8 inch

long. Check the bolt head fit to the pin. It may be small enough and not need grinding to a smaller size.
3⁄8 inch fuel hose about 21⁄2 inch long
Metal tube with ID slightly bigger than wrist pin OD about

3 inch

long.
Washers. One with ID slightly smaller than inside ID of tube. One larger that OD of tube.
Nuts. One to pull the bolt and two to make a jam if the bolt turns when tightening.

The fuel hose helps center the bolt inside the pin. Solder the two washers together so they make a kind of stepped collar to keep the far end of the bolt aligned in the tube. The smaller OD one centers the bolt in the tube and the large one applies pressure to the tube during tightening.