ECU protection and transil diode installation
Moto Guzzi Quota 1000 and Quota 1100 ES models
Updated:
I've been learning about how to protect the expensive ECU from voltage spikes. Apparently, the voltage regulator requires a battery with some minimal level of charge for it to regulate the voltage properly. If a battery falls below this minimal level, it is possible for a voltage spike to be sent through the electrical system and fry the ECU.
When can this happen? My understanding is this most likely to occur when you experience a dead battery and the bike is either push started or jump started. This has happened to Centauro owners and I believe other Guzzi models, too. I have not heard of a problem with the Quotas.
Even though I've heard of no problems with the Quotas, I decided to install the recommended protection - a transil diode. It's inexpensive and easy to do. Anyone who is interested can learn about the procedure at this website: http://paaat.guzz.free.fr/diode_transil/english.html.
The required transil diode can be difficult to find. They are not available at Radio Shack and even my local electronics hobby shop had never heard of them. Here is a place from which you can mail order the correct part: Newark InOne (part number 18H3420 or 5KP15A).
As for installation, here is what I did (this information supplements the information provided at the website above):
Remove the left side panel, right side panel, and seat.
Disconnect the battery (negative first, then positive).
Remove the two Allen-head screws that secure the fuse box to the steel panel.
Remove fuse number 2 (it is the second fuse from the left).
At the back of the fuse box, identify the two green/white wires that connect to fuse number 2 [these are the wires that provide power to the ECU].
The green/white wires are connected to the fuse box with a female spade connector with a black plastic jacket. If you are careful, you will be able to unplug this connector from the fuse block. Carefully work it back and forth to remove it being watchful that you are not pulling the fuse contact out.
Now, it is a simple matter to create a new splice from the fuse box to the green/white wire AND the transil diode. The ground end of the transil diode can be easily attached to one of the panel mounting screws (since the panel itself is grounded). I chose the fuse block mounting bolt.
Put everything back together and you are done.
Following the existing instructions, I initially reduced the amperage rating of the fuse from 15 to 5. The bike would start and idle, but die if I gave it any gas. It seems to run fine now that I've increased the fuse to 10 amps.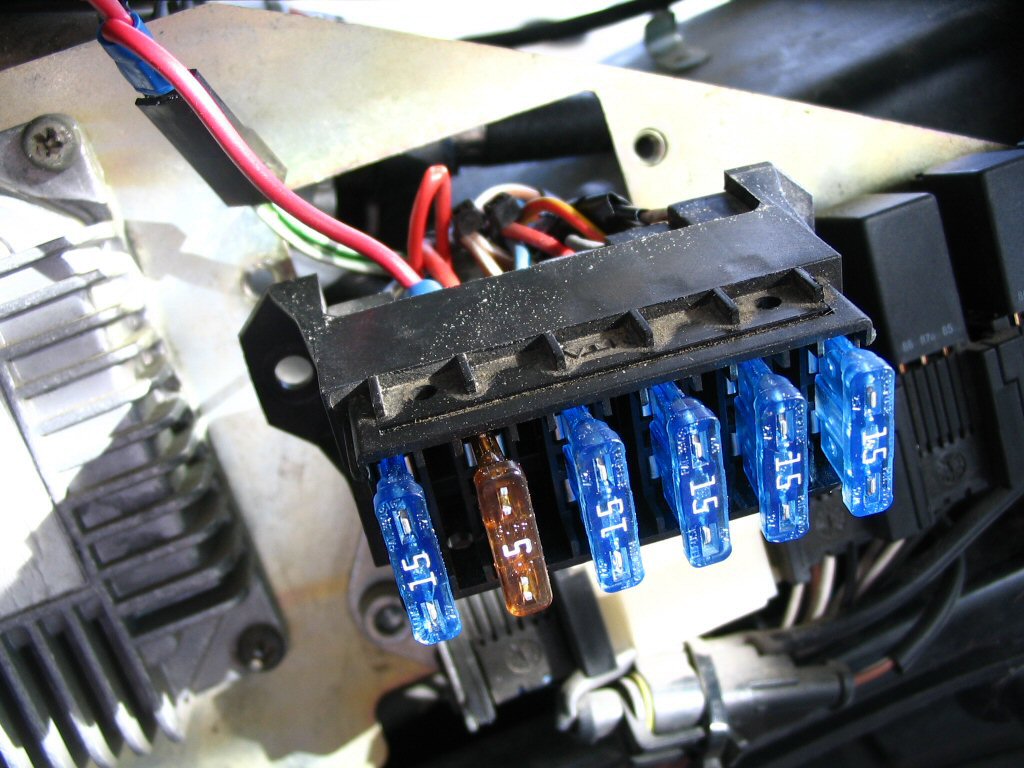 Gregory Bender's thoughts:
I've since completely removed the transil diode as I learned that our ECUs are already protected from voltage spikes.