Windshield options
Moto Guzzi Quota 1000 and Quota 1100 ES models
Updated:
The unobtanium option:
The windshield pictured below is the Swanee type windshield that was made sporadically by somebody a few years ago. The previous owner of my Quota purchased it, so I don't have any contact information. But, that's probably a good thing since I've heard the last few people who sent him money didn't get a shield! It does, however, provide a great deal of protection and I've found it very nice on longer trips. It was also great when I lived in the cooler climate of Minnesota. One drawback, however, is that my handlebars cannot be turned fully side-to-side with the windshield installed. It isn't a problem on the road...but makes it a little frustrating when maneuvering it around the shop. Buffeting is still a problem...but is largely alleviated with the use of tank panniers. Fit is okay, but not great. Be sure to install small plastic spacers between the fairing and the windshield.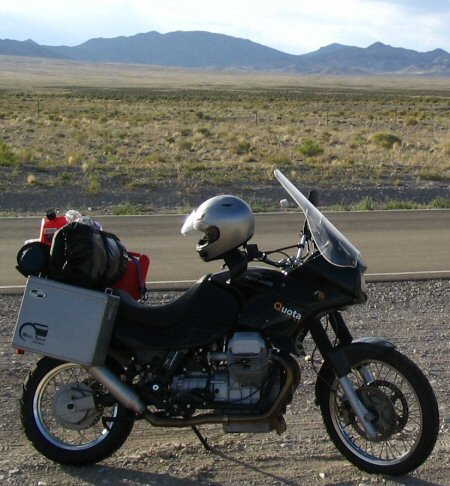 The Moto Guzzi option:
For around $200, you could always consider the Moto Guzzi windshield (made by Parabellum and available directly through them if your dealer can't get it) - but I don't recommend it. I purchased it and tried it for a trip to the Wisconsin rally in 2004. It gave me so much helmet buffeting that I couldn't wait to take it off. Fortunately, Parabellum has a return policy that I was able to take advantage of and I only lost out on the shipping. On the plus side, it fits very nicely. Mike Taylor (a.k.a. guzzimike, rocker59) was able to overcome much of the buffeting by drilling large holes in the lower portion of the parabellum screen.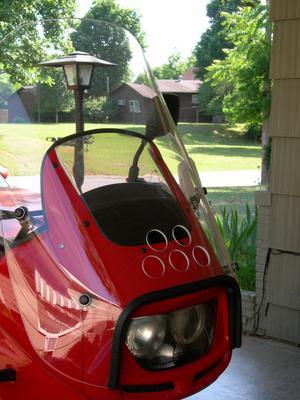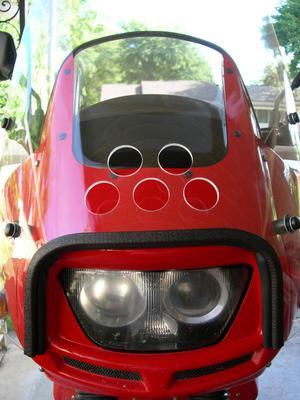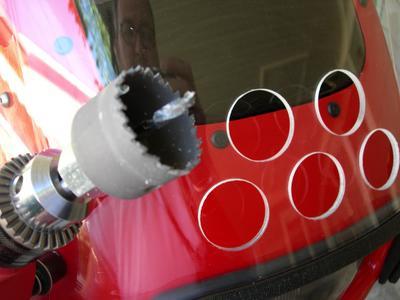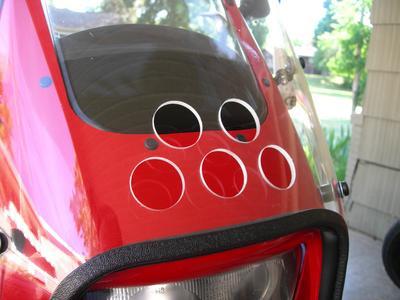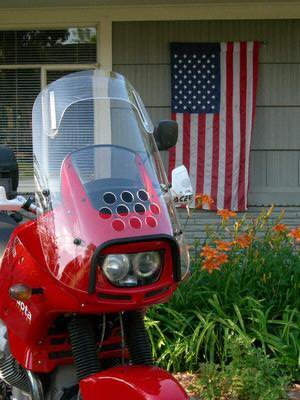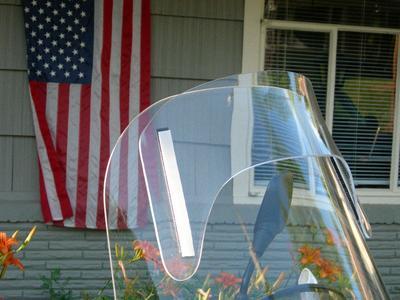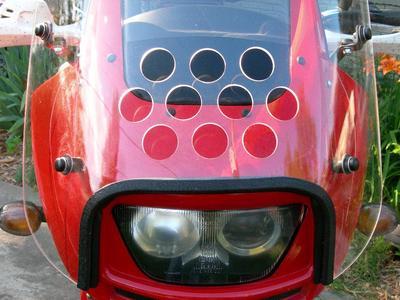 The Gustafsson Plastics option:
For around $105, you can pick up the touring screen made by (Gustafsson plastics). I've tried this one, and I like the protection it provides...probably the least amount of buffeting of the three...and not bad on protection, either. Fit on the one I have is not good (read: quite poor). Be prepared that the holes (if it comes with any) may not be correctly drilled. You may also need to cut on the plastic some to make it fit properly. Frustrating...but that is the way it is. I especially like that it completely replaces the stock shield. I've heard mixed reports from numerous people who have had both good and bad experiences with Gustafsson Plastics (both their products and how they treat their customers). So, buyer beware.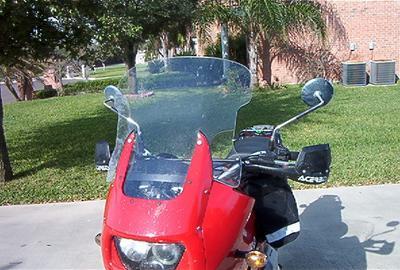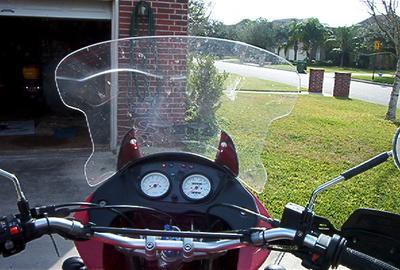 The Kymco scooter option:
Leonidas Stilas sent me this photo of his Quota 1000 with a windshield from a Kymco 500 scooter.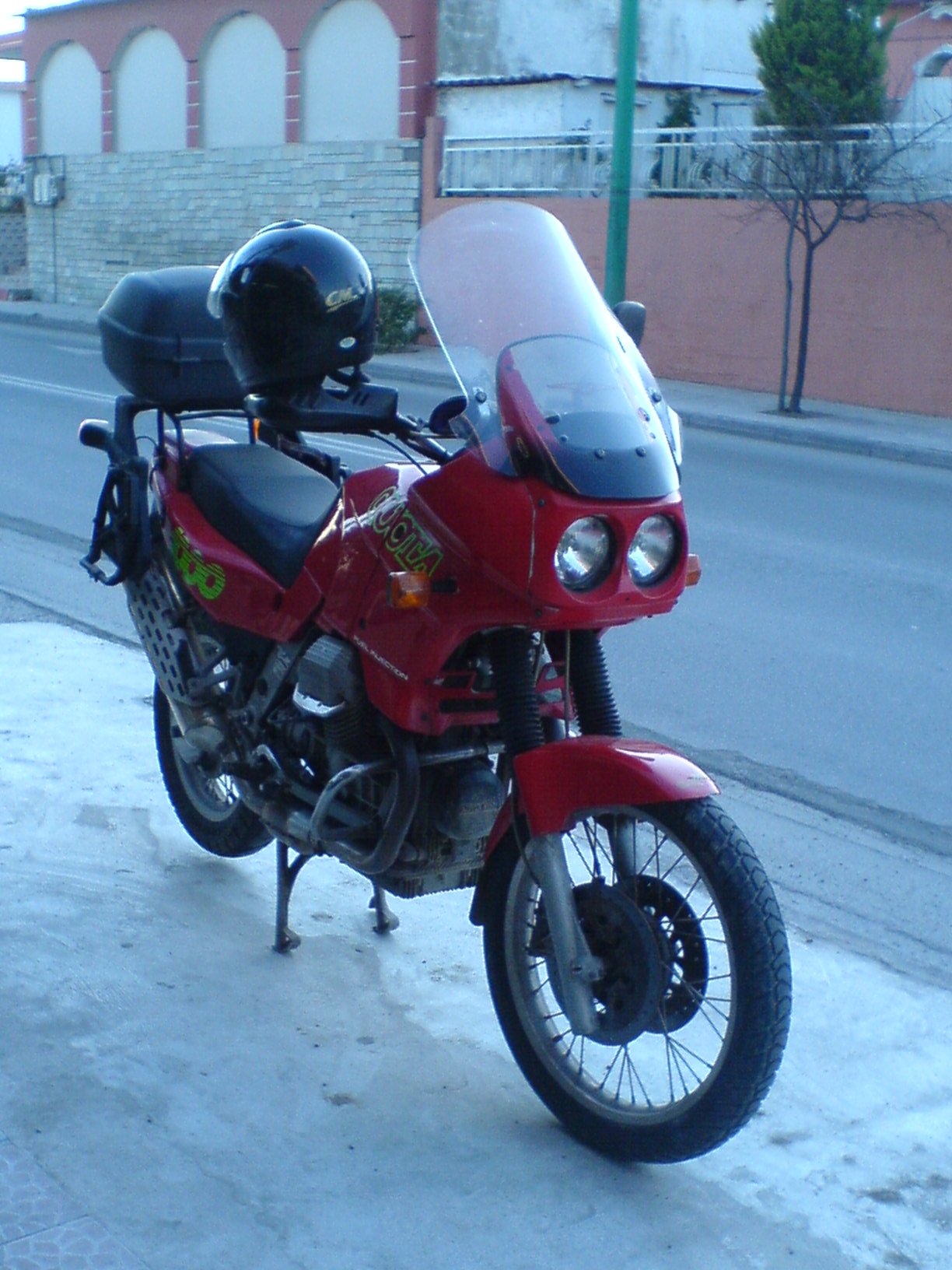 The Suzuki V Strom option:
Leonidas Stilas sent me this photo of his Quota 1000 with a windshield from a Suzuki V Strom.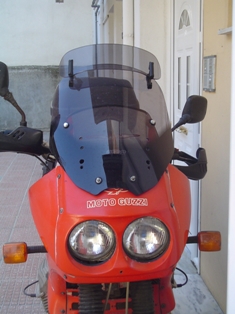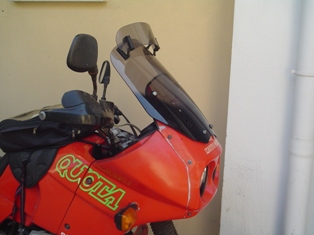 Homemade option:
With a little effort, a person can craft their own windshield. Results in terms of wind buffeting and protection are often as good as (or better) than some of the commercially available solutions. Some people have simple secured a flat piece of plexiglass on top of the existing shield. Others have started with a windscreen off of a scooter then modified it to fit the Quota front fairing. The tallest wind screen pictured below was made by Riccardo Rompani (he used to write from time to time in the US quota forum under the nickname of alitoditrota). Thanks to Pippo Lambardo for sending me this information and for the photos.