Review: Sessantacinque GT
Moto Guzzi 250 TS, 350 NTX, 650 NTX, 750 NTX, 750 SP, 750 T, 750 XPA, Breva 750, Nevada 350, Nevada 750, STR V750 IE, Targa 750, V35, V35 Florida, V35 II, V35 Imola, V50, V50 II, V50 III, V50 Monza, V65, V65 Florida, V65 SP, V7 Café Classic, V7 Classic, V7 II Racer, V7 II Special, V7 II Stone, V7 Racer, V7 Special, V7 Stone, V75, and V85 models
Updated: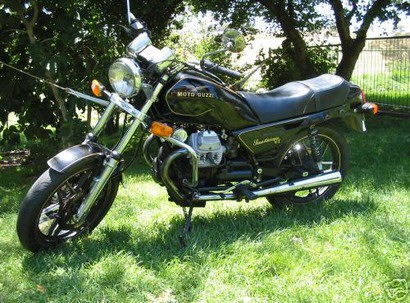 This report comes from someone who has owned a Le Mans MK III for a lot of years but I had always liked the idea of a smaller, lighter bike, such as the V50 Monza. Before I purchased the Le Mans in 1983 I had toyed with the idea of getting a middle weight sports bike and had actually test ridden a Morini 500S and a few other Japanese models to this end but in the end youthful exuberance triumphed and big was best. 23 years later the same thought was still percolating in my mind. Something lighter, easier to handle so when I saw a small block advertised on ebay I couldn't resist. It was an 89 V65GT, otherwise known as a Sessantacinque GT and with a couple of bids and a bit of luck it became mine. I flew to Orange in country NSW to pick up my prize. The previous owners picked me up from the airport and took me to their farm. Handing me a beer I was told it was too late to head off, the roast was already cooking and the spare bed was ready for me! My first impressions of the small block were varied. It seemed tall in the saddle and twitchy but it was much lighter than the MK III and after a while I found it to be nimble, rather than twitchy. The PO's had used it as a road bike but also to ride around the paddocks moving cattle. I was pleasantly surprised to find the bike also came with a screen, Givi bags and rack. This goes a long way to complement the bike's touring ability though I don't often fit the screen unless I'm expecting bad weather on a trip. The Sessantacinque, as a model, was born out of sales desperation. After a few marketing failures in the 80's Guzzi needed some sales and cash flow. They went back to their popular models, gave them a tart up and sold them to the masses. (Mick Walker Buyer's Guide). There were 3 bikes given this treatment the popular V35 (Trentacinque GT), 1000 (Mille GT) and of course the V65. They all had similar add on features and came in either red or black with the gold striping.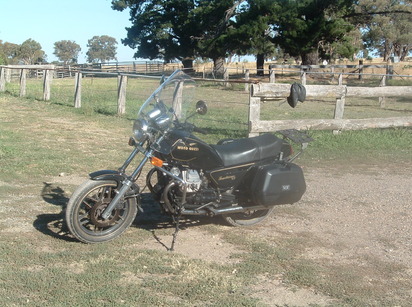 The GT differed from the standard V65 in a number of ways besides aesthetics. The front forks were longer and 38 mm diameter instead of 35. This gives the bike more rigidity in the front end and more ground clearance for exploring. There is also an integrated fork brace above the plastic front guard giving more front end stability. The carbs were still the PHBH 30's but surprisingly the jetting was reduced to 100 mains and 38 idle despite the headers and exhausts being of a larger diameter. This was probably due to stricter emission controls. The ignition system was electronic and provided by Motoplat. This is a totally solid state system with no mechanical advance. Other than the differences mentioned it has all the strengths and weaknesses of the 2 valve small block series. They are a robust and reliable bike but probably not as robust as the big blocks. They are about 50kg lighter so that amount of metal has to come from somewhere. Still they have an oil filter that can be changed without removing the sump, a timing chain that seems to last forever, ignition pick ups directly on the cam and a gearbox that is a joy in comparison, though it tends to whine at certain revs due to the straight cut gears. In 1988 a review of the bike found it had a top speed of 114mph and even though it was a pretty good all rounder the narrow and hard seat limited comfort to about an hour and a half. The trip from Orange to home took me 15 hours and I have done several 4000 km round trips on this bike. Sure the seat could be softer but it does allow the rider to change position and slide backwards and forwards. The throttle is light and the slightly taller seat height means that leg circulation still flows. The sitting position is quite upright. This allows a good all round view and the wide mirror position facilitates vision to the rear. There is little vibration for a V twin so the mirrors give a clear and stable view. The wide flattish bars give good control and the light nimble steering makes direction changes quick and easy. This all adds up to a bike that is well suited to around town and moving in traffic.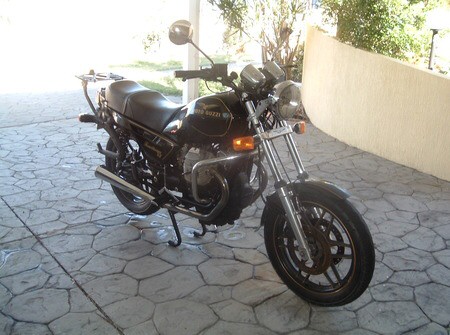 The bike is fitted with a center stand and the worlds ugliest but easiest side stand, as it can be easily deployed from the saddle. It's basically a Cali stand fitted at a strange angle so the flat plate never sits flat on the ground. I've welded another small plate on the end to remedy this and it now works fine. I've recently had a set of stainless mufflers fitted and the bike runs much harder than it did with the OEM units which rusted out after a mere 20 years! The only disadvantage is the fuel usage has increased too. It used to use about 5.5 L/100 km, which was its claimed consumption, but it now uses about 6 L/100 km. This is a proportionally big increase but I'm still adjusting the jetting and haven't got it perfected yet, but I doubt if I'll get back to the previous figures. Even its claimed consumption is fairly heavy considering the MK III can do 5.5 L/100 km but the GT pulls well, can carry a pillion without any duress and now has the sound to match its performance. My other V65 with electronic ignition and mechanical advance can achieve under 5 L/100 km consistently. This thirst and the relatively small 16 L tank unfortunately limit the bikes touring range.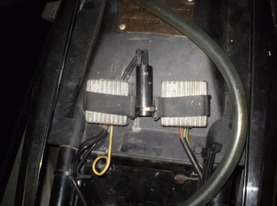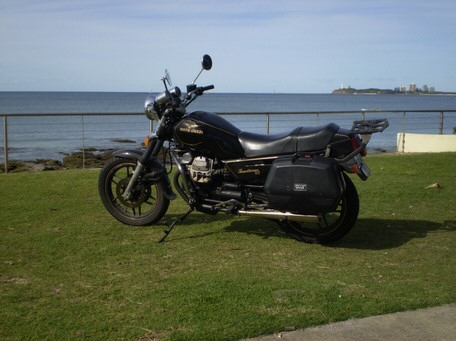 The GT doesn't have a reserve but a low fuel light instead. The wiring for this has been removed on this bike so I just use the odometer to gauge the fuel level. The warning light is technology with no gain. A simple reserve fuel facility using the existing taps would have been simpler. The Motoplat system isn't well regarded in many circles and it may be a contributing factor in the bikes fuel usage. It doesn't seem to produce a mighty spark and if a module fails they are expensive to replace. I've contemplated changing it but as the small block has the pick ups on the end of the camshaft the unit needs to be removed to see if the camshaft has the profile that fits the mechanical system and I haven't bothered as it probably doesn't. The one thing in the Motoplat's favour is the advance is spot on. Unlike mechanical systems where the weights and springs fight against each other causing the advance to be stilted the solid-state modules advance the timing smoothly and the timing at idle is consistently spot on. Consequently starting, idling and acceleration are smooth and reliable. Most Guzzis of that era had 5k ohms of resistance in the HT circuit to help prolong coil life. This was initially done with resistor plug caps but I have found the poor old motoplat doesn't seem to cope well and the spark is far from ideal. I've checked voltage at the coils and the earthing arrangements, cleaning as I went and all was fine. If it wasn't I would have fitted a relay feed but that is pointless in a healthy circuit. I then ran normal caps with platinum plugs, about 1.2k ohms, to try and help but the spark was still yellow. I have now gone to standard plugs and the spark is now a healthy white/blue. This particular bike came with pod filters so I haven't experienced the OEM filter box. The Uni-Filter foam pods are easy to maintain and to access. I like the fact that no special snake oil is needed to maintain them and they can be cleaned and oiled with common products. I'm personally not a fan of K&N's. If you hold them up to the light you can see light directly through. The breather system on the small block was originally designed to help carry oil mist up to the valve gear. This can be seen on the under side of the rocker covers as there are 2 fangs designed to drip oil over the rockers. So what does this bike do badly? Nothing really, unless you want to race or drag. It is hardly a power machine though with only 48 Bhp but it can easily maintain legal speeds, two up all day with camping gear. What more do you want? What does it do well? Commute, negotiate traffic, corner and due to its ergonomics it is almost an off road bike. Exploring down dirt roads and tracks are well within its bounds. It is easy to push in and out of sheds and into tight corners in parking lots. So if you are looking for a reasonable all rounder with no really bad traits then you may want to consider one of these or the V75SP which is virtually the same bike with a longer stroke and a fairing. Its not my favourite bike but it is one that I'll probably own for a long, long time. As I get older, I'll be tending to spend more time on a bike that will be more user friendly and easier for me to still enjoy. This bike has that ability.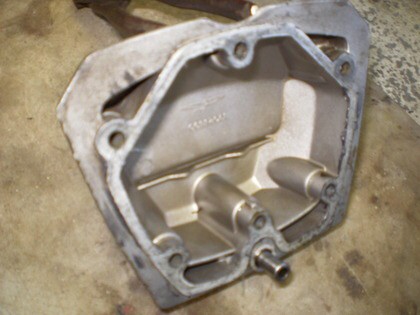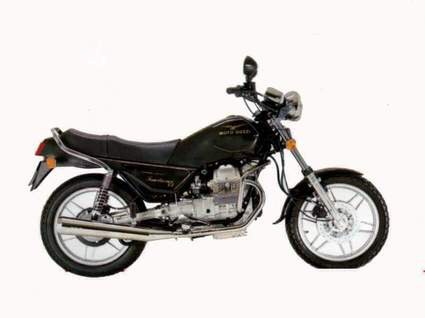 Addendum
A few years after writing this I no longer own this bike, my lady does. She went off and got her bike license and as a probationary rider was limited to a 650cc or less bike with certain power/weight limitations. This bike fitted the bill perfectly so she got a very nice Christmas present. It is a credit to the overall capability and friendly manners of this bike that I was confident to pass it on to a novice. I'm not riding it anymore so I can't comment fully on the carby tuning but I installed 50 cutaway slides in it. It just sounds smoother and happier. To compensate a little I went to 40 idle jets, up from 38 and 115 main jets. The plugs stopped fouling at lower throttle openings with no noticeable negative effects at cruising speed. As her riding style and usage is completely different to mine I can't make a fully objective comparison claim of fuel usage but it is usually just under 6 L100 km. I do think that on a trip it would be better though.
Technical Specifications: Moto Guzzi Sessantanqinque GT
| | |
| --- | --- |
| Year | 1987-1992 |
| Bore (mm) | 80 |
| Stroke (mm) | 64 |
| Capacity (cc) | 643.4 |
| Compression (:1) | 10 |
| Valve type | ohv |
| bhp | 48 |
| @ RPM | 7050 |
| Torque (Kg-m) | 4.51 |
| @ RPM | 6500 |
| Starting system | Electric |
| Oil system | Wet sump |
| Valve timing | ohv |
| Inlet opens BTDC | 10 |
| Inlet closes ABDC | 50 |
| Transfer exhaust open BBDC | 53 |
| Exhaust closes ATDC | 15 |
| Tappets, inlet (mm) | 0.15 |
| Tappets, exhaust (mm) | 0.20 |
| Primary drive gearing | 1.466 |
| Final drive gearing | 3.875 |
| Box gearing: 5th | 0.9000 |
| Box gearing: 4th | 1.0555 |
| Box gearing: 3rd | 1.2777 |
| Box gearing: 2nd | 1.6428 |
| Box gearing: 1st | 2.3636 |
| No. gears | 5 |
| Front tyre | 100/90 H18 |
| Rear tyre | 110/90 H18 |
| Front brake (mm) | d/disc 260 |
| Rear brake (mm) | disc 235 |
| Front suspension | telescopic |
| Rear suspension | swingarm |
| Ignition system | coil |
| Wheelbase (mm) | 1440 |
| Ground clear, (mm) | 190 |
| Width (mm) | 730 |
| Length (mm) | 2120 |
| Dry weight (kg) | 165 |
Carburetor settings:
| Dell'Orto type | Size | Main | Pilot | Slide | Needle | Needle Position | Needle Jet |
| --- | --- | --- | --- | --- | --- | --- | --- |
| PHBH 30 | 30 | 100 | 38 | 40 | X8 | 2 | 268T |