Review: Cali III called Stew Part 1
Moto Guzzi V7 Sport, 750 S, 750 S3, 850 T, 850 T3, 850 T3 California, V1000 I-Convert, V1000 G5, 1000 SP, Le Mans, Le Mans II, Le Mans CX 100, Le Mans III, Le Mans 1000, 1000 SP III, 1000 S, California II, California III, California 1100, California Jackal, California EV, California EV Touring, California Aluminium, California Titanium, California Special, California Special Sport, California Stone-Metal, California Stone-Touring, California Classic, California Touring, and California Vintage models
Created:
Updated: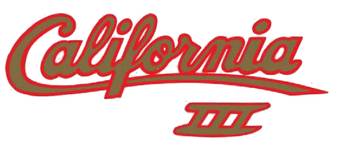 I've owned an 850 Le Mans III from new and have a couple of small blocks too, one a Monza so I do tend to be more sport bike orientated. By chance I purchased a Cali III that required a 1600+ km delivery. Here is a summary of the trip and my thoughts on the cruiser.
I had to be at the airport by 10.00 am. The problem was the flight would get me to Sydney too late for the midday flight to Moruya so I was going to have a 6-hour wait in the terminal. As usual when time is aplenty the flight departed on time and arrived early.
I sat and waited at Sydney but slowly all the flights were running later and later. There weren't enough air traffic controllers so everything was going slowly. My flight was delayed an hour and I finally got to Moruya at about 8.45 pm. Stu was waiting there for me and gave me a lift back to his place where the bike had been delivered. It seemed OK but the big thing was that it came with Givi racks. My Givi bags fitted perfectly so carrying my gear wasn't to be an issue. We went inside and I enjoyed Stu's gracious hospitality and got to meet Jakey the terrier.
I woke early and as quietly as I could went out to the garage to check the bike out. I had to try and keep a very friendly and excited Jakey from making too much noise and there was a fine misty rain drifting down as well. The bike was fine, oils good, tyre pressure and everything seemed to be attached. There were a few strange Cali traits that I just could not understand, plastic caps over the oil fillers, big dome swing arm lock nuts and the front axle nut was a 27 mm AF dome! Why have the 2 axle nuts needing a different sized spanner? After some coffee and some farewells I headed off but Stu insisted on driving along until the Kings Highway where we bid our final farewells.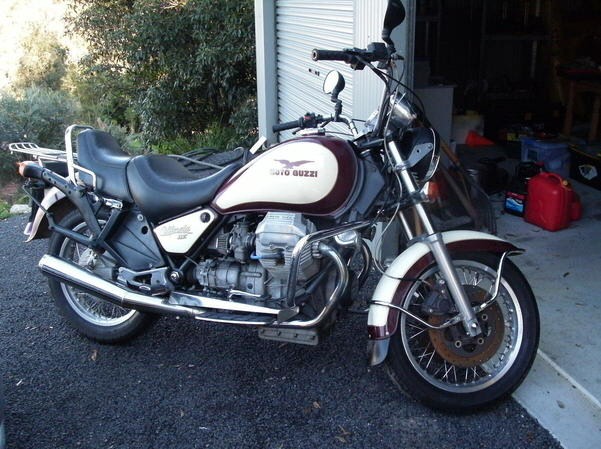 The road north to Batemans Bay was good but the road was wet. Spray came up covering the visor but no rain followed to clean it so it was a battle for vision. The bike rumbled nicely through it's K&N's and Staintune exhausts and seemed to be running fine but for me it was cold. Not as cold as it had been a few days previously but for me, a Queenslander, It was still numbing.
Minimums were above freezing but not by much. The Kings Highway leads up into the hills but there was a steady line of traffic and very little opportunity to pass. I was still getting used to the heel-toe changer too so I was taking things carefully. The foot brake and little rubber stopper were also unnatural to me.
The traffic thinned after Braidwood. I was in 2 minds of the route I was to follow. Up north on the ranges it can get icy but the last couple of nights had been above zero so I decided to chance it. I headed north from Doughboy and didn't go to Bungendore, the famed base of Peter Roper. I was close but he is a full time family carer at the moment so I was unsure of his schedule. Finally I had some open road ahead of me and I was able to open the bike up a bit. It was running well and the gearbox was changing without fault. Only me, and my heel toe mistakes were causing any issues.
At Goulburn I filled the tank and worked out it was using about 5.4 L/100 km. Pretty good really for the weight of the bike. The Cali is 66kg heavier than my MK III. Where the weight is or why it is so heavy is a mystery to me but you can definitely feel the weight as you push the bike around or heave it up off the side stand. The center stand doesn't seem to be as hard as on the MK III. There are some excellent handles attached to the carry rack that make it easier. The side-stand though, is a long way out and if you are vertically challenged it's a bit of a reach to retract it from the saddle. My bike has had the side-stand switch disconnected.
I headed north through the hills to Oberon and then on to Bathurst. The bike handles very predictably. The extra weight makes the bike feel very planted but the wider profile tyres and fork geometry really slow the cornering down. It's a cruiser and it acts like it in comparison but as a consolation undulations and bumps in corners don't upset the bike at all. The extra weight just keeps it on line and flowing over them. The suspension felt a little stiff at times. The Koni shocks on the rear were on the lowest preload and the fronts have dampers but no air adjustment.
It was getting late in the afternoon and I stayed at the Knickerbocker Hotel In Bathurst. The rooms were clean and functional and as an added bonus they let you lock up the bike in the drive through bottle shop for the night. The only downside was that I had to wait until 9.00 am in the morning for it to open and to get the bike out. On the upside I had to have a few drinks to wait for it to close in the evening.
Next morning, the route then went via Sofala to Mudgee. I had to slow down as one big roo bounded out in front of me. Going through Mudgee I saw a Guzzi heading south. I only recognized it at the last moment but it may have been a Breva. I was going to try and get as far north as I could before the roos and wallabies became too dangerous. I often stay with Guzzi friends in Gunnedah but family issues meant that they were away. The road was varied. It had started with more curves but opened up the further north I rode.
As the road opened and the risk of roos diminished I started to get a feel for the engine more. It felt like the previous day's run had cleaned it out a bit but it was still lumpier than the 850. Not as smooth at any revs and probably due to the bigger engine mass spinning inside. At 4000 RPM the MK III is like a multi, the Cali smoothes out but it just doesn't quite get there. The whole package isn't as willing either. The greater weight, small valves, smaller carbs and lower compression take their toll. The PHF 30's are pumpers but still lack that quick pick up that the 850 and PHF 36's give.
The floorboards give a lot of scope for position changing and they would want to. I still haven't made friends with the levers. I don't like the way that you need to lift your right foot onto the brake. Yes there is a little rubber knob to rest your heel but it means that your right leg is cocked up so you can't keep it there forever. The bars are way too big for me too. I can sit on the pillion seat with my foot on the rear pegs and still reach the bars and ride. I was constantly changing position from the saddle, to the hump and then to the pillion. I didn't suffer any saddle soreness at all for the whole trip.
The seat is an ergonomic ambush for me. If I stay in the saddle I find myself slumping in a very short time. My belly sticks out and my lower spine goes from concave to convex. It was a real challenge to keep my posture. On the MK III the lean is naturally forward and the lower spine arches naturally for good posture. I don't have a lower back issue and I certainly don't want one. I can see why a couple of ex Cali owners I have spoken to sold them because of this. If I keep the bike then I'll change the bars for sure, something lower and a bit more forward. I also want the throttle to be more of a wrist twist. The way it is now it feels like unscrewing a screw with a screwdriver.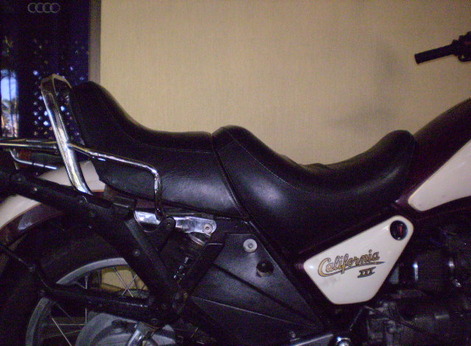 The switchgear appears easy enough but I find reaching the light switch on the RH bar a reach due to the throttle orientation. The turn switch is interesting too. To cancel it is just a push but they have located it directly above the horn. On more than one occasion I gave a friendly toot to cars as I overtook them when I tried to cancel the indicator.
I got to Warialda by 4.00 pm. I had seen a few roos and a couple of emus so it was time to find a bed. A rather large woman standing at the bar, cigarette hanging from her mouth and sucking on a stubby of beer took one look at the Guzzi outside and promptly announced that she preferred Harleys. Funnily, I wasn't shocked at all. The Royal Hotel had cheap rooms, only $25. The bed was good and clean and the facilities worked but it was nothing flash. I had managed to stay there on Karaoke night! We all know that Karaoke is a Japanese word meaning ancient oriental noise torture so I had a few drinks, ate a hearty meal but then went to bed. I was tired enough that I was still able to sleep though some notes still broke through into my slumber.
Sunday morning was cold, another zero degree morning. I packed the bike and headed off about 7.45 am. I took it easy, as there are mobs of roos in this area. I saw a couple by the road but they hopped away. Road kill was everywhere just to remind me to take it easy until the day got a bit older and they headed for the hills. I dropped in to see a Guzzi friend near Warwick.
He took the Cali for a quick ride as he has a MK II Le Mans. His first comment was sh*t its heavy. I made it home just before last light. It was too late to do much so I just parked it and left it to the next morning.
The bike ran faultlessly. Started easily and idles well when it was warm. I had done a quick carby balance before I headed off from Moruya and hadn't had to touch it again. Compression is good both cylinders and the oil level didn't appreciably lower.
There are a few little niggling cosmetic issues and the almost compulsory electrical wiring issues to sort from bodgy jobs of previous owners. The headlight bulb is fine but no power to it on low beam. I'll sort that in the next few days but it was time to take my lady for a ride to see if she likes it. She's named it Stew in honour of all the help we got from Stuart with it.
We went on a 200 km round trip for lunch. I didn't need to increase the pre-load, as it is certainly stiff enough. We found that we actually sit closer together than on the MK III with a Corbin seat. The shape of the saddle and pillion seat means that there is only one position each. On the MK III I can slide forward and she can slide back a bit but the Cali doesn't give that option. She didn't find the pillion seat that comfortable either. She had a skiing accident last year. Some idiot knocked her over whilst she was standing waiting for a tow and she damaged her coccyx. She hasn't noticed any problems with it up until now but the raised section at the rear of the pillion seat aggravates that old injury.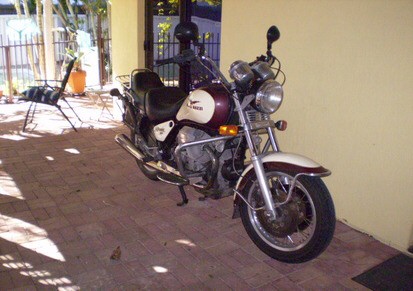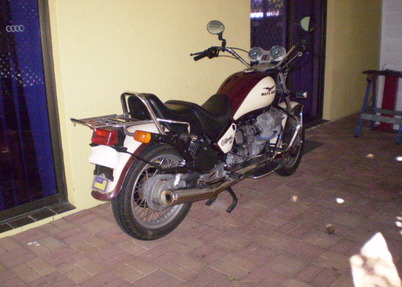 Am I a Cali guy? No, not really. Maybe when I'm older. The bike is fine but I would sell it before the MK III. It can be easily improved though. I find the floorboards comfortable but I'm not satisfied with the levers, especially the all important brake lever. A small screen, not a barn door would do it wonders, flatter straighter bars would be my preference and I would also remove all the bling I could find, to try and trim the weight. In short I'd try and make it a bit more like my MK III.